On Friday 18th May we were invited to a round table to talk about our future.
Together with the Councilor of Youth Policies of the municipality of Meda, Andrea Donadello, and with the Terragni School of Meda, we started to plan together – societies, schools and  institutions – a way to promote the school and the world of work in the societies in our territory.
For me it was an honour to participate as a society but also in the name of the Association which I represent, the Confartigianato of Meda.
The manufacturing passage from one generation to the next is a crucial subject and it has been a vision of our society ever since the beginning when we started to take the first steps on line to create new relations. In the past we have  spent time on various initiatives  (one of which was the Divanoxmanagua project).
We felt that in our hands and in our minds – especially in those of our skilled upholsterers  – was that skill and ability that is the fruit of experience handed down from generation to generation. That experience, that savoir-faire, is our greatest wealth, our most precious human asset.
At the beginning when we were still working only on designs or projects, when we  didn't have our own definite collection, the catalogue was only in the hands and in the minds of our personnel.
At that time, the need and the urgency to transmit our knowledge was a priority.
And today, even more so.
Last Friday it was an extraordinary sensation listening to the stories told around the table, all different but united by very similar experiences: stories of young people who face their first working experiences thanks to the Alternanza school-work project, young people who leave school to enter into a world which they don't know, a world which very often doesn't know them.
We ourselves experienced this same situation when we took on Andrea as a trainee  with all the vitality of a sixteen year old boy but also with the young people who worked with us on Divanoxmanagua: we felt that the project was working, that they liked the idea of being part of this world.
Of our world.
Of this world of work.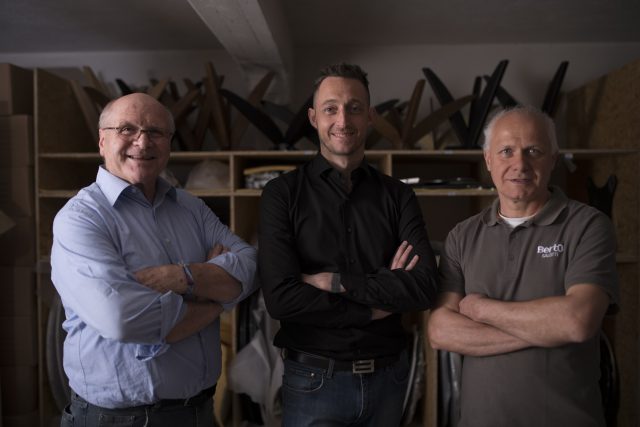 In these weeks with Andrea, and in 2013 with Divanoxmanagua, we saw with our own eyes the possibility of a future.
Encouraged by this we can't help but think about what the result would be with a joint effort with societies, institutions and schools.
It would certainly be quite extraordinary.
Is it worthwhile asking ourselves why the new generations are not  inspired?
Is it perhaps more worthwhile asking ourselves if the success of this project could  depend on us, if we will be able to inspire young people and make them take pleasure in our work.
If we are totally convinced that ours is an extraordinary occupation, if we are really convinced that doing this job makes us feel part of something great, something which travels and enters into homes throughout the world, if we are convinced that all this is really special, then it is our responsibility to explain it to the best of our ability and to do everything possible to make this new generation which we care so much about can understand through our words, our actions and all the experience which is our duty to hand down.
Come on guys!
Filippo Berto