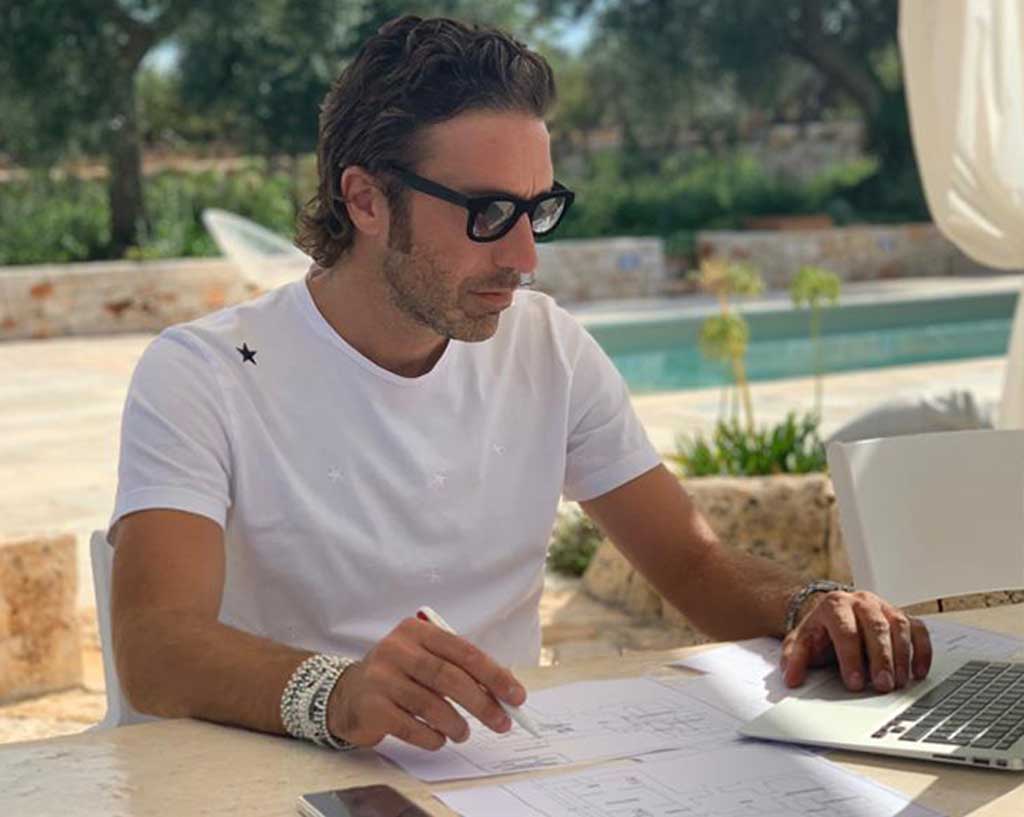 We met a special entrepreneur and we discovered, thanks to a wonderful collaboration with him, that tourism and design have an enormous amount of things in common.
Thanks to the good taste and attention for quality that distinguish Matteo Ferrari, characteristics evident both in his personality and in his professional activity, we have been chosen to furnish some of the areas in his resort Ad Maiora in Puglia.
His resort is absolutely unique for many different reasons, so unique in fact that we simply can't begin to describe it!
For this reason we decided to ask him to personally lead us through his choices, both entrepreneurial and visions, tell us more about what he does and to teach us about the relationship between tourism and design.
We immediately felt a strong bond with Matteo Ferrari because he is one of those special entrepreneurs who put great passion into everything he does, something which is evident in everything he creates, says and invents.
So we are delighted that it is Matteo who will be the protagonist of the first of a series of interviews we plan to conduct with some of the extraordinary people with whom we have collaborated.
So here is the portrait of a man and a company who we are honoured to have among our contacts.
Thank you Matteo!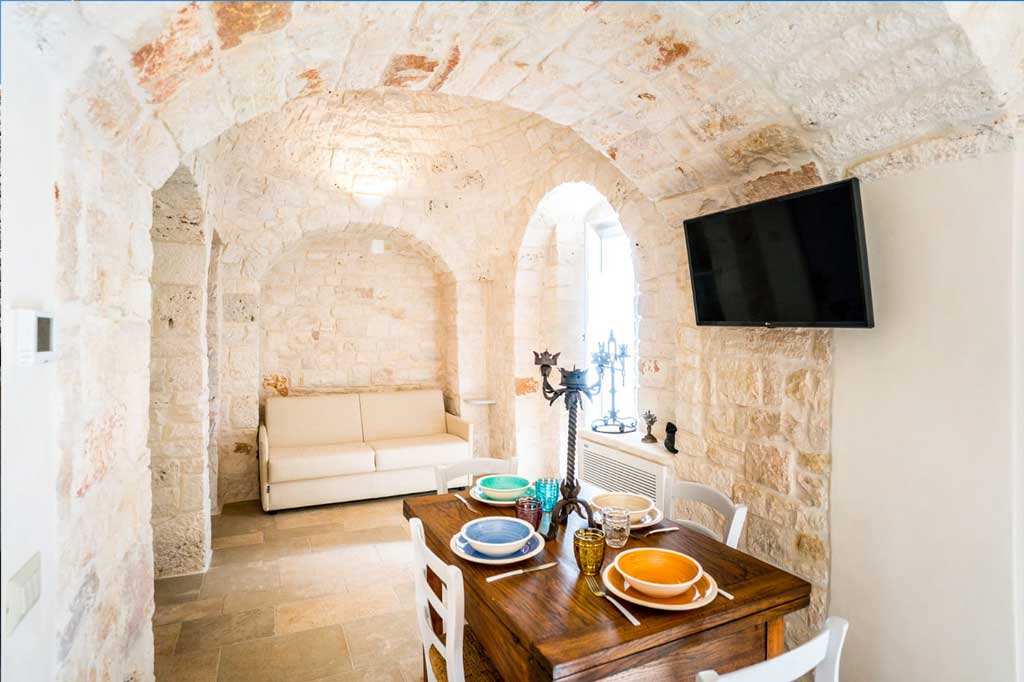 Matteo, tell us something about yourself.
As a dear friend once described me, I am an "entrepreneur dreamer with my feet firmly on the ground".
After having spent 15 years in the car industry, first in our family business then starting (and successfully selling) a start up with 7 branches worldwide, I am now dedicating myself heart and soul to the Real Estate sector.
I studied, analysed and then decided to concentrate exclusively on restoring historical buildings, giving them a new lease of life for various future uses; residential, commercial and even tourist structures.
I am totally convinced that in the marvellous nation we live in we should all concentrate more on Reconstruction rather than just construction.
In Italy we have an obsolete real estate patrimony of exceptional beauty, charm and centuries-old history which few other countries in the world can equal.
The word "tourism" can have a thousand different meanings. What word connects the lives of people who are born and live 365 days a year in a territory like Puglia, but also Novara?
Tourism can be associated with the word "memories". Many people speak of experience and this is right. The tourist must live a positive experience but I believe that there should also be that emotional component where, if you really put your heart into it, you can truly leave a memory.
And therefore I believe that our real aim is to leave a beautiful memory in the hearts and minds of our guests. I sincerely hope that our future publicity will be the memories of our guests when they happily and enthusiastically tell their friends about their wonderful experience.
Tourism and design: the first word that connects them is probably "territory". What has changed in the relationship between these two aspects in your experience?
Never have tourism, design and territory been as closely connected as in these last few years. They live in symbiosis. I have noted with pleasure the strong sense of pride and belonging evident in people who welcome tourists. They have a desire to open up, to tell of their origins, their past experiences and they do everything possible to make the tourist become a part of the territory.
I believe that by finding themselves totally absorbed in the territory, even if for only a few days, the tourist returns home feeling enriched and satisfied.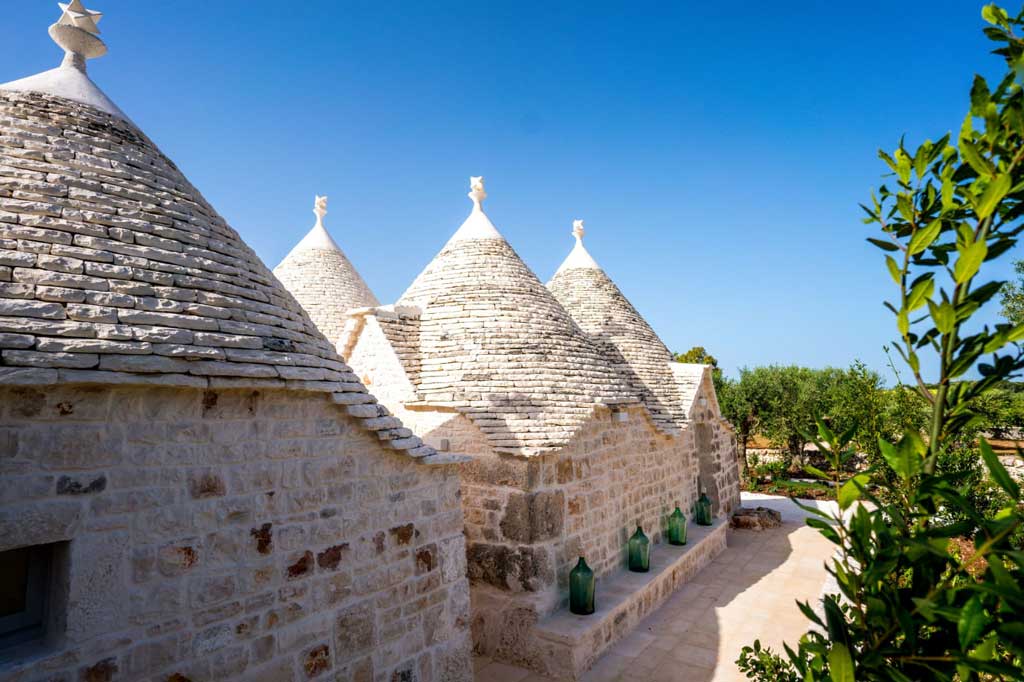 Territory also means history and traditions……and in Italy we are second to none. What is a "trullo" for local culture? What is a "trullo" in Ad Maiora?
In ancient times, "trulli" were small shelters where farmers lived with their animals and agricultural equipment. Most of them were in the countryside on the farmer's own piece of land. A few Trulli are what today we call small villages or hamlets. Families lived in trulli in cramped spaces where their animals were the only source of heat during the winter months. The thick walls protected the family from the heat in the summer and the cold temperatures in the winter.
They were small but cosy and the families lived together in symbiosis with a strong sense of sharing and reciprocal support. These cone-shaped shelters could be quickly and easily dismantled to avoid paying taxes on houses when the tax-collectors passed by to collect taxes levied by the Kingdom of Naples.
Staying in a Trullo in Ad Maiora is to live in modern comfort but to go back in time and touch with your hand the objects that the ancient inhabitants used in their everyday lives. Wooden chairs and tables, stone floors, vegetables from the kitchen garden, the cart with big wheels, walking through the olive groves and the deafening silence of nature, all sensations which can never be found in city life.
I remember with pleasure the words of a famous Italian singer who, after a relaxing week in Ad Maiora said: "Matteo, this is the true concept of luxury, here you feel at home yet as if you have jumped back into the past, it is truly emotional".
Can being on holiday mean that you can also "feel at home"? And how important is comfort on a holiday?
This was my true mission. I wanted to create a concept of sober luxury together with the more traditional aspect of "feeling at home" with all the comforts we are used to. I wanted to take the guest back into the past but in complete comfort, a result non simple to achieve.
We have written a book entitled The Spirit of 74. Can tourism, like design, be a heart-warming profession you can do with passion?
Absolutely yes. When I have the chance to chat with our guests who come from all over the world, it makes me feel so happy.
In their eyes I can see their enthusiasm when they see the secret garden, when they admire the roofs of the trulli, when they realise that they can have lunch on the stones which were once part of the ancient farmyard or sleep in a "house" dating back to 700.
Yes, it warms the heart, theirs and mine.
Can you tell us if one of the words presented in our book can also be applied to your work experience?
Of course, Humility.
Because that is what I have always been taught, because I have always been afraid to lose it and because I think we should always use humility, everywhere and with everyone.
Can you think of a word which is not in the book but which represents your work and your experience as an entrepreneur
Resilience. Because we all need to have the ability to overcome those dark, difficult, anxious moments which sooner or later happen to all of us, both in our work and in our everyday lives.
Thank you Matteo!