The clients who come to us all share a common desire: to realise their Dream Design project.
In a beautiful modern residence between Como and Milan, we met Erica and Mattia, a young couple who chose to entrust us with their living room and bedroom project.
Each space has been studied in detail in order to create a coordinated and exclusive project, with a careful choice of materials, coverings and finishes.
Erica was actively involved in defining every single aspect and it was wonderful to see the house she had been imagining for months come to life in front of her.
Our visit with Erica and Mattia took place in the heart of the house: an open-plan living room overlooking a beautiful garden with a swimming pool.
Erica and Mattia told us how the project came about, from the comfort of their brand new Time Break sofa.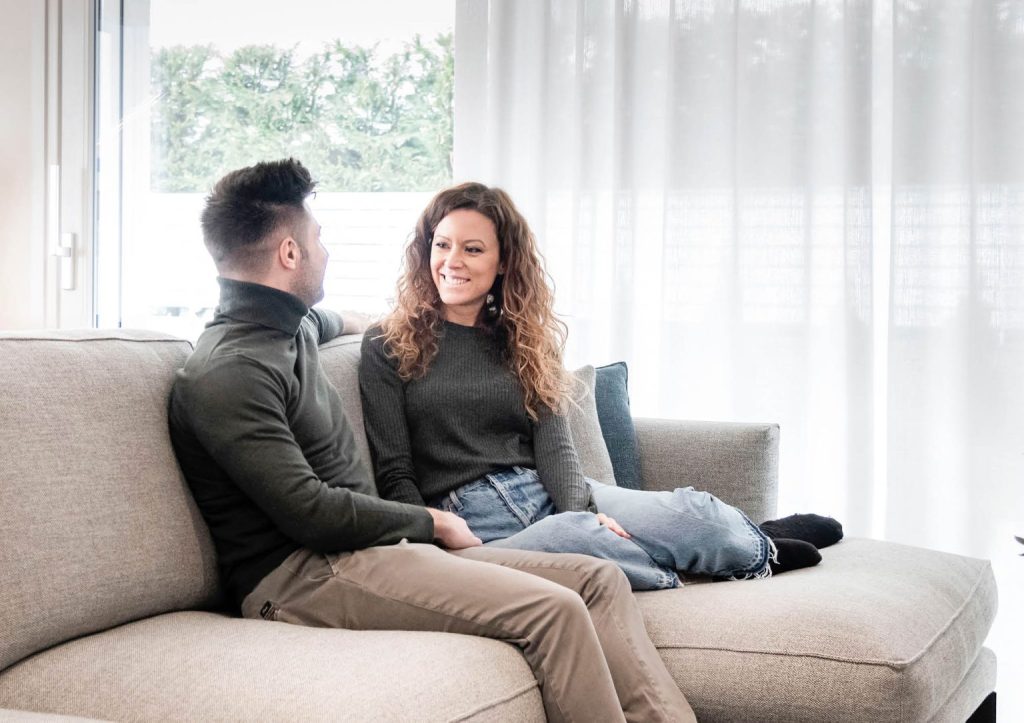 Erica and Mattia, tell us who you are and share a little about your project.
Mattia, my husband, and I have been married for almost five years, but we have only been in this house for a year and a half.
We started planning this house knowing that it would be a lengthy process, but our desire was to achieve our dream home.
It was an ambitious project, but I believe we succeeded.
Our house is on two floors: the living area is on the ground floor and overlooks the garden and our swimming pool.
There is plenty of light because the room has windows on two sides.
The way we imagined it, we wanted it to be a very cosy place, with a big sofa and a big table where we could have dinners and aperitifs, invite friends and hang out with people.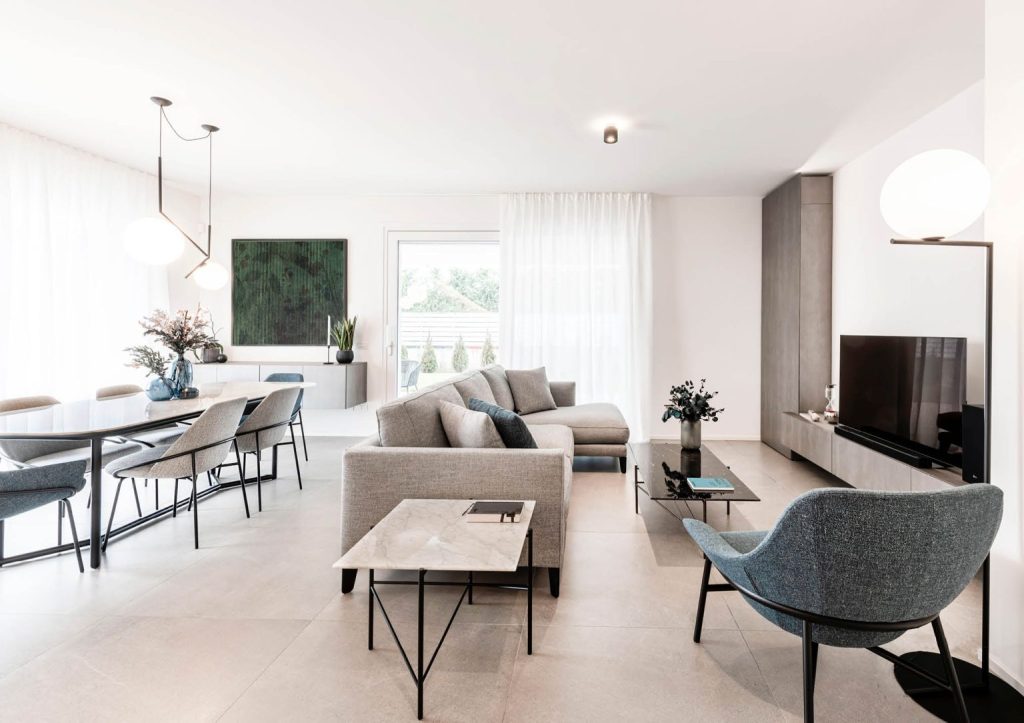 I guess it wasn't easy to reconcile your ideas. How did you manage it?
Our project was born from a fusion of two completely different approaches.
We spent a lot of time discussing what we both wanted for our house and each time different wants and needs emerged. It was a bit like imagining two houses based on our own identities, but without finding a solution that brought our worlds together, and we really wanted the project not to be a compromise.
We wanted this house very much and we wanted it to be perfect.
My focus was mainly on the aesthetics of the product, the details, materials, finish and colours.
For Mattia, on the other hand, the challenge was to build a design project around the liveability of the house, comfort and hospitality.
How did you arrive at this design solution?
Our experience with BertO was unbelievable, right from the initial meeting.
We arrived at the Meda showroom and Arianna really listened to us. She understood our vision for the house, our dream, and helped us to create it, starting with us as people, even before the floor plan.
It seems unbelievable, but we understood each other immediately by putting down on paper what we had only been able to imagine.
One thing we loved about BertO was the ability to customise every single piece of furniture.
This allowed us to achieve a perfectly coordinated project, exactly as I imagined it.
And that's not all. Together with Arianna, we researched every inch of the house to harmonise each element: the Time Break sofa is perfectly harmonised with the presence of a Hanna armchair, upholstered in the same fabric as the Jackie chairs.
We wanted a big sofa and we got a big sofa, without having to sacrifice anything: we worked extremely well on the layout of each element, including the Riff tables, the CJ table in Carrara marble and the chairs.
It was the same experience for the bedroom: we chose a beautiful bed, the Chelsea. Mine is even nicer because I was able to customise the feet, covering them in nubuck leather just like the strap details on the headboard.
Thanks to Erica and Mattia for this interview and for sharing their design project with us.
Find out more about interior design services to realise your Made in Meda dream design project with BertO.
Ask now for your personal consultation and create your own furnishing project with one of BertO's Made in Meda interior designers