We have often mentioned Crowdcrafting on the BertoStory Blog, ever since 2013 when we started the first Italian experience of Crowdcrafting in the world of design with the Xmanagua sofa.
And if you are wondering what "Crowdcrafting" really is, well, we were asking ourselves the same question while we were doing it… without even realising it!.
Then Professor Stefano Micelli arrived– a person who has inspired us ever since we met, read and loved his essay "Futuro Artigiano" – and he made us understand that our great-little experiment of creating a sofa all together (craftsmen, friends, customers, suppliers and students etc) was exactly this: Crowdcrafting, or "creating together".
And that experience gave rise to an interesting working procedure which allows anyone who so wishes to come into the workshop and literally put their hands on the furniture which will make their home more comfortable, working side by side with our Master Craftsmen.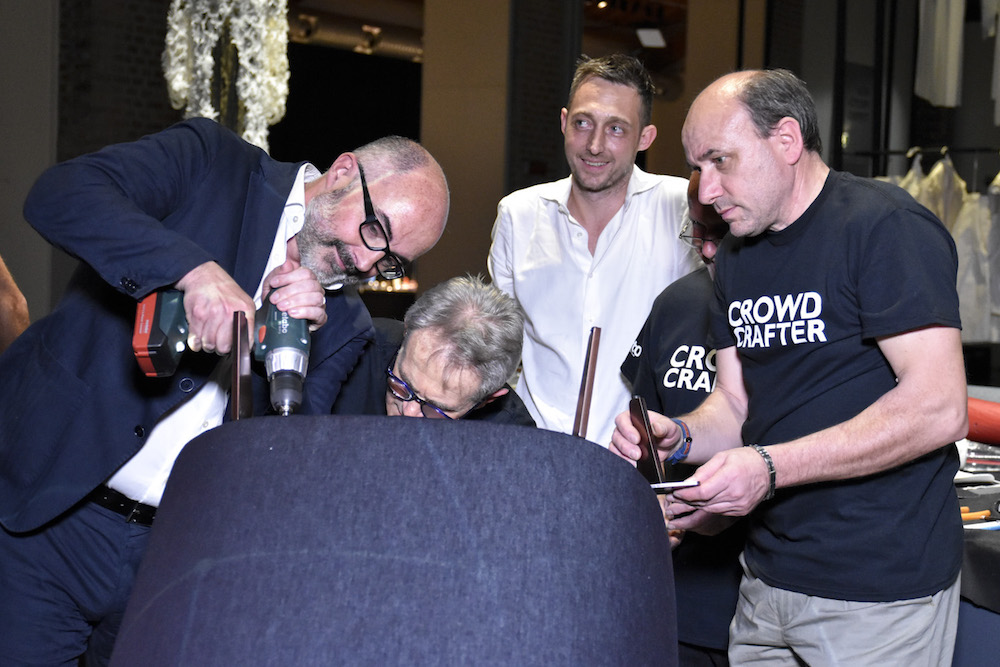 With this in mind, you can now discover the 7 advantages which you will have if you decide to live this exclusive experience in the workshop with us.
1 – You will do something important without knowing where it will take you, only if you have the courage to enter into unexplored territory, completely trusting the people who are able to find the best solution for your dream project.
2 – You will learn something interesting which will involve your whole family, side by side with our expert upholsterers Made in Meda.
3 – You will see with your own eyes, sofa after sofa, what inspires the high-quality work of our skilled Master Upholsterers.
4 – You will come to understand the beauty of a little-known craft, not because someone tells you about it but because you share it with the people who create that which most people can only admire.
5 – You will experience the emotion of taking part in the creation of an object which will radically transform the design of your home.
6 – You will discover the many marvellous things which are behind not only the design but the unique design for your home.
7 – Assisted by one of our experts you will create an exceptional object with your own hands, starting with the most technical materials and working methods handed down through the generations all with respect for the standards of quality which have made the Design Made in Meda famous throughout the world.
Also Crowdcrafting is an important part of an exclusive BertO furnishing project – The Dream Design Made in Meda.
If you too would like to totally personalise the comfort of your home thanks to this exclusive project, made-to-measure for your specific needs, ask now for your personalised consultation.
Ask now for your personal consultation and create your own furnishing project with one of BertO's Made in Meda interior designers