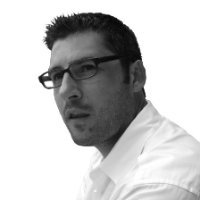 We are happy to continue the small series of interviews to the designers involved with the sofa4manhattan design workshop of last January at Design-Apart with Gianni Zanin.
While currently Gianni is a senior designer at Martha Stewart, where he oversees the company's kitchenware collections, in his free time he likes to experiment in furniture making.

We enjoyed very much working with this this "Italian in New York", and we know he likes his views to be shared on blogs and social network, so… here we go!
Berto Salotti: What influence did the experience of the workshop and working with other people have on you?
Gianni Zanin – Attending workshops has always interested me.
I've done several others and I've taken something different away from each. When a group of people are joined together (usually with different backgrounds and experiences – designer, architect, craftsman, thinker and so on) is engaging to see how each one tackle the brief.
It inspired me to be extra motivated an open minded.
Not only you want to challenge yourself but you need to get your idea across a broader audience. You can built on from a note or a concept that you, or somebody else shared, and finalize it it in a totally different way.
It feels like a cooperative effort done with individual strength…
BS: What expertise did you bring to the project and how did you approach the workshop?
GZ: This was actually my first upholstery project and thought this was a great chance to get hands on.
I think of my approach as more functional rather than aesthetic based. I try to picture how the user will interact with the end product, and then develop solutions that are also aesthetically pleasing.
I wanted to use my technicality and complete the project with no constraints in mind.
BS: Can you explain your design for the sofa4manhattan?
GZ: My idea for the final design is an interpretation of how each one of us interacts with a couch.
Depending on our mood and on the situation of the moment, we could sit, lay, sleep, spread out and much more.
I wanted to create a simple shape, with few characteristic design elements, that could easily adapt and change from a sofa to a lounger.
The result is a bent, reinforced, wooden frame that supports a canvas with movable pillows. An adjustable metal base sets the height of the frame to a sofa position or a lounge setting.
BS: We've appreciated your work and kindness in answering our questions, Gianni.
We really hope to see you at the second round of the project, when we will actually "make" the sofa, in a crowd-crafting mode.
Stay tuned for the worksession dates, and see you at the Design-Apart loft!