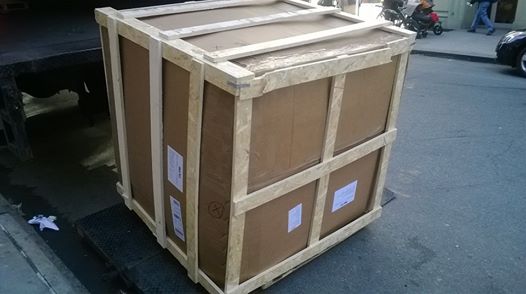 There is no better news to begin the week with:
Finally, the missing sofa4manhattan prototype has been found and delivered to the New York loft of Design-Apart.
What a week!
After leaving Italy for New York, the packs have reached Luxembourg twice (!) before ringing the bell in 110 W 25th street:
"We must deliver two big packs!"
So we are happy to confirm that, in New York, the #sofa4manhattan prototype is ready for the crowdcrafting session, this coming saturday March 29th, 2014 from 10 am to 6 pm in the Design-Apart living showroom: 110 W 25th street, 2nd floor, New York.
It will be exctiting to realise the ideal sofa 4 manhattan, just like it has been designed by the New York based designers involved in the January design session, together with Filippo Berto and Flavio Cairoli (who have packed their suitcases 15 days ago…) plus all the new yorkers interested in crafting a real 100% Artisanal Italian product themselves, for the most fascinating city in the world: New York.
See you there, this saturday!