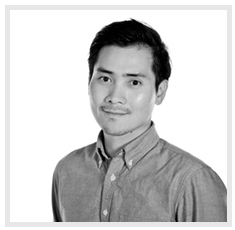 Warit (Top) Tulyathorn is an interdisciplinary designer, searching for a new language of design and objects based on architecture, digital media and design criticism at IDEO.
We've had the luck of working with Top during the sofa4manhattan design workshop conceived and organized by Design-Apart a few weeks in New York.
Top has been so kind, after the workshop, to answer a few questions and share his views on design with us.
Thank you, Top!
Berto Salotti: What influence did the experience of the workshop and working with other people have on you?
Top: Personally, I appreciated the deep engagement between all the guests, Diego and you.
Learning about your company was fascinating and definitely had impacted how we designed this sofa. (I wish we could have been more engaged during the process of making too).
For the collaboration, It was a unique opportunity to get to brainstorm as influential designer like Lucas. Design-Apart was a perfect setup. It created casual atmosphere, very conversational and very intimate. At the end of the day, we are all connected and become more like a group of friends which I think that was wonderful.
The experience brought me back in the day when I was doing more furniture design. I was selected as a young designer to participate at IMM furniture show in Cologne…..still have some nostalgic feelings for that.
BS: What expertise did you bring to the project and how did you approach the workshop?
Top: With my architecture background, I always look at furniture as integral part of the whole environment.
Different pieces of objects and furniture should their own roles in a room but in an orchestrated way. Hence, my approach is to create something that has a sense of belonging. I hoped to design a piece of furniture that fits a room as if it had always been there.
I critically attempted to look at this from from New Yorkers' point of view, to respond to their limitation of space and their nomadic nature of this extreme urban condition without overlooking the longevity of the product line itself.
BS: Can you explain your design for the sofa4manhattan?
Top: Originally, I was trying to create a very simple sectional system.
The system is based on modularity and allows residents to customize their own furniture sets, including different materials and finishes. At its best, I believe this shows the potential of Berto's expertise in artisan furniture making.
Through time, residents can add more pieces or refinish their own sectional set as their needs change or to adapt to their new apartments.
Formally, I intended to express the purity of this product by using very streamline and minimalistic shapes.
The curvature and subtlety of the smooth transitions between straight lines and curves were meant to be very unobtrusive.
Admittedly, this was very hard to convey through just sketches. After the feedback, working with Jerome, we decided to bring back some expressive gestures for instance the petal form of the armrests and more curves overall.
As a result, we ended up creating something that is still very flexible, systematic yet sculptural. I was pleased where we had come to at the end.
BS: We feel grateful and highly appreciative of your work for the #sofa4manhattan workshop, Top!

We definitely invite you to take part in the crafting session, on March 15th, in New York City, @ the Design-Apart loft, of course!