Recognizable and unforgettable like some musical riffs you can't stop singing and keep you company with their melody, the coffee table Riff has the special characteristic of being original and adaptable at the same time.
Any position you place it in your furniture fitting, the coffee table Riff never misses a chord.
It is made of a combination of natural material, like the marble top, and technological manufacture like the powder embossed or the polished chromed finishing of the legs; the coffee table Riff is perfect for any furniture request, from the living room in a private house to waiting rooms and private studios and up to different solutions as for design of hospitality centers and contract furniture.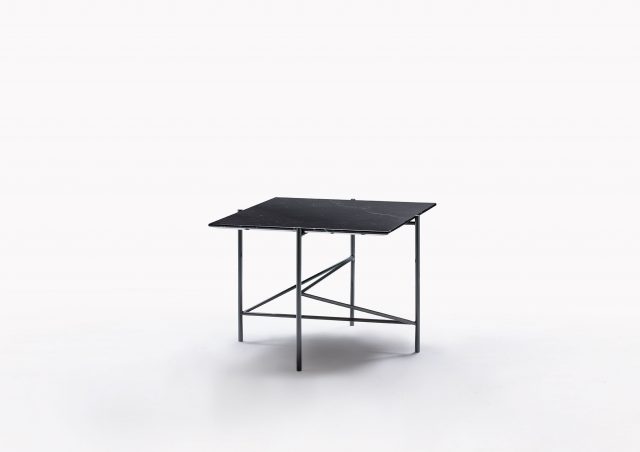 It always harmonizes in a perfect way; it is able to enhance any kind of furniture as it offers a wide range of stylistic solutions and precious materials you can combine at all levels in order to supply an ideal functional solution and a personal and original aesthetical look.
The coffee table Riff will always surprise you, for instance if you combine it with the other coffee tables of the collection: you can set a special combination with a deep aesthetical impact in a living room where you can play and harmonize the coffee tables with elegance and creativity.
The coffee table Riff will fit, on the other side, into either smaller or bigger living rooms: it will fill every single centimeter and get the ideal sizes you need.
The coffee table Riff is available in the version with black polished chromed steel or black powder embossed base; the top is made of lacquered MDF with finishing out of the collection, in the version polished or matt color available; you can get it also with marble top, either in Onyx travertine, Marquinia, Carrara and Black&Gold marble.
If you need a totally custom made production based on your own interior project, we are at your complete disposal to create your coffee table Riff, exclusively for you, according to your request.
That is to say: Riff will always change according to your requests and the performing demands of your living room, but it won't change its soul.
Discover Riff and the other coffee tables of the BertO collection in our showrooms in Meda, Rome and online.
For more information talk with our furniture consultants Maurizio and Marion: send an email to servizio.clienti@bertosalotti.it or dial our number +39-0362-333082.
Enjoy!