There are some highly customized accessories that they may perfectly fit into private residences as well as into important contract projects.
It depends on the quantity of personality they have….
The story of design is full of "pieces" that are able to draw everyone's attention in a room, maybe just due to the hidden position of a lamp or to the point of view of a half-hidden object…with apparently secondary value.
The coffee table Stage is, indeed, in the middle of the stage, right in the living areas of a flat where we spend the most important part of our lives, with our relatives, with our visiting friends, or where we share both friendly and intimate moments that are parts of our lives.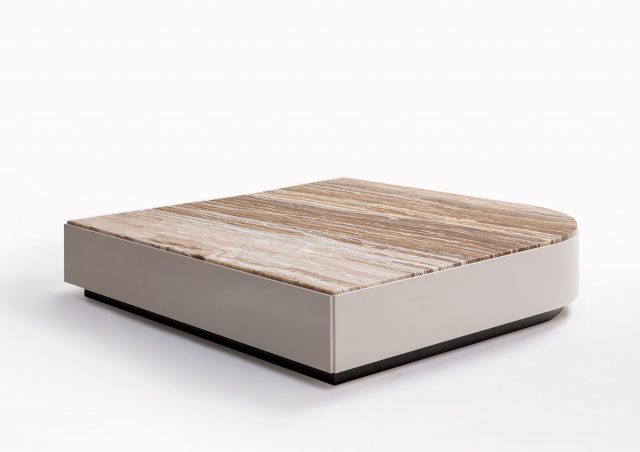 Stage is absolutely a referring point, like a location we perfectly know it and where we feel at ease.
What about personality? If we refer to the many different ways it is able to "dress" itself, to the precious nuances it is able to create… well, we can say that the coffee table Stage is an accessory with a strong personality, no doubt about it.
In fact, Stage may change and be versatile, but it does not change its nature.
It is always ready to perform all functional tasks without being common and banal.
The different identities the coffee table Stage may assume include the following elements:
– top made of Marquinia, Carrara or Onyx Travertine marble, with polished lacquered finishing or with custom made finishing available up to the last centimeter
– with rectangular or squared shape available, always provided with the "aesthetical touch" of the round edge
– matching possibility with the other parts of the furniture system in order to create different compositions with a deep aesthetical impact
– thanks to its versatile sizes it may fit into every room
– original concept interpretations with absolutely original furniture sets (ideal for hotels, halls, suites, custom made solutions)
Would you like to attend this small-big show…on Stage now?
Discover together with our interior designers how you can make Stage the main protagonist of your interior project.
Talk with Maurizio, Arianna, Fabio and Cristina: dial our number +39-0362-333082 or send an email to servizio.clienti@bertosalotti.it