Who's in the showroom in Meda? Berto Salotti, located in Meda the region of Italy known for small artisan businesses that produce handcrafted furniture, is recognized as a leader in custom made sofas and upholstered beds. This post inaugurates a series of posts in which we will present our employees alongside our products. The best of the best!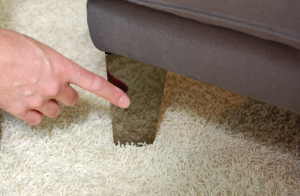 This is Carlo, he's in our showroom in Meda, pointing to the black steel chromed foot on our modern sofa Time Break. Probably the most distinguishing features of Time Break, are the unmistakable feet, pinched seams, 100% stone washed linen (very pleasant to the touch) an iron frame, polyurethane foam cushions padded with goose down and a twenty-year warranty. Not bad!
If you have the pleasure to meet Carlo you will realize he's always ready to lend a helping hand and he's always smiling. Carlo'smost distinguishing feature include the aforementioned smile and he's also our interior designer. What do we like best about Carlo, probably his dedication to his craft, his hardworking attitude and his meticulous attention given to our customers. Well done!