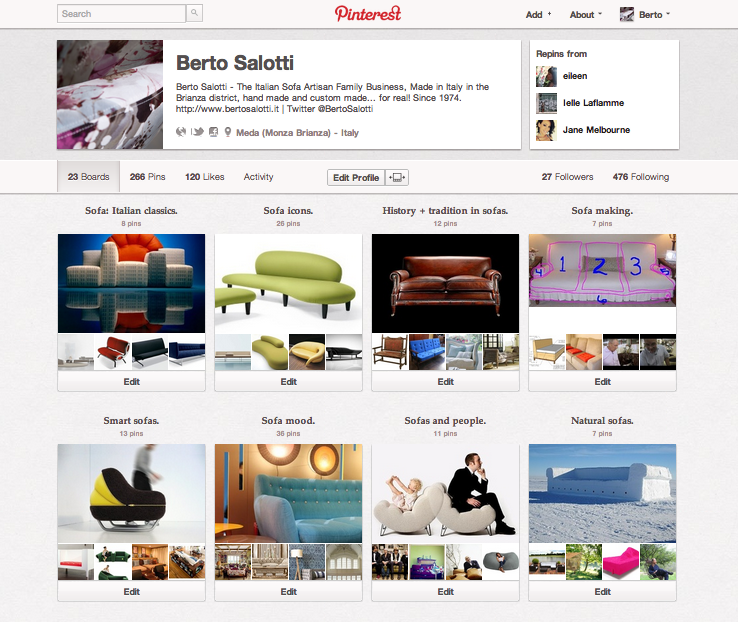 [English text follows] – Da qualche giorno ci siamo decisi ad unirci ai molti, moltissimi estimatori che Pinterest ha in tutto il mondo.
Per chi non lo conoscesse, Pinterest è il social network dove l'immagine la fa da padrona totale, assoluta: ognuno ripubblica le immagini che trova più belle o più interessanti, e le organizza in bacheche (un po' come fossero vere bacheche sulle pareti di casa: quella con le foto degli amici, quella con gli animali, quella degli sport…).
Facile immaginare che, su Pinterest, tutto è bello, perché tutti cercano le cose migliori da "pinnare"…
In tutto questo, noi di Berto abbiamo cercato una strada che ci aiutasse a dare senso a una presenza aziendale, al di là del "puro esserci" che – lo sappiamo – non va mai molto lontano.
Per questo abbiamo pensato di dedicare le nostre energie su Pinterest al conseguimento di alcuni obiettivi:
1 – Iniziare a dialogare anche in lingua inglese, in vista di una importante novità che arriverà dopo l'estate, questo sia per quanto riguarda i commenti e le descrizioni delle pin, sia per le pubblicazioni da Pinterest a Facebook e Twitter
2 – Allargare la nostra presenza online di contenuti visuali, adatti ad essere compresi con immediatezza anche al di fuori dei confini nazionali
3 – Arricchire la nostra conversazione sui social network di stimoli di tipo diverso, sempre legati al mondo del comfort in casa, ma da punti di vista più vari
Ecco perché sotto ogni pin (cioè immagine) troverete il nostro commento in inglese, ed ecco perché – tra le bacheche di Berto Salotti – troverete cose un po' pazze come Fun sofas o Sofa and Cars?!, insieme alle più classiche board dedicate ai divani Italian Classics o al Sofa Making.
Non mancano, tra le 23 bacheche create, quella dedicata a #percheberto (con tutti i video della serie) ed un'altra riservata ai Chesterfield creati a Meda.
Al momento, seguiamo circa 500 pinners, e siamo seguiti da 27. Speriamo di ricevere presto la vostra visita, che saremo felici di restituire.
Vi aspettiamo!
–
A few days ago, we joined the multitudes of Pinterest fans worldwide, opening a "Berto Salotti" set of boards.
But – being a company, not an individual – we tried to define a strategy before starting to pin, so… let us share with you what we are trying to accomplish, pin after pin:
1 – Start an engagement with English speaking users. You may wonder why we do this… you'll find out in a few months 🙂
3 – Give a visual touch to our online conversation, something that makes our content more easily enjoyable for a non-Italian audience
2 – Enrich our online conversation with content focused on home comfort, but from different points of view
This is why we are exclusively speaking English when on Pinterest, and this is also the reason you'll find – among our boards – some crazy ones called Fun sofas or Sofa and Cars?!, along with the ones you could expect, such as "Italian Classics or Sofa Making.
Altogether, Berto Salotti's boards are 23, among which you can find the Whyberto one, dedicated to the videos you all know about, and the Berto's Italian Chesterfields one.
At the moment, we are following almost 500 pinners, and we are followed by 27. We'd be delighted to receive your visit, and – of course – to follow your boards.
See you there!