I'll let you in on a secret: one of the most common mistakes we make when furnishing our home is that of combining colours which seem to be in harmony but which in reality do not match at all.
This also happens with the so-called "neutral" colours such as shades of white, beige and dove-grey. Even when matching these colours there are specific rules to follow, just as with brighter, more brilliant colours.
Whatever your style and your personality, when you are planning the furnishing for your new home you will never make this mistake if you follow the advice I'm about to give you.
Here are some of the basic rules for matching the decorative strap on your new Dee Dee sofa so creating your dream design Made in Meda by BertO (remember that if you have any doubts and you don't want to risk making mistakes which you will later regret, you can always ask for a personalised consultation with one of our interior decorators here).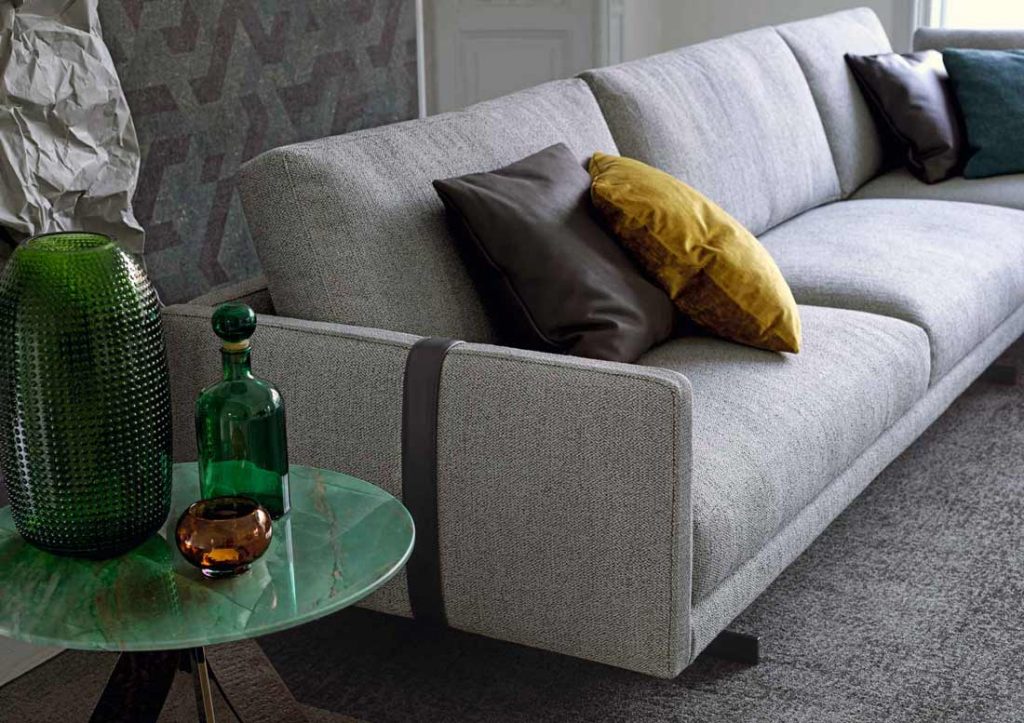 What is a belt for a dress? It is an accessory which completes the look but if it isn't there… you notice.
And this is why also Dee Dee has a leather belt which completes the style and makes it stand out from the other designer sofas.
But unlike belts for dresses, this element manages to combine your sofa with the entire furnishing scheme.
In fact, when creating this belt, we have chosen leather which can be perfectly matched with fabric or with other leather in the BertO collection, both for the upholstery of your sofa and for the accessories such as the armchairs and pouffes. In this way you are free to create the style which suits you best.
The leather can either be smooth to create a luminous effect or totally opaque to break away from the three-dimensional nature of the fabric.
But that is not all because with the Dee Dee belt you can combine the sofa with the armchair and the cushions so creating a unique and original style.
Therefore…how can you match the leather strap with the fabric to create an incredible effect for your sofa?
Let's start with the basic colour of your sofa.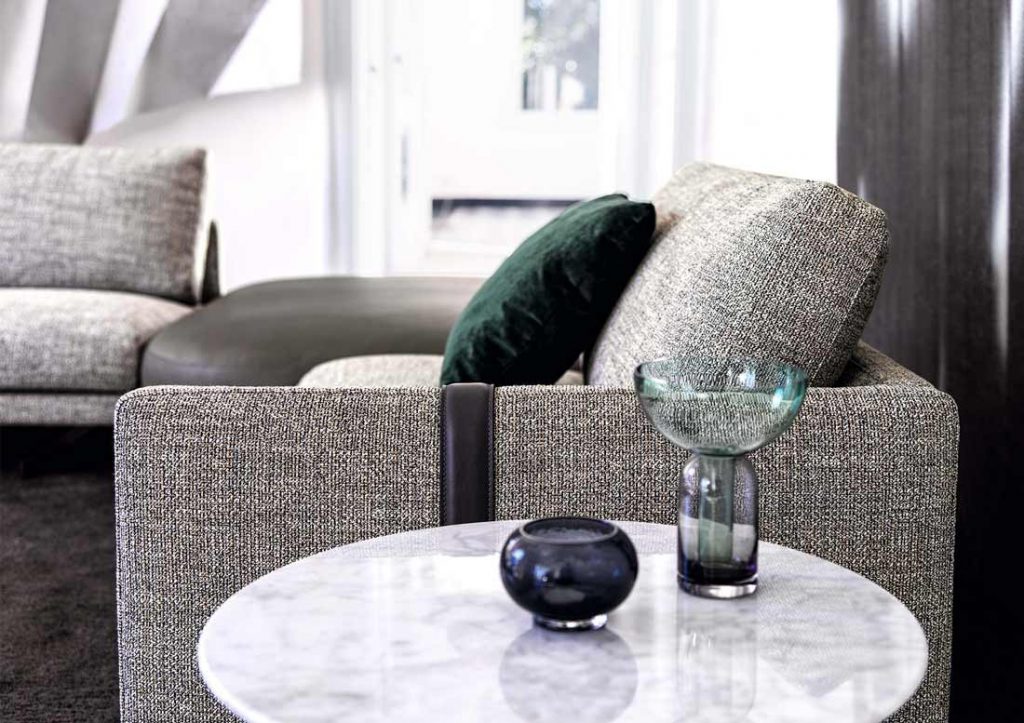 Grey sofas
If you have a grey sofa you can have a matching belt of any colour EXCEPT beige.
It's much better to chose bold, original colours such as orange, violet, green etc.
But we strongly advise you to avoid beige.
Note that for "grey" we mean real grey, a yarn composed entirely of black, white and grey threads.
Any variation of colour, such as the presence of yellow, pink, beige, green or any other colour threads, would change the shade so that it could no longer be considered grey and this would create a different type of effect.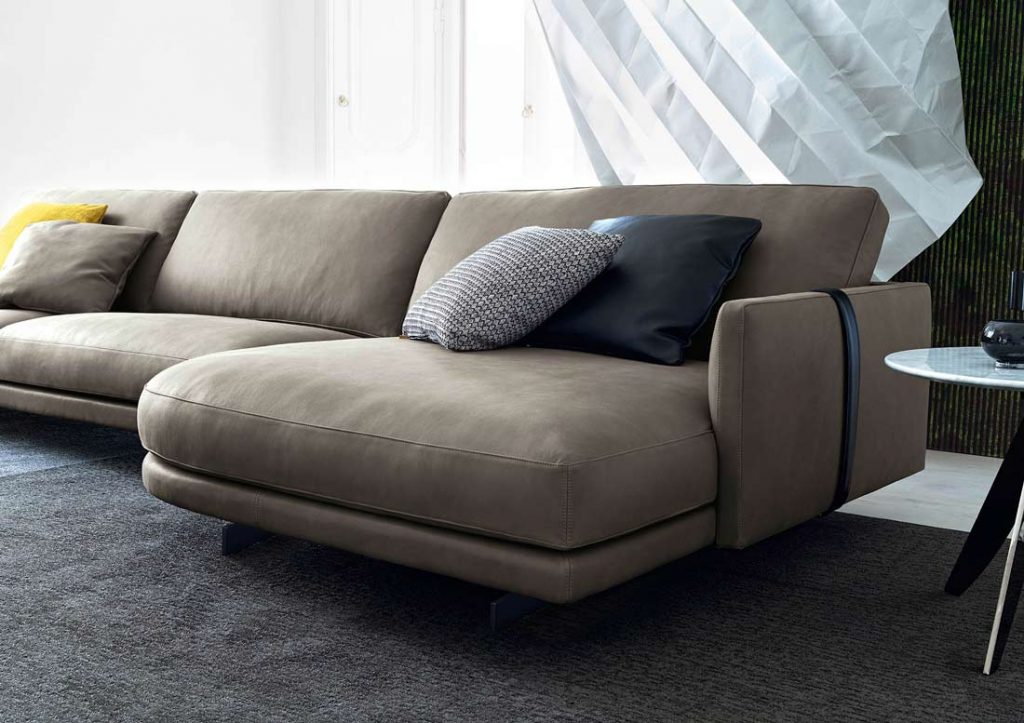 Sofa in Beige, Brown or warm shades of White
If however you wish to create an elegant, sophisticated look with a sofa in beige, brown or a warm shade of white, you can easily match a black belt or one of the same shade so creating a perfect match with the basic colour of the sofa.
In this case it is better to avoid a coloured leather belt as this would create a boring, harlequin effect.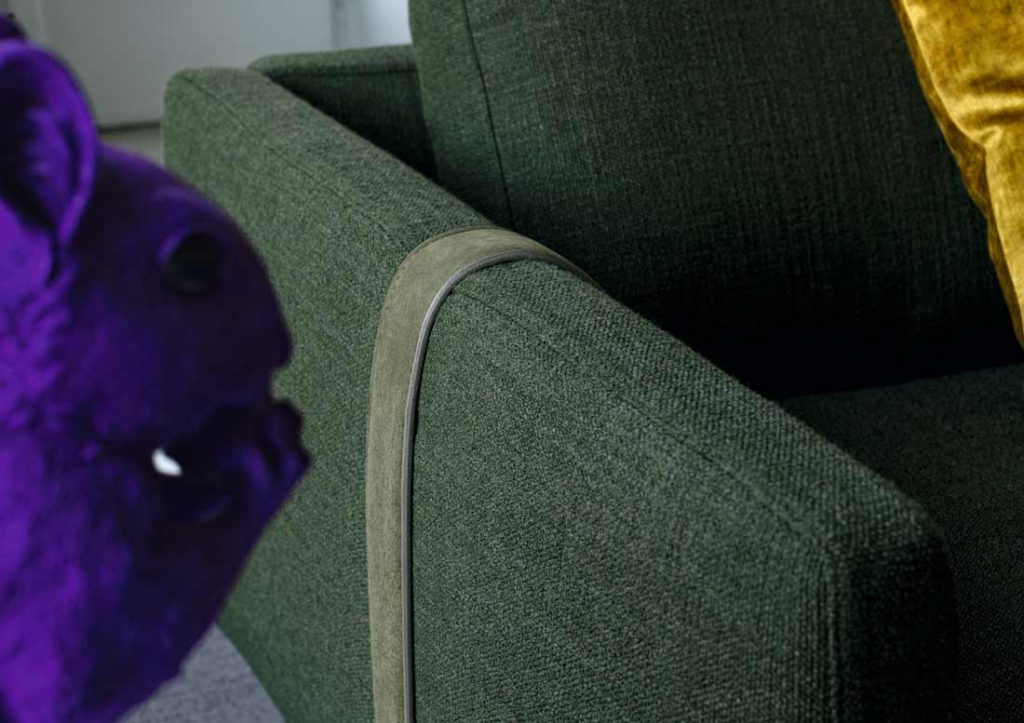 Brightly Coloured sofas
Last but not least, let's consider brightly coloured sofas which are perfect for modern, contemporary environments. By coloured we mean sofas in shades of green, teal, rust, red and sea blue, colours which represent the flagship of the BertO style.
In this case, with coloured upholstery you can combine leather belts either in black or of the same tone or even a complete contrast (in this case you really need the advice of one of our interior designers!).
I hope this has given you some ideas about how to correctly match the Dee Dee leather belts with the various types of sofa.
There are infinite possibilities but only one solution is perfect for you and which reflects your personality and your dream project.
This perfect result can be yours with BertO's design kit and the help of one of our interior designers.
Do you too want to understand how to create your new design project and give a completely new look to your living room?
Ask now for your personalised consultation.
We will help you to create your dream sofa, ideal for your own personal environment.
Your consultation is completely free of charge and you can book it immediately by clicking here below!
Ask now for your personal consultation and create your own furnishing project with one of BertO's Made in Meda interior designers