Do you know why the new Passepartout sofa bed has supreme comfort?
Look at its backrests: three soft cushions padded with goose-down which embrace your shoulders and make every moment a special moment of relaxation.
Furthermore, their original square shape exalts the form of the sofa and creates a contrast with the single seat cushion which is padded in non-deformable polyurethane foam.
Passepartout loves contrasts and a play of colours (as well as a play on words ;-).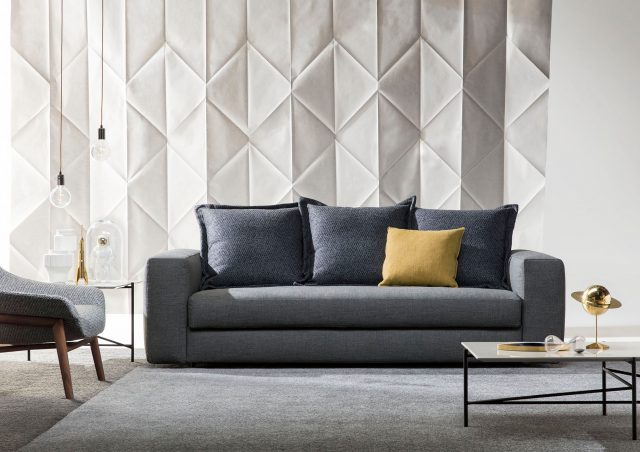 For this reason, today, as when it was introduced, the fun starts when you experiment with mixing leather and fabric, matching different shades and colours on the backrests and seats  (all you need to do is go online and start mixing and matching. Click here).
For the 2018 Sofa bed Collection, Passepartout is proposed with exclusive upholstery from the BertO Fabric Collection, another important novelty for the 2018 season. This collection offers  a selection of top quality upholstery fabrics exclusive to our company and it includes an assortment of colours and textures specially selected to suit our sofas, sofa beds, armchairs and beds, enhance the design and last through the years.
The cushions of the Passepartout backrest are upholstered in Pequod blue, a BertO fabric woven with three threads (two blue and one grey), while the structure and the seat cushions are upholstered in Belleville, the principle fabric in the BertO fabric Collection proposed in anthracite grey (to touch and feel the texture of all the fabric in our collection, come to our Berto Salotti showrooms in Meda, Rome, Turin and Noventa Padovana, also during the weekends).
And as if that's not enough, Passepartout also has excellent references: the sofa bed can be found in the exclusive Resort in Zinal, a winter holiday resort in Switzerland which we totally furnished last winter – have a look at the gallery dedicated to our projects in the section Business Sales on our web site – as well as in the homes of some of the members of the BertO staff!
Find out how to have your personalised Passepartout sofa bed!
Have a chat with Maurizio, Michele, Arianna and Cristina and together we will plan your furnishing project!
Send a mail to servizio.clienti@bertosalotti.it or  call us at +39 0362-333082.