Creating custom sofas for us means putting our custom tailoring and upholstery services at your disposal. We are proud to accompany each client in the creation of his or her furniture projects.
To achieve this, our interior designers delight in designing "impossible" furniture compositions that only a dedicated service like Berto Custm Made can offer.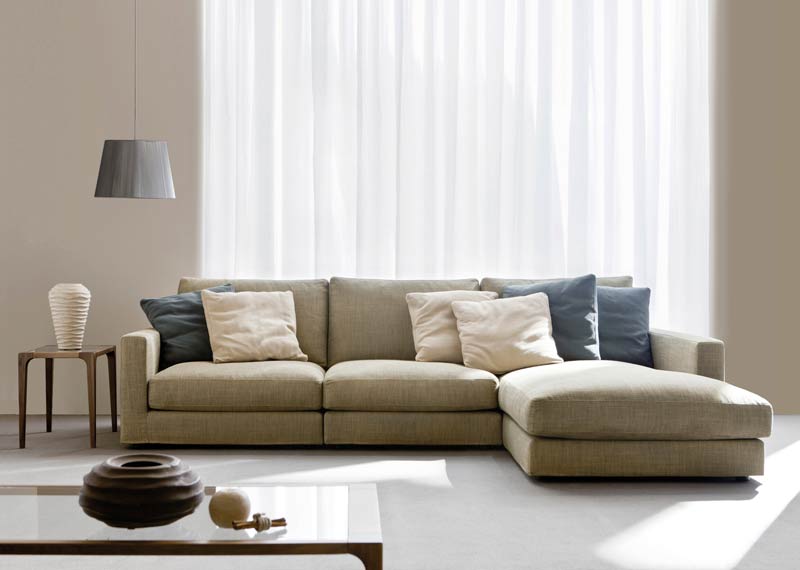 This explains what happened just a few weeks ago to our Morris sectional sofa.
Let's start from the beginning.
The rule should be that once you identify the proper place for your sofa then you choose the best model sofa one that enhances the decor and responds to your daily needs.
This is what should happen when moving, restructuring or simply renewing a home: homeowners must consider the walls and try to imagine colors, shapes, sizes and styles. Which are the right ones?
However, it is at this point that a home on occasion requires a bigger effort of imagination.
This was the case for one of our clients who chose a non-symmetrical wall to put his new sofa.
Searching for the right company to create a custom-made sofa he found us. We invited him to come to our showroom and tell us about his home and his ideas.
What he found, was an architect, an artisan and a designer who created for him and his home, Morris, the "perfect" sectional sofa made with a curved chaise longue.
Below you can see it to understand better that with a thousand words cannot describe the creation of a sofa with these characteristics.
Performing the work: the upholsterer – Pierluigi Pauletto, the tailor and cutter – Luigi Pistore, the stapler – Matelda Bedendi.
Find out how to let your imagination run wild with our service Berto Custom Made write to us at: sumisura@bertosalotti.it, or call us at +39 0362-1851425.