Guido Bagatta conducts "LBA on AIR", the in-depth programme of the 1st Division Basketball League.
The studio in which the programme is recorded has been entirely furnished with a project specially planned for the interior of the sports programme.
Together with the conductor and the producer we chose some of the models from the BertO Collection with the aim of obtaining a friendly, original atmosphere. In this way it's as if the studio audience are welcomed into a homely living room to watch a game of basket ball with their friends.
The Sofa in Guido Bagatta's studio
The sofa chosen was the Chesterfield sofa model Richmond, upholstered in cognac coloured full grain leather with a gloss effect.
The particular characteristic of this model, apart from the originality and the elegance of the upholstery, is the seat. It consists of one single cushion padded with goose down with polyurethane foam inserts which guarantee a welcoming, long-lasting comfort.
The Richmond sofa is particularly comfortable thanks to the use of steel biconical springs and woven elastic straps.
The armchair
The armchair model Hanna with a matching round pouffe was chosen, both articles upholstered in pepper and salt coloured fabric model Minerva from the BertO Collection.
The seat of the Hanna armchair is obtained with the use of the most modern technology and it is realised in polyurethane foam in order to maintain the design and the shape.
The base of the armchair and the pouffe is in solid walnut realised in circular section with different diameters to support the seat.
The coffee table for the living room
The small coffee table model Circus, diameter 100 cm, with the base in walnut stained oak and the top in dust-coloured lacquer, is an exclusive furnishing accessory designed as a surface to place magazines, books or, as in Guido Bagatta's studio, for the personal objects which decorate the home.
Guido Bagatta, the conductor of the programme, was personally involved in the choices and the definition of the furnishing scheme in the studio, trying to create an elegant, informal atmosphere where his guests, columnists and world-class sport experts, would feel at home.
Watch the video review by Guido Bagatta directly from the studio of LBA on AIR and discover the Design of your Dreams made in Meda by BertO in our showrooms.
Make an appointment for your free consultation with one of our interior designers.
Call + 39 0362-333082 or write to servizio.clienti@bertosalotti.it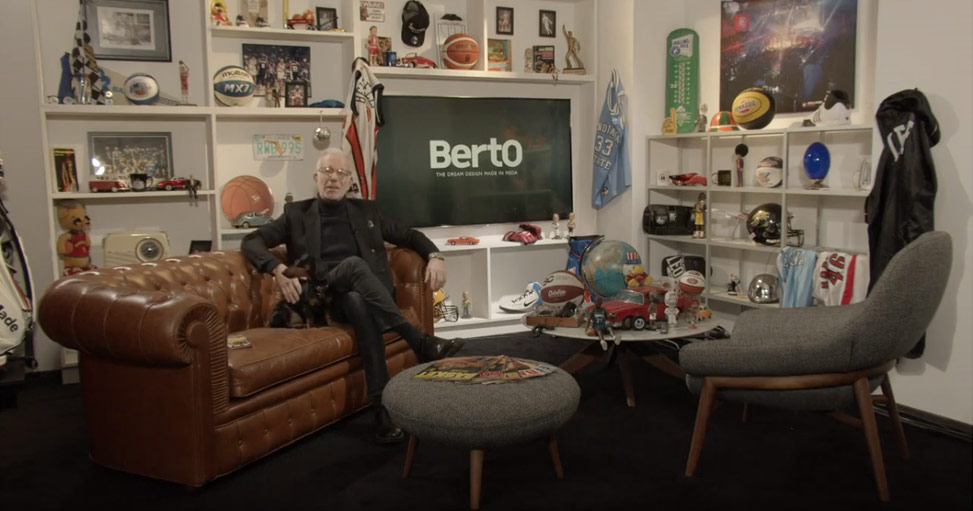 Ask now for your personal consultation and create your own furnishing project with one of BertO's Made in Meda interior designers