There are few hours left up to the event we have been preparing during these weeks: the evening dedicated to the phenomenon "Maker", together with a special group of "artisan minds":
Stefano Schiavo – author of the book "#MAKER – Cosa chiedono le aziende agli artigiani digitali" and main protagonist of the event – will discuss about this argument with our community,
Patrizia Bolzan and Marcello Pirovano, co-founders of the Maker Space "Tecnifico" will be sitting with the author and talking about their own experiences,
Gaia Segattini, the amazing crafter, very well known on the web for "Vendetta Uncinetta", whose extraordinary skills we have already talked about.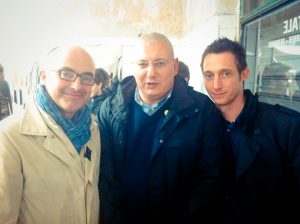 What results are we expecting from the meeting of these incredible talents?
It is hardy to say in advance….but we can relate to two famous main representatives that will draw their conclusions of this great brain storming.
We refer to Stefano Micelli, Director of "Polifactory" at Politecnico in Milan and to Stefano Micelli, Professor of International Management at the University Ca' Foscari in Venice and author of the book "Futuro Artigiano", we have had the chance to meet them both on many occasions in the past.
They accepted our invitation and agreed to "draw the conclusions" of the meeting taking place on Friday, 19th May: we are really pleased about their presence and think it will add a further interesting element to the evening.
See you @ BertoLive