We smile when we think about the phrase "the sofas' job", but then…
How can we describe a "sofa's job"? What does it do all day long?
It makes us feel good, maybe at home while doing what we like most: we watch the TV, we surf on internet, we spend some pleasant moments with our friends, we relax, we listen to some good music or we read a book.
That is exactly what we have created in our showroom in Meda.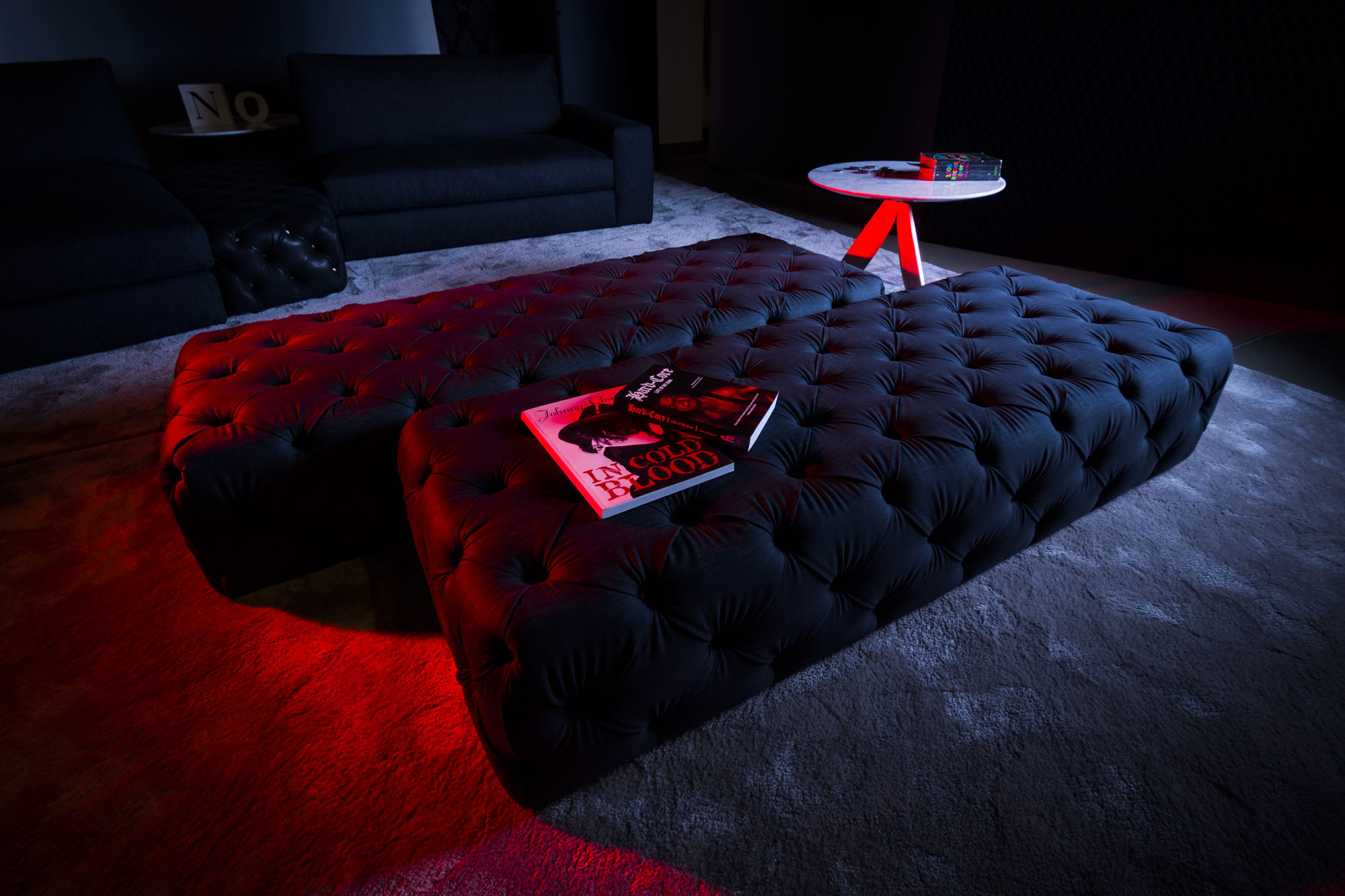 This is a special place in our world that goes beyond the concept of our traditional showroom where we usually present new products and purchase offers for your house.
It represents the house of our passions, a special place where our passions play the game, nothing else.
In #BertoLive we have the possibility of sharing our passions with many other people: music and vinyl records, a good hand brewed beer, the pleasure of a relaxing talk either with an old friend or with someone we meet for the first time.
And what do the sofas of #BertoLive Collection have to do with all this?
They play an important part: they are like professional workers; they welcome us and our guests and make these moments unforgettable.
The sectional sofa Joey with denim cover is made up of a linear element, a chaise longue and a pouf with capitonné finishing and black leather cover. The sofa Joey represents the perfect combination between precious materials and design: it goes beyond the standard idea of symmetry in order to fulfill your desire for freedom.
The design of the armchair Vanessa Capitonné with leather cover goes beyond any expectation and represents our artisan tradition: thanks to the precious materials we have used such as the Nabuk leather or the copper steel feet and buttons, this armchair writes a new page in the upholstery history and becomes a real icon without compromise. The armchair Emilia with leather cover as well combines the elegance of a traditional production with a pure rock style.
If you relax on the sofa Joey or on our armchairs Emilia and Vanessa, then you might ask us: and now where should I put my beer?
The coffee table Circus with Carrara marble top and copper steel legs is at your disposal.
And last but not least, what about the guests? They can sit on our pouf with Capitonné finishing and denim cover.
We wait for you, right inside our BertO showroom in Meda, this special location of our company where…the #BertoLive Collection does what is made for (And it does at its best. Try and see it!