Some weeks ago Gaia Segattini came and see us, she is a friend of ours that "has a pathological curiosity for everything happening on the international scene; since 2006 I have developed a real passion for the American crafts movement thanks to its contents related to simplicity, to creativity and to social revolution."
That is exactly the way she describes herself on her blog "Vendetta Uncinetta", where she writes about new craftsmanship, free creativity, friendly fashion, consumption, "refashion" and crochet and about many other interesting things.
Gaia was one of our first guests to visit #BertoLive. Why?
Read the nice talk she had with Filippo Berto and you will immediately get the answer.
SPOILER ALERT:
We invited Gaia to a #BertoLive event with some friends and talks about the rebirth of the new craftsmanship thanks to the artistic and social movements. Be ready for the interview!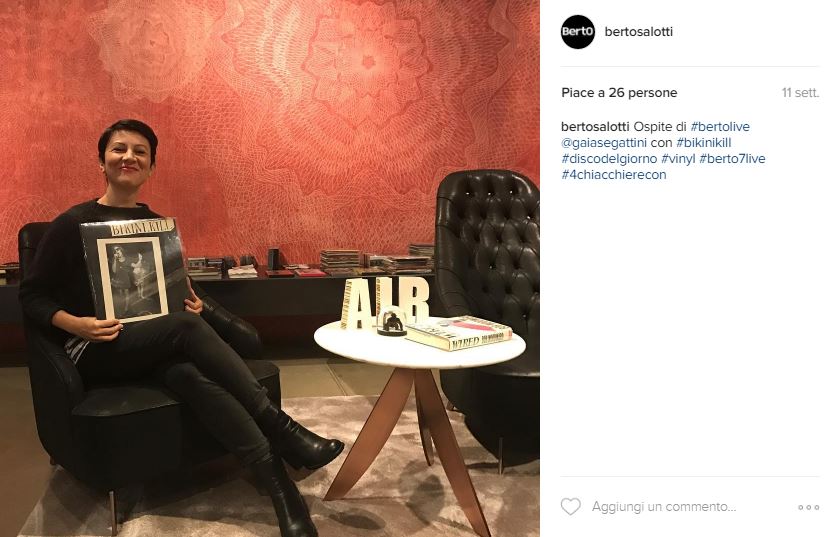 Filippo Berto: How did music influence your professional life?
Gaia: Music has always played an important role not only in my professional life. I would say I have no specific groups or records to refer to, but it has always been very clear in my mind what my beloved styles might be: I am talking about street music and the way the artists play it. I share a passion with you, that is punk music, very "severe", isn't it? Few chords, very severe and incisive, maybe I like it because of my need for strictness and purity. I immediately felt the same style as soon as I entered #BertoLive.
FB: Tell us something about your background, about the period when you investigated the groups' iconography. Was it everything so clear to you?
Gaia: Extremely clear, even if this idea could last just for one day. By those times you really felt the urgent need of being part of an atmosphere, you had to be part of a style. I did not really belong to any special group: sometimes I was Dark, and then for two months I followed the Hip Hop as I was wandering with some guys playing that kind of music, and on the following day I was New Wave.
Every time I got dressed without forgetting any detail and always felt at ease.
I tried to get the best out of those moments, and then as soon as I understood my experience was over I changed again.
I never denied what I did. Every experience was just a part of a whole thing to me.
For many years I have also been attracted by the mod and soul atmosphere.
FB: When did you understand that your interest for style could influence your way of approaching work as well?
Gaia: Curiosity sometimes offers you unpredictable discoveries, but I have always had clear in my mind the interest for style and atmosphere. I could describe you exactly the reverses on a singer's pants much better than the refrain of his songs. I remember the color matching of the images on the cover much better than the single song.
I got this revelation in 1994: I was visiting Pitti and I met for the first time Ted Polhemus, an American anthropologist, photographer and writer.
Ted Polhemus was presenting "Street Style" in Italy for the first time with videos, music and some guys coming from certain metropolitan groups. All this was a kind of a Bible to me.
In his book he wrote the anthropological history of the street styles starting from the Teddy Boys up to the Ravers in the '90s. It was such an amazing experience for me!
FB: Can you say there is a line dividing your life before and after that experience in 1994?
Gaia: Starting from that moment I understood that my main interest was for the precision of the details that were able to create an atmosphere by themselves: the reverses on the Mods' pants were at a very precise height, not a centimeter lower and not a centimeter higher. The Skinheads had a very clear style as they were inspired by the laboring culture. These were symbols and meanings I was always fascinated by.
I did the same when I worked in the fashion industry: a cloth really expresses the tribe you belong to. From a professional point of view I have always been more focused on the initial research; I have always tried to understand the mood of the moment, the reason why something was happening and how this thing was linked to the surrounding it was growing in.
My interest for that world slowly decreased as soon as they started speaking about brand and merchandise rather than about the product: "style" was then artificially created and used for product with no value at all.
FB: As for our field there have always been some specialized artisans on certain styles: someone is focused on the Venetian Baroque, someone else is specialized only on the Empire, others make only English style and Biedermeier; there is someone that produces Luigi XV but not Luigi XVI.
There are no more requests for a pure style.
Gaia: That happens as for interior, for design and even for fashion. There is short time left for ideas to settle down. There is no more a valid underground scenery: everything is now so visible and public that it does not offer the same interest. As soon as you can name a movement, then it is already over.
It happens for furniture as well: in the flats you can find a mixture of ethnic pieces of furniture with antiques, modern style and design. We should be able to focus on the whole and not on the single piece of furniture: our furniture must have a modern aspect and should really express what we would like to communicate. The result of this mixture reflects more our personal taste rather than the uniqueness of the piece of furniture, as it happens when we get dressed.
FB: Do you think that this consumption speed, this loss of meaning, is an irreversible process or there is still more space for a new way of living?
Gaia: In my opinion every choice you make, and today it is more evident than ever, is linked to the affinity between the subject and the objet you choose.
You are more interested in things there are closer to your way of living, and they are not necessarily the most beautiful ones. But it is quite hard to define what exactly is closer to you because you must know first what you really want.
Every single person has many different sides, we mix various interests…
And the affinity you see in the object you choose actually derives from a very elaborate process that is not exactly as instinctive as you think.
FB: Could you give us an example?
Gaia: Some years ago we believed that this age would be totally computerized, that we would use just our index finger to press some buttons on the keyboard and that we would stay at home all day long with a computer screen in front of us and with same amianto overalls on. Things may then change in different ways and turn into opposite results: we all have an iper-technological phone with a camera with milliard pixel definition and we take a picture of the puff pastry we have just made by hand. Do you get the meaning?
Technology and tradition together in a surprising and innovative way. What is happening today has to do with people and their rediscovery of emotional paths.
FB: It is a difficult and sophisticated process. Everything runs fast nowadays and it is hard to recognize those symbols, as it happened for the countercultures of the '90s. There is a general fall as for ideologies at all levels. I would dare to say that the strongest experiences are almost totalitarian.
Gaia: We are missing space – and time as well – we could use to explore our ideas and thoughts. It is harder today to get to yourself and to understand your real needs. There is no time left for ideas and feelings to settle down. We are more anxious about showing rather than doing. Our experiences, indeed, our paths and mistakes should be given more time and more silence.
FB: We are really interested in your story about countercultures. How did you use these experiences and what did keep them together?
Gaia: I have always had a great passion for everything that comes from the bottom but has the power to influence the world around. It was such a pleasure when I entered #BertoLive and saw the book "Futuro Artigiano" right near the Ramones' biography and the Shonen Knife's vinyl. The book "Futuro Artigiano" exactly describes this reality: it is about new craftsmanship and self-production. That reminds us of the American punk atmosphere of the '90s: I print my own t-shirts; I record my audio tapes to deliver them to the groups with their own distribution network; I print my fanzines as I know no magazines writes about my groups; I create an alternative network so that no one can take advantage of my products and creations.
There a real need for authenticity and sincerity.
The craftsmanship recovery has a great ethic, economic, social and artistic value: it represents a strong energy we have not felt since many years.
FB: Ok, you can tell us: what is your favorite record?
Gaia: I like different things: some of them really move me, they touch me, some others bring me back in time and I would like to mosh again with thousands of people (a smile on her face).
I have always liked the punk sound: the incisive focus, the defined and sharp things. I like the original skinhead style and the groups that make your heart beating and feel melancholic without hope like the Smiths.
I am interested in the Norther Soul: it is a kind of a hidden subculture born at the beginning of the '70s in the northern part of England. It is a movement the club culture derives from as it is used to be defined today: all guys coming from every region of England, either by bus or by hitch-hiking, met and danced all night long in these traditional ballrooms with parquet on the floor; they wore their Adidas undershirts and leather-soled shoes in order to feel better at dancing; their dancing movements remind us about the beginning of break dance and funk. A powerful rhythm but with nostalgic words about difficult loves: when I drive my car and listen to this kind of music, I really feel moved.
I also like the shoegaze, all female punk groups and the Riot Grrrls movement.
FB: The Bikini Kill record is exactly our choice out of the #BertoLive Music Collection
Gaia: Right! I am attracted by original and genuine products, the ones that do not have any additional sophistication.
That is exactly what I thought when I entered #BertoLive.
Original idea, original piece of furniture and original research.
You can feel it even if you do not have any experience of the countercultures of the '90s.
The research for originality allows you to get in touch with new ideas and places, to meet people with different cultural and esthetical backgrounds.
As soon as you enter you see the sofas and armchairs in the distance and they look like classic and traditional pieces of furniture. But then when you get closer you find unexpected details: there's the denim, there's the stud, there are classic finishing that belong to the upholstery tradition but they are realized in an extremely original way.
FB: What is the real originality then?
Gaia: It is just like when you see a Mod and you do not get the meaning of his look: he could appear like a guy with his father's cloths on, with a suit or a jacket; he might appear like a formal bank clerk. But the real differences are made up of the details, the fabric, the fit and the style.
I find more power and originality in this kind of differences rather than in an expressly different look.
I do not think there is a real need for new products today.
The difference is perfectly represented by a product that is able to express something, to satisfy a need that hasn't been fulfilled yet, a product with some details that derive from a certain kind of experience, from people. We have different backgrounds and it is quite hard to find a product that may express exactly what we are.
You choose the beauty of the armchairs #BertoLive because they look like your personal story and you can establish a strong connection with them which is supposed to last over the years. You do not feel bored with them and they do no cheat on you.