We began the project #divanoXmanagua totally naive of the success that it could have: we've been committed from the beginning but "open" projects like this depend on external responses and participation.
We are now approaching the third workshop, still 4 workshops to go, the importance of the sofa itself as a product has great potential. Working in collaboration with our partners Terre des Hommes Italy and with the participation of the training center AFOL, Meda, the project is bearing fruit, more beautiful than we could have…..imagined.
We are not referring only to the testimonies from esteemed journalists like, Beppe Severgnini and Alessia Mosca, but also opportunities for further collaboration, when we mutually come together to do something good.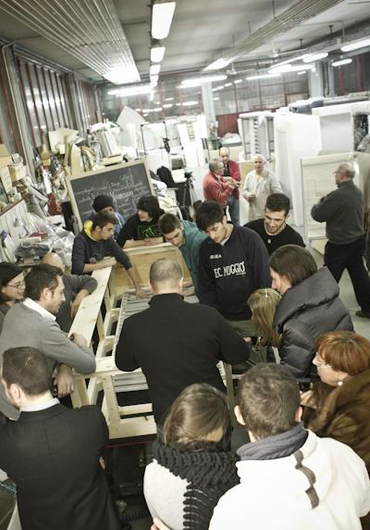 (For those who are not familiar with the project the # divanoXmanagua is a "co-production" of a high quality sofa, completely hand-made and open to the public in what is known as "crowd-crafting", that is, anyone who wants to participate is welcomed. The sofa upon completion will go to auction and all proceeds from the sale will go to benefit the children of Managua.)
Our next workshop, #divanoXmanagua, takes place on March 3rd in Rome, where we will have three appointments:
March 3rd at 17.30
The group – Girl Geek Dinner (GGD) – Will be hosting an open meeting on the theme: CORPORATE SOCIAL RESPONSIBILITY – (CSR)
March 3rd at 18.30
Time to roll up our sleeves and continue our work: after deciding on the design in the first session and having dealt with the wooden frame and straps in the second session, the third session must identify how to put our hands on the capitonné finish.
March 3rd at 20.00
Aperitize
Our meeting will take place in ourBerto Salotti showroom in Rome, on Via Appia Nuova, 1291. (The entrance is in the commercial area staying to the left side of Via Appia Nuova, just after passing the GRA, exit 23 – see map) .
We are looking forward to seeing you all: here is the event on Facebook and here is the official page for registration.