Web, 2004.
Before Facebook, before social network, before memes, before many other things, the Berto Blog appeared online.
Happy 17th birthday, BertoStory!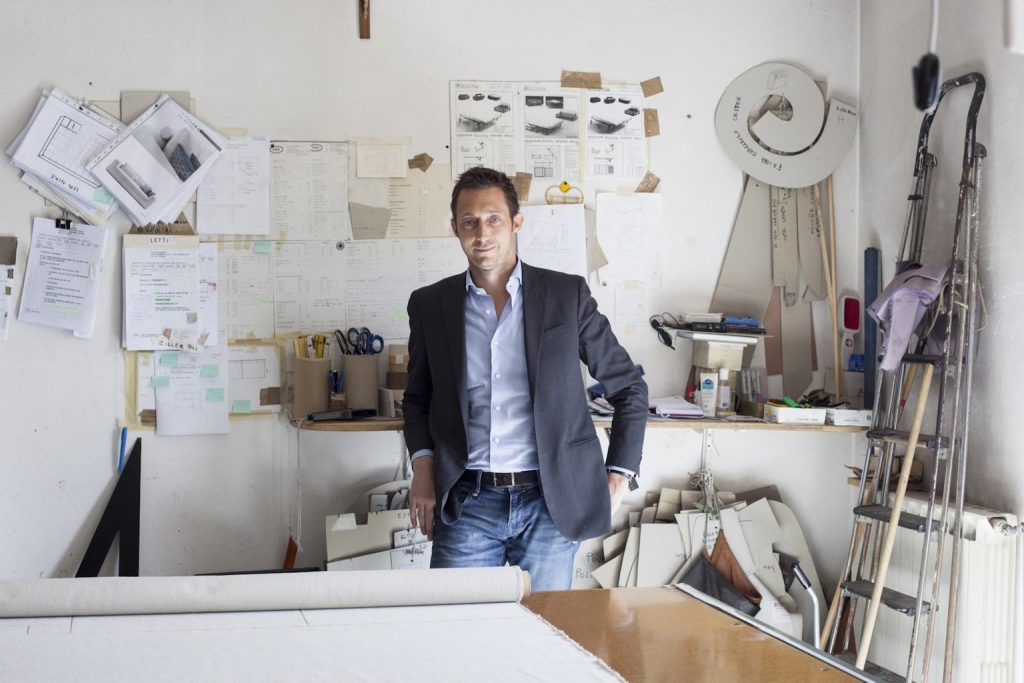 17 years ago, on 12th January 2004, our blog was born, a blog which – in time – has proved to be an incredible stroke of luck, a fundamental resource and above all a place where we can meet with customers, friends, people who are merely curious and Design enthusiasts throughout the whole world.
Today, in 2021, it's difficult to imagine a world without social network.
Nowadays Facebook, Instagram and all the other social networks are part of our normal daily routine and activity.
And this applies both to individuals and to societies.
But back in 2004 we in BertO, curious as we are, decided to enter into that which was, at the time, the first and only way to have an interactive dialogue online: the Blog.
Anyone who understands the Internet knows that blogs were the forerunners of social networks: in those early years these were the only sites which allowed people to read a post and give an answer, give an opinion and make contact.
And these expressions – "give an opinion", "make contact" – are the synthesis of the way our Society works.
First of all, listen to the needs of the person you are speaking to.
And then a direct, personal contact, face-to-face, so that we can really start to have a real relationship.
This is the only type of relationship which will allow you to help that person achieve their "Dream Design Made in Meda" project in the best possible way.
So we didn't miss the opportunity to have our very own Blog!
And it didn't matter that almost no other society in Italy – except for just a few societies like Fiat, the first brand name in Italy to have a corporate blog – had entered into the world of the Internet. Here we are passionate about the future and when our name is mentioned we always reply "Present!".
And it's wonderful today, 17 years later, to re-read that first post from January 2004 in which, with a mixture of shyness and bravado, a young Filippo Berto shouted to the world, "I love blogs!"…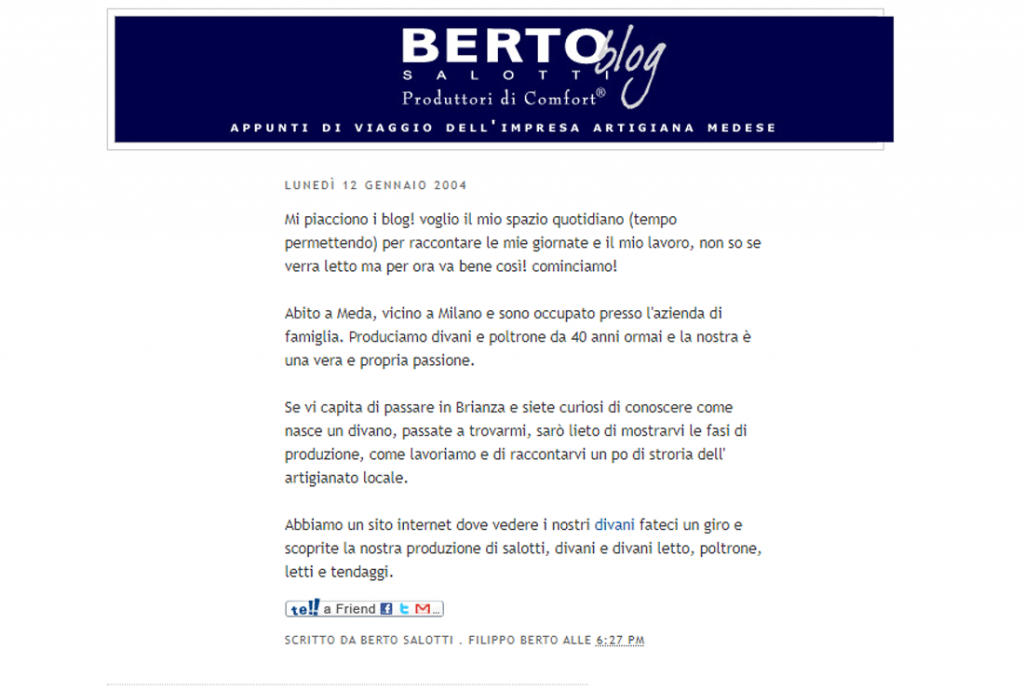 But it's also great to see how the words in that article, written back in 2004, have been the source of many beautiful initiatives many years later.
It's not a long article but it contains the seeds of that which BertO was destined to become.
Here are a few examples:
"I live in Meda…"
Meda, the world capital of Design, can be seen next to our name in all our communications: "BertO – The Dream Design Made in Meda", is quoted right from the very first lines of that first post.
Discover Made in Meda by BertO here >>> https://blog.bertosofas.co.uk/made-in-meda/
"We have been producing sofas and armchairs for forty years, it is our true passion"
The passion, as Filippo confirms, has become the mantra of our society and we have even written a book about this passion.
Discover The Spirit of 74: 74 key words to live happily the passion for our chosen profession, here >>> https://blog.bertosofas.co.uk/spirit-of-74/
"If you are curious to see how a sofa is made, come and visit us, we will be happy to show you all the phases of the production and show you how we work"
The chance to visit our workshops has now been extended and anyone is welcome to take an active part in the work of our master upholsterers. This personal involvement has become a part of our activity which has allowed us to discover and launch crowd-crafting in Italy.
Find out more here >>> https://www.bertosofas.co.uk/crowdcrafting-en.html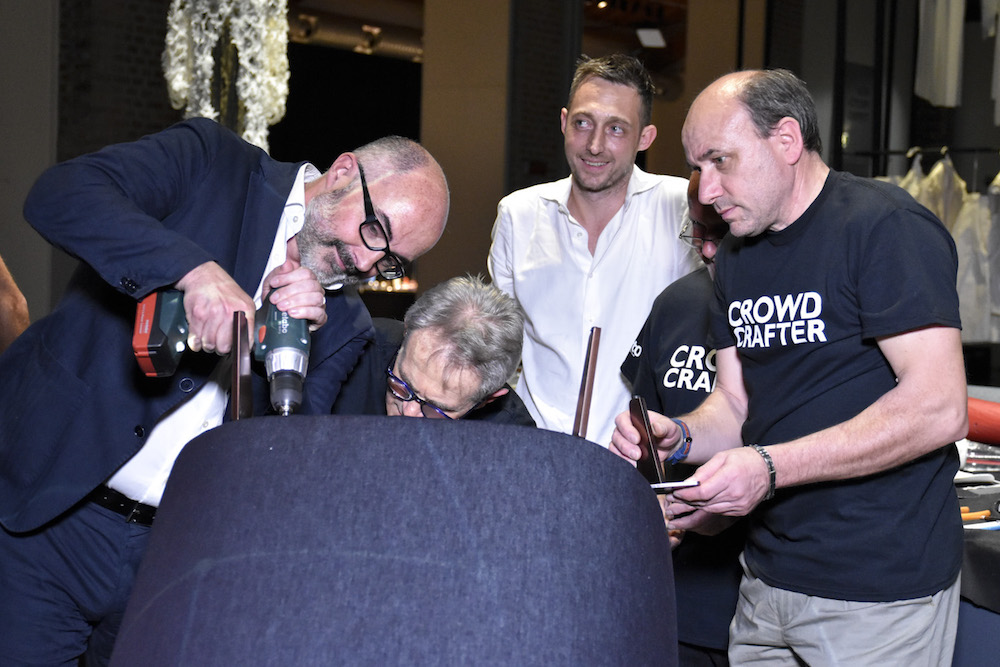 Today BertoStory is an important site visited daily by an enormous number of people. It keeps you up-to-date with news and offers information about many themes regarding Design and interior decorating and also everything which concerns Made in Meda, our Showrooms, our Crowd-crafting projects and much more.
The articles are published in 7 languages because over these last 17 years there has been an amazing increase not only in our followers but also in the countries in which they live!
Today our blog can be read not only in Italian but also in English, French, German, Russian, Spanish and Chinese.
We have published an incredible 1,954 articles, amazing when we stop to think about it but it is all there in the many pages of our BertoStory: we invite you to browse through them!
Since that 12th January 2004 many things have changed but the pleasure we find in contacting anyone who wishes to speak with us is as strong as ever.
Because if it's true that social networks are the simplest and most direct way of sharing information and interacting it is also true that such a complete view of the world of the "Dream Design" Made in Meda, rich in texts, information, images and videos which have been carefully created and organised over the last 17 years, can only be found in a site specially designed and lovingly cared for in all its parts.
Go online and read the pages of our blog and you will find the talent and passion which can, at any moment, transform your home and take you to an unimaginable level of comfort with a unique Design, made to measure for you.
Call one of our expert interior designers and see for yourself what the extraordinary competence with which the Dream Design Made in Meda by BertO can do for your own home!
Ask now for your personal consultation and create your own furnishing project with one of BertO's Made in Meda interior designers