If you are thinking about buying a leather sofa to complete the furnishing project for your living room, you have very probably asked yourself this question:
Are all the leather sofas you can find on the market really the same?
It's true: leather upholstery is a crucial theme for a sofa. There are people who love leather and can't imagine their living room without a leather sofa but there are also people who have always had sofas with fabric upholstery and who would like to know how to choose a leather sofa which is ideal and which suits their personal needs.
So you find yourself facing a series of queries which have to be solved so that you can make the right decision and finally achieve the living room of your dreams.
It wouldn't be the first time that a room with enormous potential was ruined by a sofa upholstered in low-quality leather, unpleasant to the touch and in total contrast with the rest of the furnishing.
So knowing how to distinguish a good quality leather from a low quality leather is a fundamental starting point.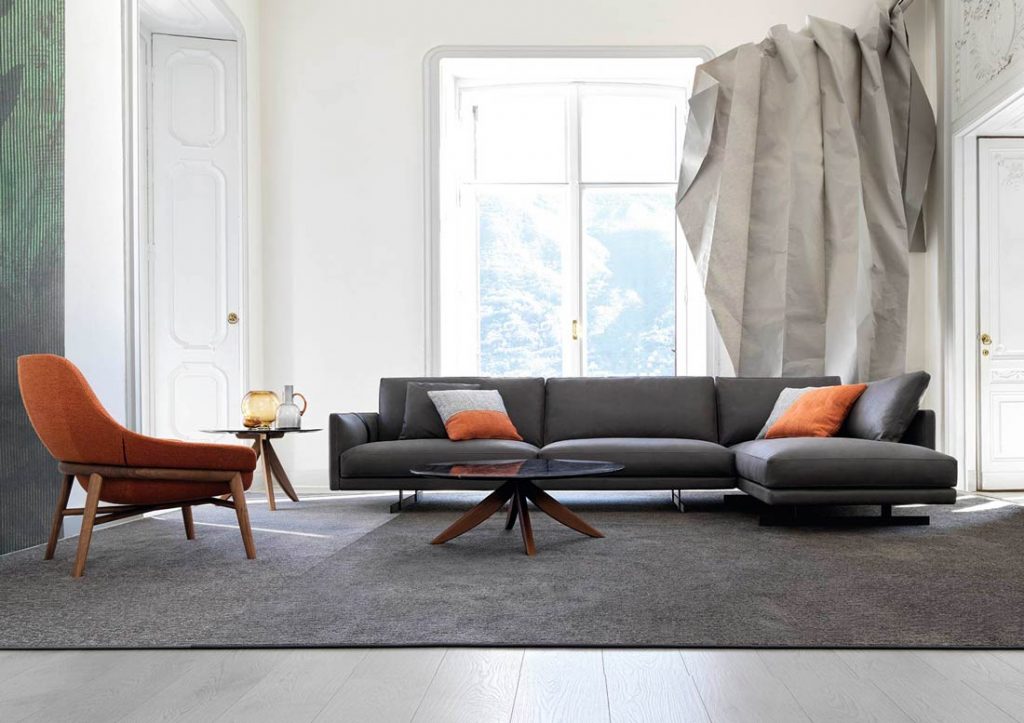 To be able to make the right choice you have to give a thought to the fundamental role that leather plays in Italian culture.
I'm sure that if you think about leather, you immediately think about the concept of artisan craftsmanship, prestige and manufacturing. Our country boasts a centuries-old tradition of incredible craftsmen with extraordinary mastery in the field of tanning and working hides for the leather and footwear sectors.
In the same way, in the furnishing field, leather gives an atmosphere of prestige and elegance and it has an influence on all our senses, touch, sight and smell.
Historically leather was synonymous with craftsmanship both in the tanning and in the production of the finished product but with the onset of a mass-consumer society, the processes have been standardised to give a greater number of people the possibility to purchase leather goods.
And so the market has become flooded with articles very different from the original concept of craftsmanship and excellent manufacturing, both for the origin of the raw material as well as for the tanning and workmanship.
Today on the market you can find sofas upholstered in leather which, to the touch, doesn't even feel like leather and which comes from intensive farming and a world of exploitation, a long way from the idea of sartorial production.
In a few words: all leather is NOT the same.
It is such a complex subject that you find yourself hoping that the leather on your new sofa is really from a controlled provenance, that it has been produced by professional craftsmen and that it is covered by a guarantee.
In BertO, leather has a fundamental importance.
This is because the Berto brothers started out as leather upholsterers.
To create the Dee Dee seating system it was necessary to study the subject in depth.
We could easily have used one of the leathers in our collection which are all specially selected and of top quality, but for this extraordinary sofa we wanted something which was even more special, something created just for this project.
Dee Dee, in fact, has very particular shapes and forms and unless we wanted to make compromises, we couldn't make do with what was offered on the market.
It's important to understand exactly which material has the right characteristics to follow the irregular forms of this project with its curves and counter-curves, linear parts, fine stitching and narrow elements.
We needed leather which could guarantee elasticity but at the same time with extreme resistance. With the wrong material we would have created a solution which would turn out to be either too rich or too poor.
The search for the perfect material was long and arduous but finally we found the most suitable leather for a project which is unique on the Italian Design scene: Douglas leather.
This particular type of leather comes from a specific breed of cattle carefully selected and bred in Italy and in Europe.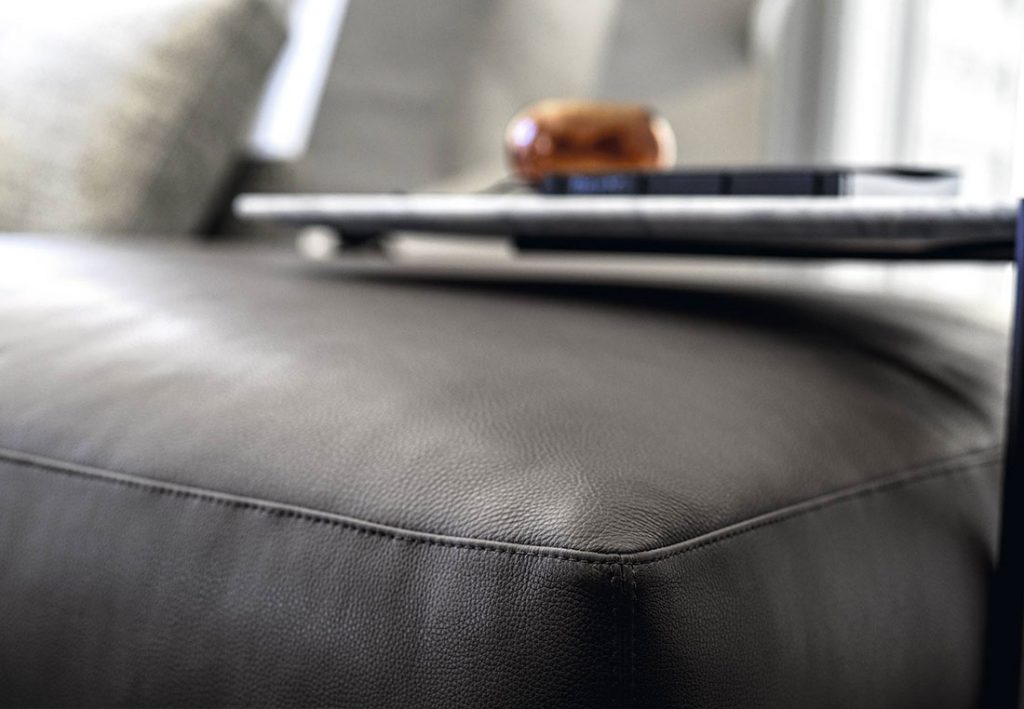 Douglas leather is tanned with natural techniques which leave the original surface practically unchanged and how it really is in its natural state.
With Douglas leather we tried to create a hybrid which had never been attempted before by combining the softness of Nubuck leather with the texture of classic, solid-colour leather with a smooth or natural grain surface.
Touching, caressing and handling Douglas leather, you feel you are touching something rich and silky.
This was not our only aim, we also wanted to create something which couldn't be found on the market.
Dee Dee is the name of a famous musician and the sofa which carries this name creates a particular feeling when you run your hand along its surface.
Unlike other unique, high-quality leathers, Douglas syntheses in a single product all the characteristics of the very best leather…. with a touch of musicality!
Dee Dee has completely removable covers, not only in the fabric version, but also in the version in leather!. A unique feature which cannot be found on the market.
As you can see, the BertO design system is based on a series of codes and materials which are in perfect harmony and balance while still offering the possibility of being totally personalised according to each individual project.
If you are curious to see if Dee Dee is right for you, ask here for the complete catalogue and contact us to make an appointment with one of our expert consultants by clicking here below!
Ask now for your personal consultation and create your own furnishing project with one of BertO's Made in Meda interior designers