The Gulliver double sofa bed has returned completely revolutionised and with just one aim, to become the protagonist of your furnishing project thanks to new technology, details and padding, all to satisfy your ever changing needs for comfort.
And it's for this reason that we have had fun thinking of all the situations in which this model can transform your home.
What makes Gulliver different from all the other sofa beds?
The design: welcoming and soft with a minimal form but with great comfort. The slender armrests allow it to be placed in even the smallest spaces. In the double bed version Gulliver has a total dimension of L.215 cms x D.100 cms x H.90 cms.
The comfort: a deep seat, high backrests which support your shoulders, seat cushions padded in polyurethane foam and backrest in ducted goose down. And for the night? Beechwood slats with a choice of mattress between springs, loose covered poly latex, pocketed springs, lattice, memory foam or micro pocket sprung to ensure a night's sleep just like in a real bed.
The style: thanks to the most exclusive selection of practical, made to last fabrics,  Gulliver has nothing to envy of more exclusive sofas. The pinched stitching, the small dimensions, the way it fits in with more modern furnishing accessories to contrast its elegant minimalism all make it the ideal sofa to place into many different furnishing schemes.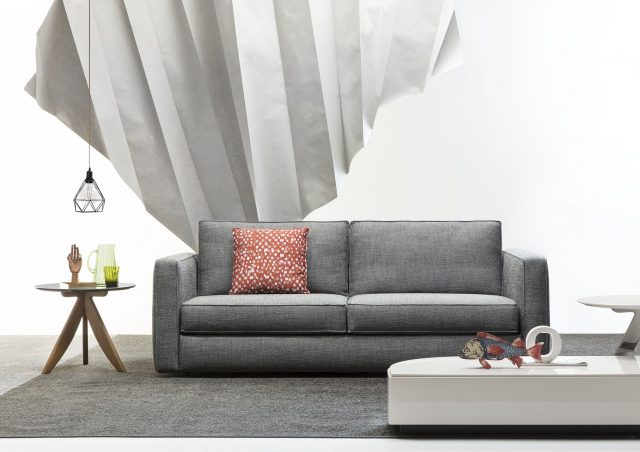 Here are some of them.
1- The sofa bed for a flat in the city
Thanks to its reduced dimensions, Gulliver can be the main sofa in the home where you can relax at any time of the day. When necessary, if you don't have a guest bedroom, Gulliver can welcome your guests with warmth and comfort assuring them a good night's sleep.
2- The sofa bed for bed-sitters
Where there is really very little space, not only can Gulliver be the main sofa in the home but also the main bed. Thanks to its slatted beechwood base and a mattress which is available with a height of 18 cm, Gulliver solves your every problem without having to sacrifice anything. So why choose if you can have both?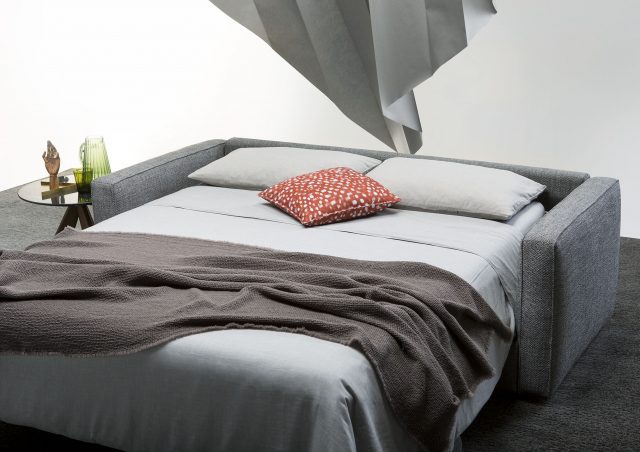 3- The sofa bed for the holiday home at the sea
A second home is the ideal place for a sofa bed. Yes, but which?  Gulliver upholstered in linen is fresh, completely loose-covered and can be washed in water of up to a temperature of 40°.
4-The sofa bed for the holiday home in the mountains
Your house in the mountains may be tiny or large, open space or with separate bedrooms, but one thing is sure, there must always be room for your friends. So the sofa bed is a must in furnishing your mountain retreat. Just imagine it upholstered in cashmere from the LoroPiana Interiors Collection or in soft leather, perhaps water repellent from the Blonde Collection.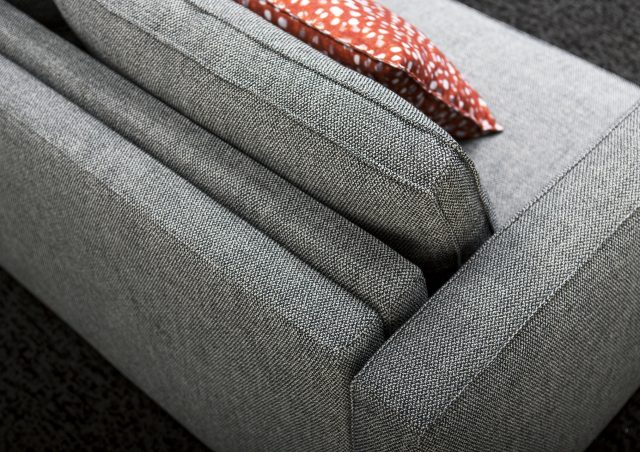 5- The sofa bed for the office
How often do you hear people say "my office is my second home"? When a lovely, comfortable sofa, essential in your office to welcome your clients while waiting to be received or for informal meetings, can be transformed into a comfortable bed then it becomes a really versatile piece of furniture.  Comfortable for you but also for your clients.
6-The sofa bed for a hotel or a B&B
Gulliver satisfies to the full all the requirements for furnishing accommodation structures from hotel rooms to  Bed & Breakfast. Do you remember Hotel Calabash in Grenada, in the Caribbean?
7- The sofa bed in the Berto Salotti showrooms in Meda, Rome, Turin and Noventa Padovana. Yes, that's right: Gulliver doesn't give pleasure only to our clients, but also to us and that's why it is present in all our shops. It can be personalised to offer you maximum comfort in whichever home you want to place it.
Or you can choose and acquire Gulliver directly online (maybe at the same time having a look at our sofa bed outlet online)
For any information, assistance, query or request, please come and have a chat with us!
Mail us at servizio.clienti@bertosalotti.it or call +39 0362-333082.
We look forward to hearing from you!