"Mi piacciono i blog!
Voglio il mio spazio quotidiano (tempo permettendo) per raccontare le mie giornate e il mio lavoro, non so se verrà letto ma per ora va bene così!
Cominciamo!"
I began blogging on January 12 2004, with my first post, at the time I was writing my thesis, this adventure online with Berto blog originated with this post, "Travel notes from the craft industry of Meda."
That night, I officially became a Blogger and this first post would always remain in my heart.
I did not know exactly what I was doing, but I knew that I had to do it.
I remember writing a few lines.
Then I would read it again; to me it sounded simple but it left me with very strong emotions.
Writing that post made me sign a pact with myself and with the internet. It made me commit publicly.
Ten intense years have passed full of hard work, many sacrifices and a great deal of satisfaction.
Blogging is like a witness to this journey; writing about it has helped me to reason and learn new moves. From that moment on, I put a public face on every Berto project and I pledged to myself, to focus on not losing it and to fulfill my promise with increasingly higher expectations.
Most importantly, this allowed me to learn from many of the friends I grew up with.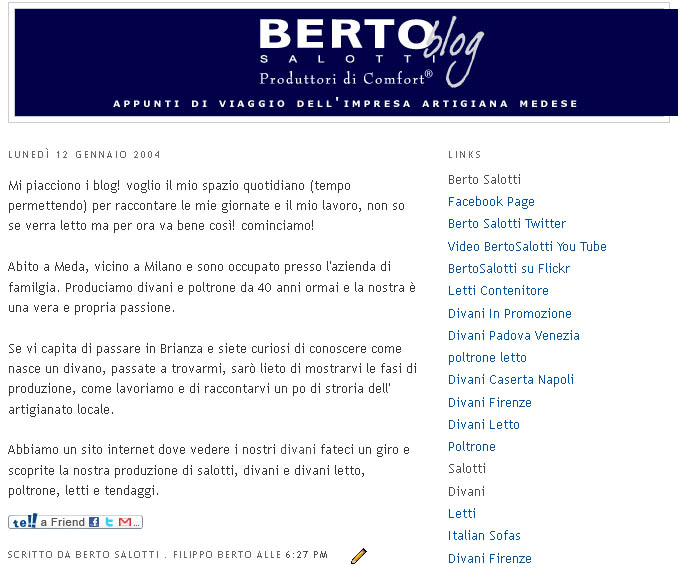 I remember in 2004, blogging had an air of unknown territory, we all knew each other keeping close to the stories we were telling, commenting on and sharing.
For some, it was strange to see a small craft business, an upholsterer from Meda, intent on telling his story: the life of his company and its' employees, its' products and its' daily activities, or to read about his outlook on the world.
At that time, we were few. In my field, I was the first.
People began calling us; they were witness to this strange idea and our pioneering effort, asking questions about the meaning of it.
My response today, "I'm still trying, day after day, post after post, to explain."
An adventure that – after 10 years of blogging, we progressively extended to all social networks – because we are convinced that this is only the beginning.

If I look back, I see a long path of research, not yet finished.
Because what interests me today just as it did yesterday, is looking toward tomorrow.
The question that spontaneously arises from this:
Moreover, in 10 years? Where will the conversation take us?
I ask all of you, but particularly to those who were already connected on that first day, January 12, 2004.
I do not have names, but you know who you are; I thank you for your company in the last 10 years 🙂