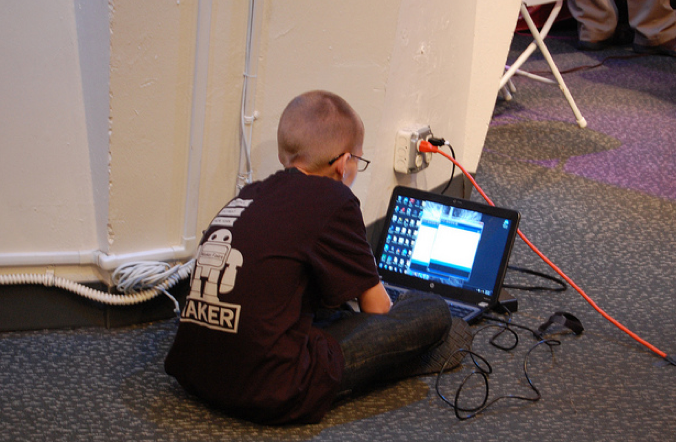 "I am 14. I have Asperger."
Thus begins a brief biography of Joey Hudy on his Twitter.
Who is Joey Hudy?
He is a boy, who set in motion a new motto "don't be bored, do something" taking his own advice, he started to build things.
In the U.S., where Joey lives, he's become famous among "makers" and in trade fairs such as Maker Faires.
[ The makers, if you don't already know, is a cultural movement, they are considered as people who take the initiative and do something, they look for new ways to work with their talent and their imagination, using their hands.
It's a big-little revolution that has had particular influence in our cultural as noted in books like "Makers" by Cory Doctorow and "The Craftsman" by Richard Sennett. In Italy they've talked a lot about it in the media and in books, we have authors like Stefano Micelli who wrote "Futuro Artigiano", there has also been reference to it in the Italian magazine, Make, and even at events like, "World Wide Rome" held last Friday in Rome.
Another "keyword" important to the movement is Arduino makers of component technology invented by, Italian, Massimo Banzi, who had the genius to make open source, "available to all." It's interesting to know that Arduino is also the basis of Joey Hudy's inventions. ]
Joey is beginning to see some earnings from his inventions, as he explains in his blog "about me", entitled, "Look what Joey is Making." It's his self description that is so striking, mainly because of the lucidity with which Joey speaks about himself, and yet, we have to remind ourselves that they are the words of a boy.
Many have spoken about Joey and all with great admiration. We've cited a post by Tim O'Reilly, one of the gurus of the global network and also Riccardo Luna in his article in the newspaper La Repubblica of last Thursday made me aware of it for the first time.
A particularly well known invention of Joeys' is the "Marshmallow Cannon" also because it gave the legendary Joey the occasion to meet U.S. President Barack Obama, a truly remarkable opportunity.
At the end of this post you can watch the video of Joey and Obama, it's simply extraordinary. You will understand why we believe that Joey has a great deal to teach us all about craftsmanship. This young man proves we share a deeper understanding; the importance and the enormous value of making something with your hands.
We asked Joey if he could answer some questions for our blog. But before the interview, we wish to thank both him and his talented mom with a big…
Thank you Joey,
You Rock! …
INTERVIEW WITH JOEY HUDY
Berto Salotti – How did you start "making thing?"
Joey Hudy – I don't really remember how I got started. I just always liked making things. I really got going with the help of Elenco Electronics. They sent me electronics to learn from and they gave me my first soldering iron.
BS – What invention do you like the most?
JH – The Marshmallow Cannon!
BS – "Don't be bored… do something" is a lovely saying. How did you think of it?
JH – It really just came from me! I was bored in school so I would make stuff and bring it home to my mom and dad.
BS – You must have very good technical skills: Where and how did you learn them? Did it take a special education to get the kind of skills that turned you into a maker?
JH – Not really. I got a lot of help with my skills in the past year from Elenco and working on a lot of their kits.
BS – When we heard that you were using Italian Arduino controllers, well, that made us feel good! How do you like Arduino technology?
JH – I LOVE my Arduino! It's the best, its very user friendly.
BS – What are you working on now?
JH – I have made a 3x3x3 LED Cube Arduino Shield Kit for beginners. The next kit I'd like to do is an EL Wire Shield for Arduino or a 555 Timer Learn to Solder Kit.
BS – Final question: How did it feel to impress The President of the United States? 🙂
JH – Really Cool. If more kids see what I did, maybe it will make them realize they could be there next year.