An evening spent in front of the TV is one of the most common things in life we all enjoy, a common ritual with a special performance every evening; we do not only refer to TV shows but we are talking about the location where it takes place: our living.
As the stage is getting more and more important in the execution of "live" music, so design as well plays an important role as for the contest where you sit and relax watching TV.
And the TV cabinet Mike is really a part in the show because it is….with us even when the performance has not started yet, or when it was already over maybe the night before, for better or for worse, with the best and worst movies.
The TV cabinet Mike is always the main protagonist – by the way, do you remember "Mike Love" by Beach Boys? – and its "design performance" is always convincing, with any band it has to interact: TV? Ok. Record player? Ok. Home theater? Ok. PA system? Ok.
Mike is always there.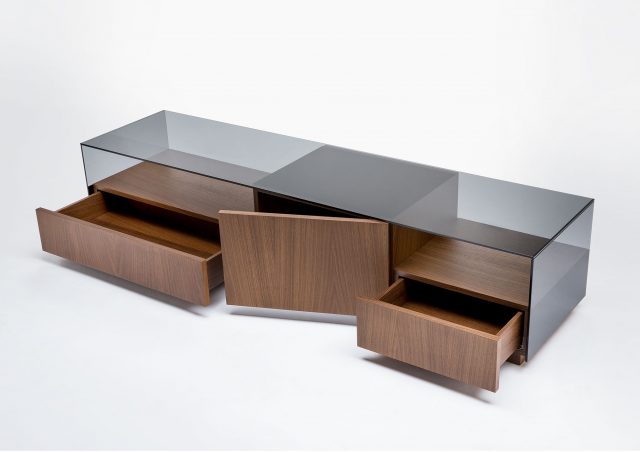 As a talented expert, Mike uses technology to make its public feel better: the glass top is glued on the structure thanks to a particular UV rays process; the structure is made of thermo-treated oak with matt or polished lacquering available; doors are provided with integrated slow closing system; the modular drawers are provided slow closing system and hidden sliding rails.
Besides that, one of a kind as for furniture accessories, Mike is a perfect design performer that is able to understand the feeling of its audience and adapt itself in the most convenient way: that is the reason why it is totally custom made and with the desired finishing available.
In short: the show can start.
Mike is ready – we are sure – to surprise you with a unique "live" performance, every single evening.
Dial our number +39-0362-333082 or send us an email to servizio.clienti@bertosalotti.it.
We are at your complete disposal to offer you an entire custom made furniture project for your domestic space!