If 2020-2021 is the period of global challenges, at all levels, in the world of Design we have decided to collect them all.
On the contrary: to relaunch them.
For this reason we will present the New BertO Collection during the Milan Design Week in an exclusive location, home to our brand new research laboratory on design and new living styles.
But let's start from the beginning.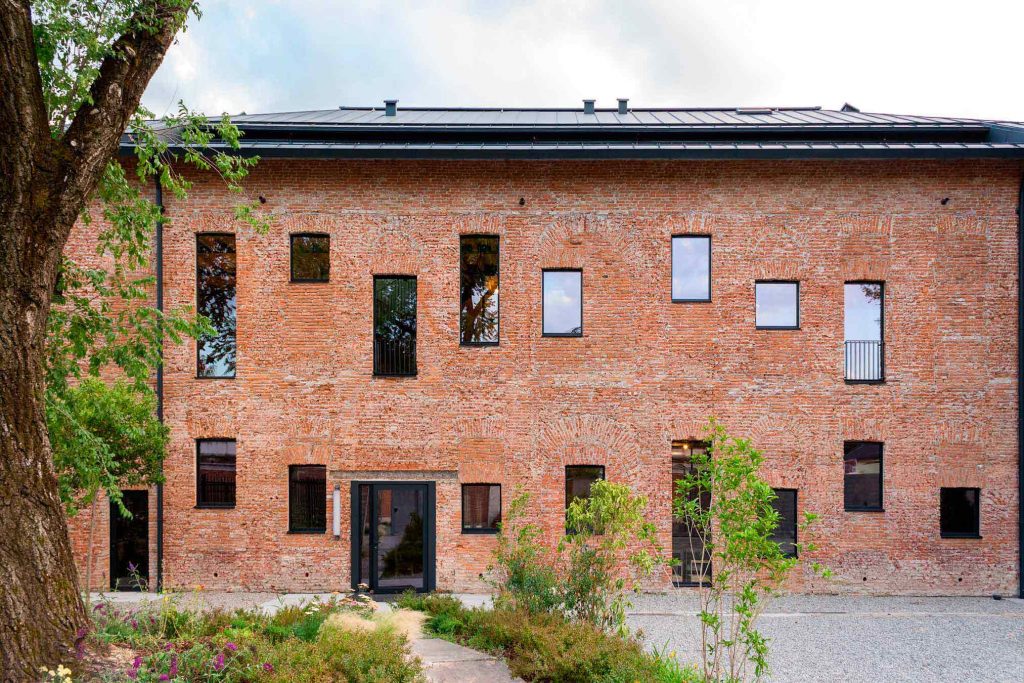 LOM is a historic Milanese farmhouse that houses contemporary artisan companies.
We have a permanent research laboratory in LOM dedicated to design, sustainability and transforming living spaces.
Furthermore, we collaborate with the other companies present in this beautiful space, creating unique pieces with innovative materials.
An example of this is the Hanna armchair created in collaboration with Dyloan for the Leather Fair (Linea Pelle) 2020 (also revisited in the September 2021 edition).
During this highly anticipated edition of Milan Design Week, we present a preview of the New Collection- the result of study and research into new living styles, particularly considering recent transformations which have seen our houses function not only as homes, but also as offices, schools, studies, and relaxation zones.
Each model is an expression of the Made in Meda know-how: an almost obsessive study into construction details and materials of great value.
Design Week 2021 also marks the start of an important project in collaboration with Polifactory, The Polytechnic University of Milan's Design Department, with the objective to develop the latest generation materials whilst embracing the themes of the circular economy and recycling, with the highest design standards in the industry.
Here are the 3 key points, which mark our active 2021 presence in Milan Design Week and, above all, in the reference market.
1 – What BertO is today – The Dream Design Made in Meda
BertO is the contemporary design company Made in Meda.
Over the years, it has reached a position of significance thanks to the digital innovation of which it has been a protagonist, even beyond its own sector; it's not for nothing that the brand has been a Google case study for years.
We have continued to evolve, working in two directions – only apparently antithetical – to create an increased awareness of the territory, in the vertical sense, and – in the horizontal sense – to extend our services and processes to a point completely new for the Design sector.
As a unique case in the world, we manage 100% of the process of the product, from its conception (often made to measure, with a personalised project), to the production, to delivery at the customer's residence.
This approach to the market pays homage – in the corporate vision – to the place of design excellence: the city of Meda.
In keeping with this theme, we are also about to present a project dedicated to "Made in Meda": a 360° study and exploration activity – with meetings, video testimonies, archival and historical research – of the territorial heritage of Meda.
A real cultural project, which we can't wait to tell you about.
2 – A look to the future: from Milan Design Week 2021 to the Design Fair 2022
Participation in the Milan LOM, Locanda Officina Monumentale, project is part of a long journey of innovation that we have been pursuing for years.
Manufacturing and Design, Manufacturing and Sustainability, Manufacturing and New Living Styles.
And new materials, new technologies, new market proposals.
In fact, LOM for us is the place where everything new takes shape, like a laboratory that fine-tunes inventions before revealing them to, and with, the general public.
The new Collection presented during Design Week 2021 will be the first in a long series which will see LOM as the scene of meetings with clients, architects, teachers, and members of institutions.
LOM, I remind you, is located at Via Galileo Ferraris, 1, in Milan.
3- BertO's future direction: research in partnership with the Polytechnic University of Milan
No one overlooks the importance of global issues, considering the evolution of the planet's situation.
Least of all, us.
We have launched, in collaboration with Polifactory, The Polytechnic University of Milan's Design Department, a revolutionary project, concerned not only with the business dimension but also with social responsibility and sustainability in general.
The research front is totally new, and explores a frontier completely unknown in current production and technological processes.
How do you participate in BertO @ LOM events during Milan Design Week?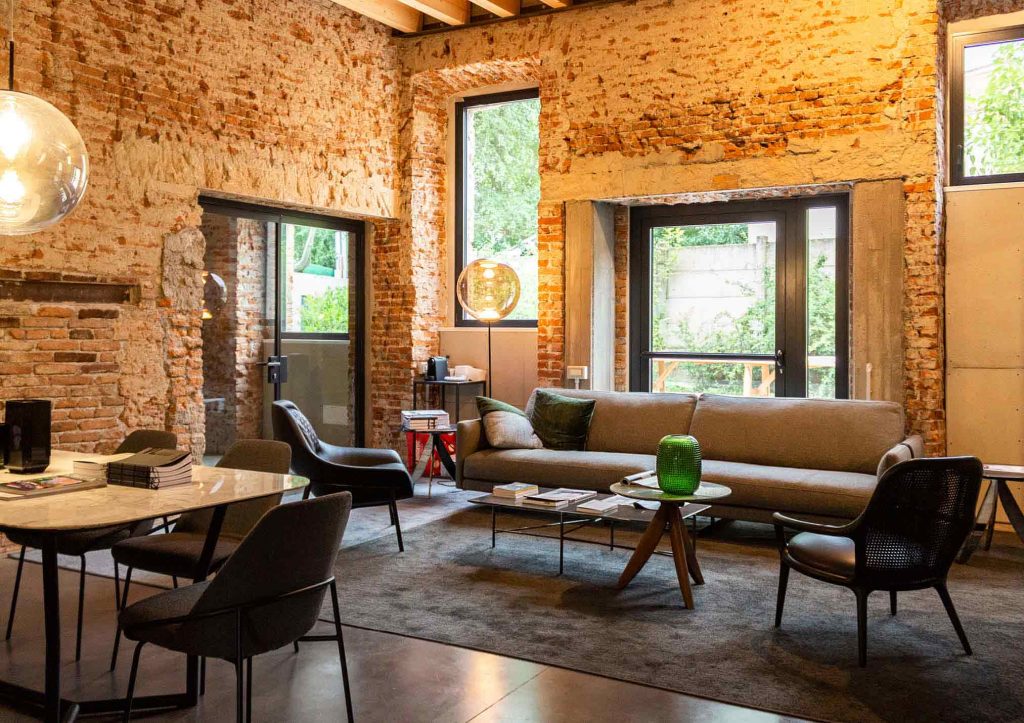 LOM is at Via Ferraris, 1, in Milan, 5 minutes from the CENISIO metro stop.
Admission is free; you can visit our space in LOM and discover the new BertO collection during the following times:
• Sunday 5th September, 3pm-7pm
• Monday 6th September, 10am-7pm
• Tuesday 7th September, 10am-7pm
• Wednesday 8th September, 10am-7pm
• Thursday 9th September, 10am-7pm
• Friday 10th September, 10am-7pm
If you would like to receive confidential advice on your furnishing project, you can make an appointment with your BertO interior designer directly in LOM, by writing to servizio.clienti@bertosalotti.it or by calling +39 0362-333082 .
Ask now for your personal consultation and create your own furnishing project with one of BertO's Made in Meda interior designers