-6 days left to our crowdcrafting day with #vanessa4newcraft!
On Tuesday, 7th June, our partners will join us for our crowdcrafting day together with upholsterers, students, friends and customers.
Berto Industria Tessile is one of our partners and has produced the Denim cover for our armchair Vanessa.
Before attending our crowdcrafting day with vanessa4newcraft, we asked some questions to Arianna Morimando, Marketing Dept. at Berto.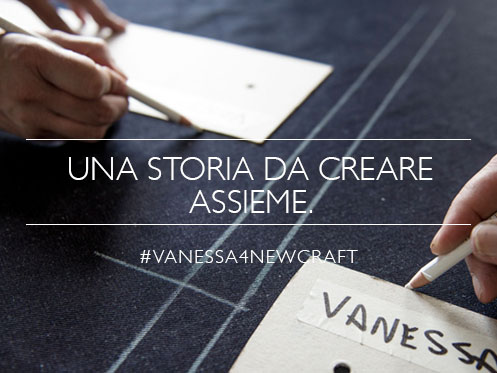 1- Let's talk about Berto Industria Tessile today.
Berto Industria Tessile was born in 1887 in Bovolenta, a small town near Padova: Giuseppe and Egidio Berto, two brothers, are the founders of this famous firm.
This firm is strongly related to its origin and during the past years they have been investing their money to keep the whole production inside the original factory. They have renewed the old establishment but they have been keeping on producing their articles in the same place since 1887. Due to the latest recession it was quite obvious to move the factory to a more convenient country, but Berto has decided to remain where the firm was born. Everything is produced within 2 km., from yarn to fabric.
Nowadays Berto is a leading firm for our Made in Italy, which is not only a style matter, but guarantees a strong production chain, territorial and work consideration: they are strongly committed to their job and are able to transmit their rich know-how about textiles by creating new items for different fields.
Berto offers a wide range of articles that can satisfy even the most demanding customer and, above all, their production is so flexible that they realize custom made items of high quality level.
Berto really takes care of their customers.
Today we are a leading firm as for the Denim production and we won a prestigious reward at Global Denim Awards that makes us stronger than ever.
We are really proud of what we are now.
2- Why did you choose this denim? Which are the main characteristics of this fabric?
The fabric Rock Me Air 12.5 One is an iconic issue belonging to Berto's collections and it is recognized for its refined image and style.
We call it "denim with a rock soul": we have created it for people who desire to be different from the main trend but who still love jeans above all: not the common 5-pockets jeans but something really special to be used anytime.
And something extremely new as for furniture!
The Rock Me fabric is really versatile: it does not need particular washing care, it is sandblast and scratches resistant and solid to treatments with enzymes.
3- It is the first time for you to "dress" a design armchair? What does it mean to you?
It is not really the first time: we have presented our denim cover in Amsterdam on your armchair Kingdom and the result was gorgeous, and now we are proud to have a crowdcrafting day with your armchair Vanessa at the New Craft Exhibition in Milan.
A great challenge for both of us!
4- BertO+Berto: we share not only our brand name but also this great experience together.
Tradition and innovation will lead us into the future. The term tradition does not simply mean the standard production over and over but it involves a deep knowledge of our artisan work: by Berto there is a great mixture between tradition and innovation. We respect our tradition and culture but the actual world market is always asking for something new and thanks to the technological innovations we have found our way into the international scenery.
Berto can be considered a modern artisan: long experience together with highly specialized artisans for refined and precious products.
We share these qualities with BertO Salotti: it is not just a question of having the same brand name but it is a solid partnership towards new products and style.
As partners we are creating a new tailoring experience: it is our past, present and future.
Thank you so much Arianna!