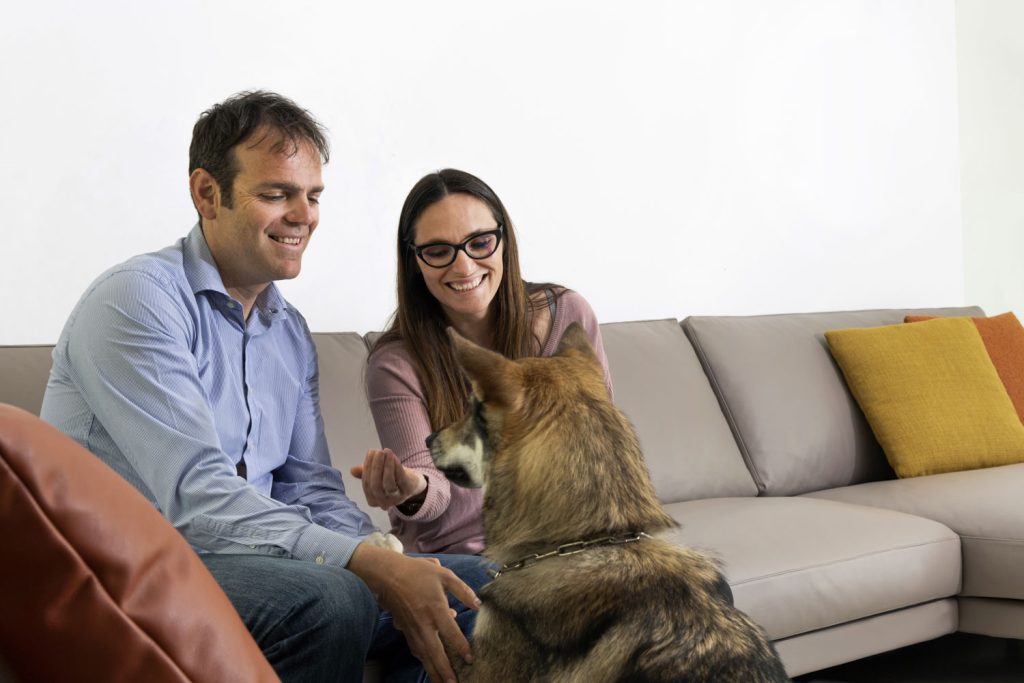 Marika and Andrea, two BertO clients with clearly defined needs, two professionals with very clear ideas and a personal and family life full of commitments and activities.
In order to meet their needs, it was necessary to create a project with an exclusive and highly articulate design, because in addition to the desire for a cosy and convivial living room, we were also asked to carve out a functional home working space in the domestic space.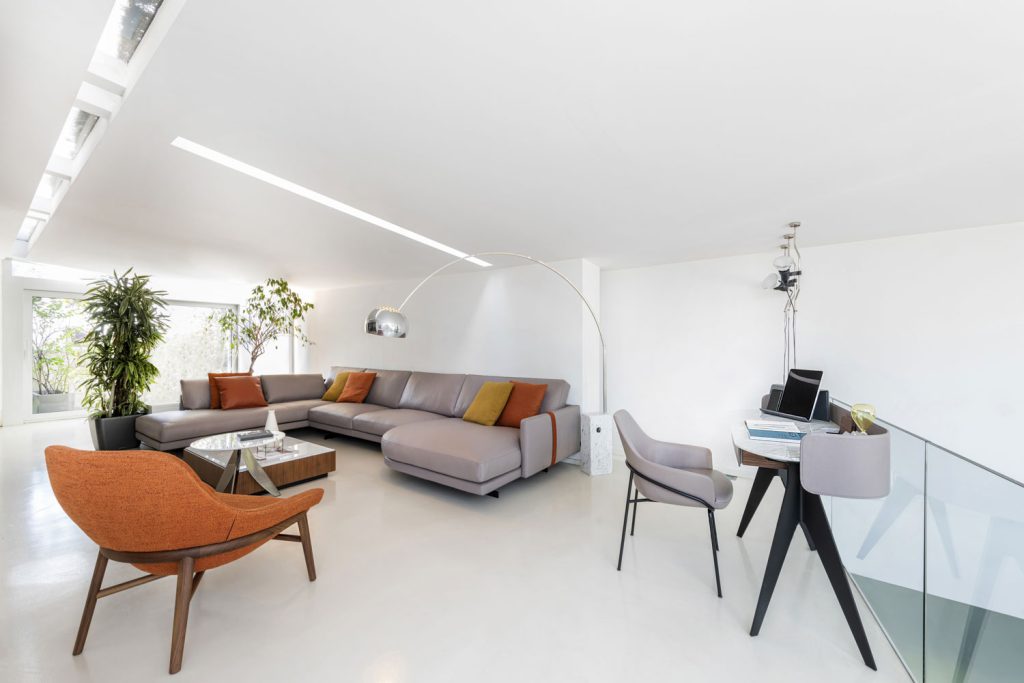 Andrea has been working from home for more than two years and therefore the design of the new living area had to respond to a twofold need: one linked to Andrea's need to recreate an office corner in his living room and the other linked to the couple's family life, to satisfy both the desire to welcome friends in the evenings and to enjoy moments of complete relaxation in the intimacy of the family.
The Jim desk, discreet, light and efficient, combined with the Jackie chair was the ideal solution to ensure maximum organisational functionality in a comfortable home desk with an exclusive design. A perfect synthesis of design, style and contemporary lines.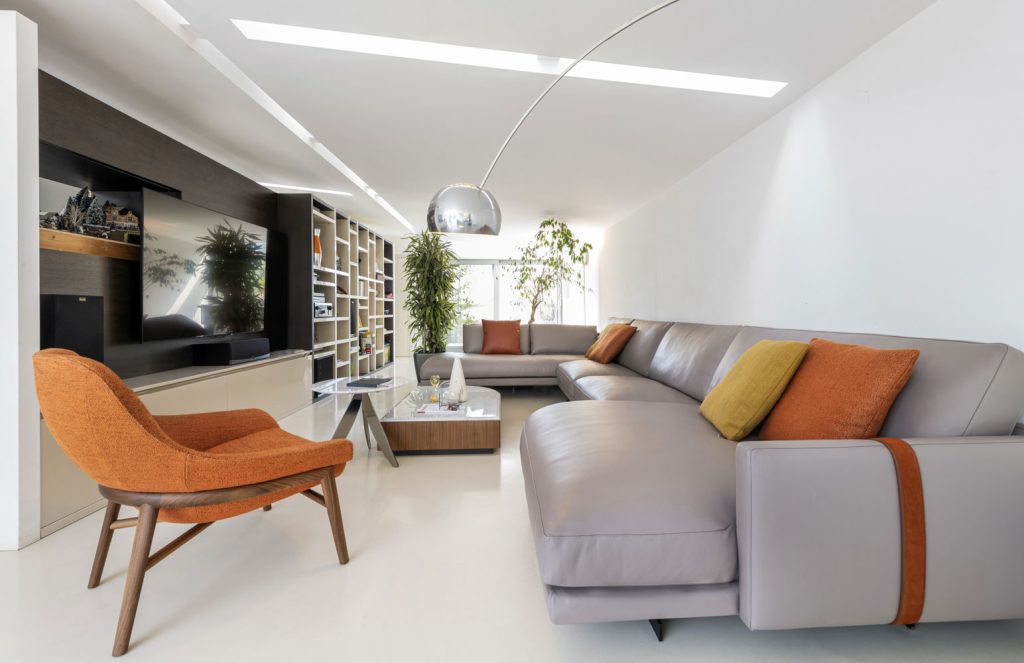 To solve the need for a familiar and comfortable home environment, we started with the choice of the sofa, and then constructed a cosy design around it, with attention to the smallest detail to achieve a contemporary and perfectly coordinated look in the choice of materials, upholstery and finishes.
"Marika wanted to change the sofa, so I started looking for a solution on the Internet: the company was highly visible and well positioned. We immediately liked the models, the construction quality and the technical details, which made the difference in our choice".
They tell us about it from the comfort of their new Dee Dee designer sofa in a modular version with chaise longue.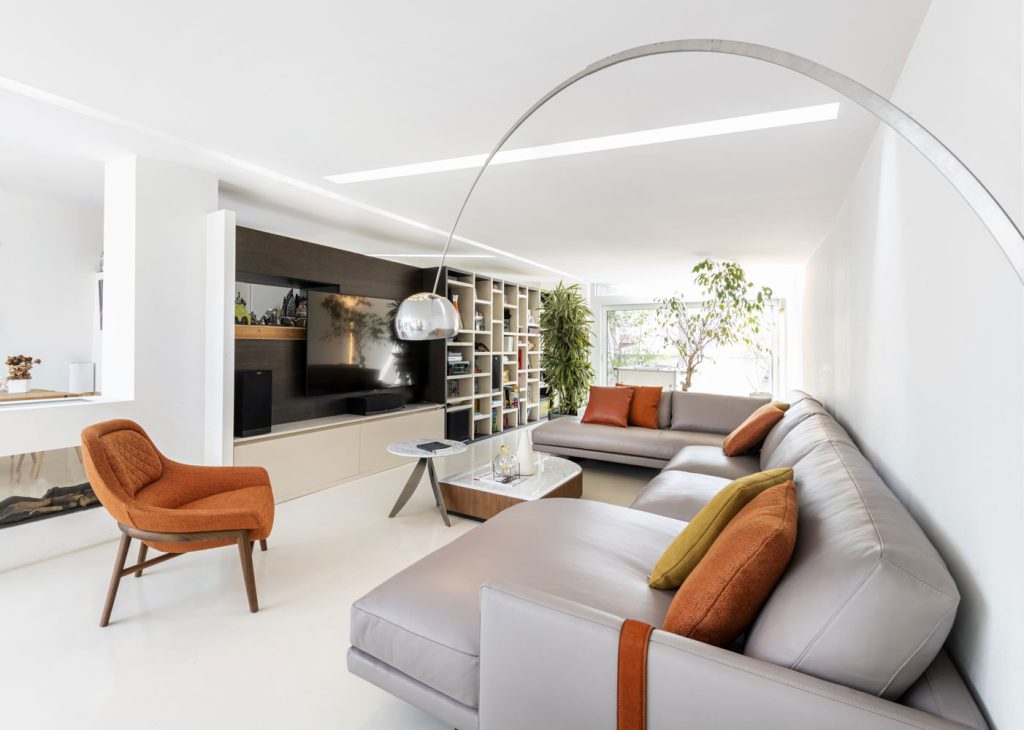 To cater for the more everyday aspect of family life, the design has been enriched with other additions.
An island consisting of the Stage coffee table with marble top and the Circus coffee table was positioned in front of Dee Dee to give elegance and sophistication to the space dedicated to welcoming guests in total ease and freedom of movement. The large reception corner was completed with the addition of the Hanna armchair.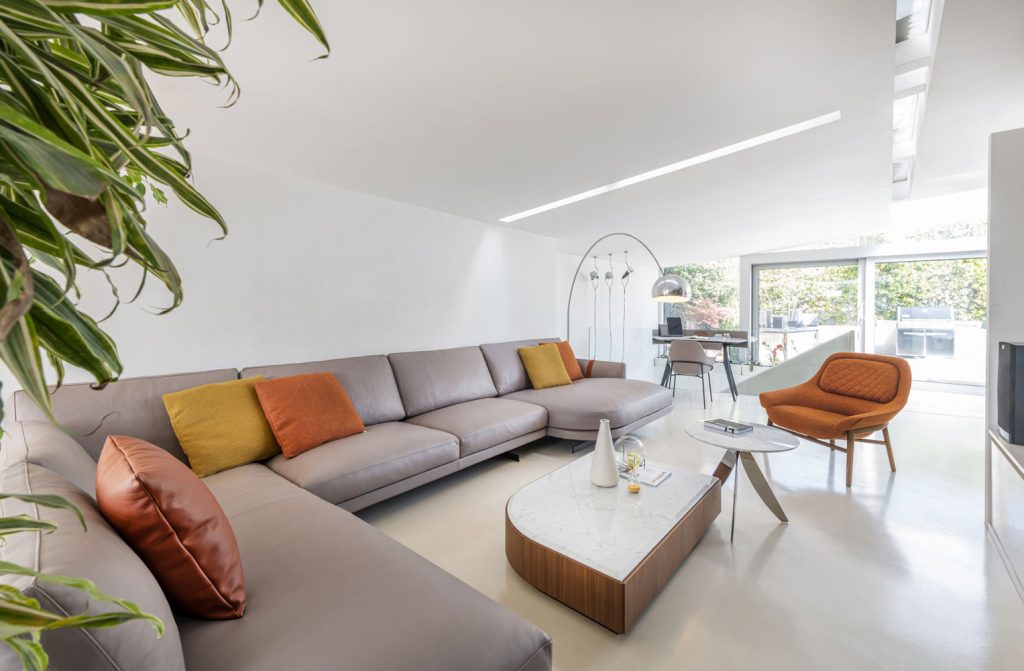 "We have realised our dream home thanks to the expertise we found at BertO and we are truly happy and satisfied".
If you are wondering how they managed to find all the solutions for their desires, we have just one suggestion: trust BertO's interior design. With its professionalism and ability to listen, it has translated our customers' interests and requests into reality in order to satisfy their need for a familiar yet professional living room.
Thanks to the exclusive formula of the Made in Meda Design of Dreams project, Marika and Andrea renovated the rooms of Andrea's family home where they had dreamed of living for a long time, remodelling them exclusively to harmonise with their lifestyle.
They have thus found the housing solution they wanted and that will satisfy them for the next twenty years.
We thank Marika and Andrea for sharing their living room design project with us.
If you too would like to realise your Made in Meda Design of Dreams project with BertO, request a confidential consultation with our interior designers now.
Ask now for your personal consultation and create your own furnishing project with one of BertO's Made in Meda interior designers