In this post, we decided to give you some advice to carry out your living room decor project.
You should know that every day our interior designers help many clients with the little details of their projects, and I assure you that the choice of a cushion, more so than the finish on the coffee table in the living room, is what really makes the difference on the whole.
For more than twenty years, together with the BertO team, we are on the front line alongside our clients who want to carry out their Dream Design project for their living room.
Because of this, we have the privilege of speaking with many of them and listening to their concerns, as well as their dreams and greatest expectations for their home decor.
This post came about precisely as a result of the questions that many clients put to us, and we think it's important to share with you some aspects of interior design, on the quality of products, and the maintenance of cushioning and upholstery.
There are two important moments you should pay attention to: the moment you choose your sofa and accessories, and the moment after, when you get to experience your sofa and beautiful home every day.
This post can offer you valuable suggestions, whether you've already carried out your project, or not yet commenced it.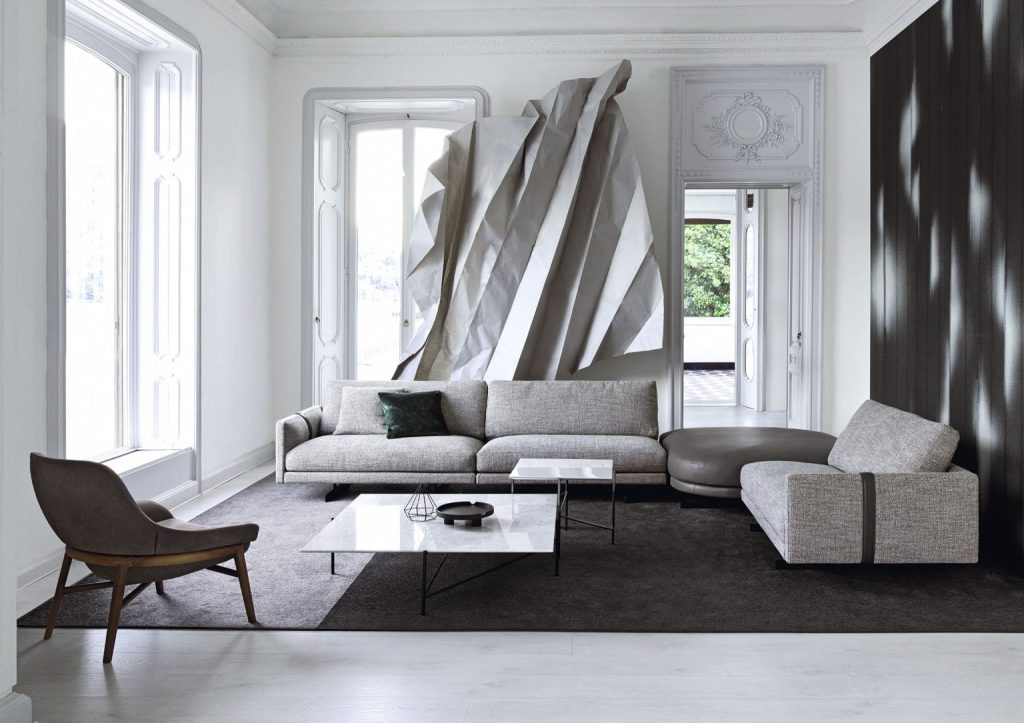 This is what I want to talk about with you today: you have chosen a stunning sofa that is welcoming and sophisticated, and features details that are truly elegant.
You know very well the difference that the right furniture accessories can make in a decor project, and you decide to complete the room with a gorgeous coffee table.
But: HOW MUCH SPACE SHOULD THERE BE BETWEEN THE SOFA AND THE COFFEE TABLE?
The answer is not what you would think.
Logic would dictate at least a metre, the amount of space necessary to comfortably sit on the sofa without touching your knees against the edge of the coffee table.
However, the coffee table can also be placed directly alongside the sofa, or just 10 centimetres away from it.
To understand this, two things are necessary:
A detailed study of your living room project, that would take into account the dimensions of the space, the look that you want to achieve, and an analysis of what you truly want from your living room. Whether you are about to furnish your home, or just want to complete your project with a living room coffee table, you can request a private consultation with our interior designers here.

Choosing the right coffee table for your sofa. To explain this point, I will make three practical examples and explain the correct distance that there should be between them.
Coffee table in front of sofa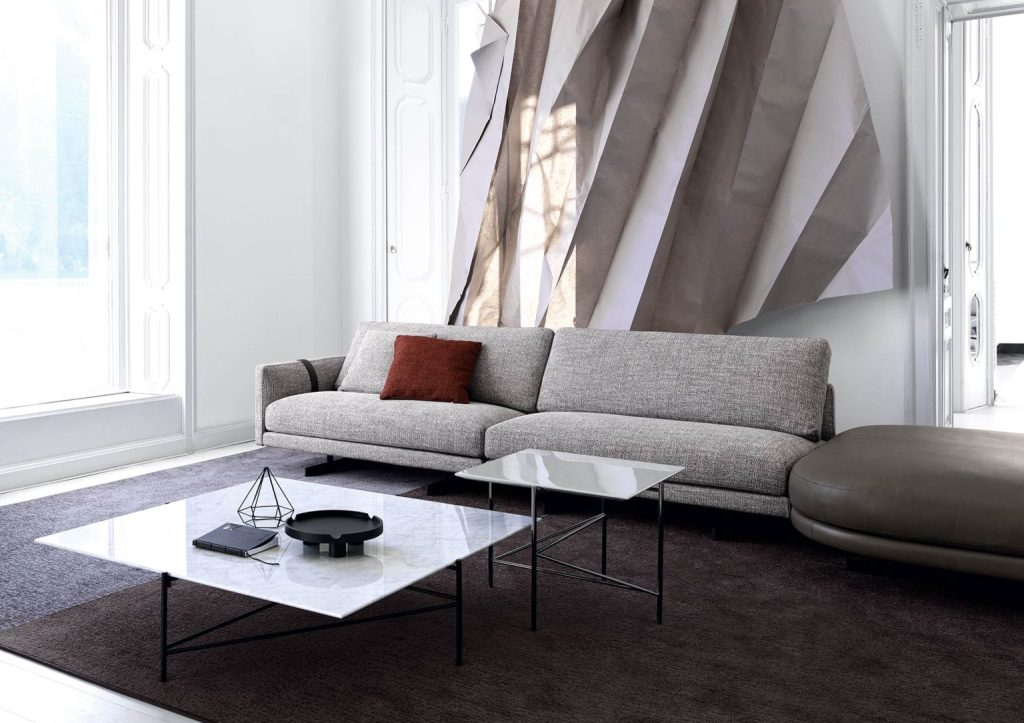 The first positioning, as you might readily grasp, is having the coffee table directly in front of the sofa.
In this case, as you anticipated a few lines above, the distance between the two should be about a metre.
In this case you can choose a single coffee table or create a bona fide island of stands with different models.
One example is to combine two Riffs with marble tops, one rectangular one overlooked by a square one that is slightly taller.
Another example is to position a pouffe just in front of your sofa and combine it with a coffee table with a round top from the Circus collection.
This solution has two advantages: the pouffe can transform as needed into a moveable island, allowing you to stretch your legs if you want to recline. Otherwise, it can remain a practical and elegant surface to pair with an authentic design coffee table.
Coffee table alongside sofa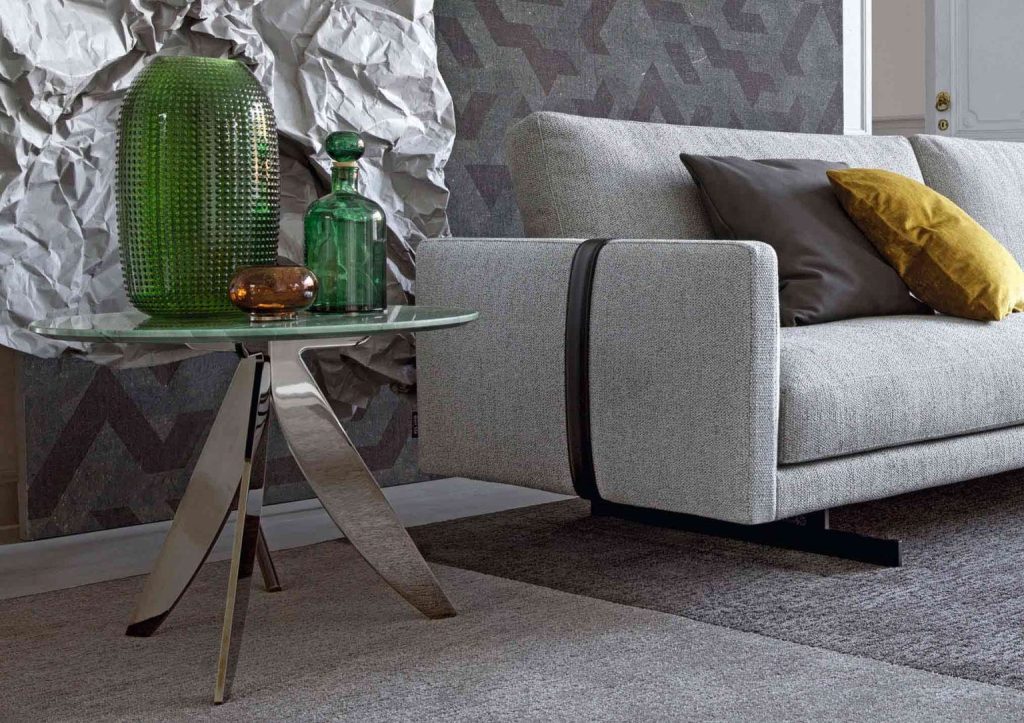 This solution is also extremely common in most projects.
It is possible to place the coffee table alongside the sofa, at a distance of 10 or 15 cm max, where it has a function as a support. In this case, it is important to choose a shape and finish that combine well with your sofa.
If, for example, you purchased a model from the Dee Dee Collection with black chrome slides, you can choose the Circus coffee table with round top and structured in steel, which perfectly coordinates with the feet of your sofa.
The important thing is that the size of the coffee table is not greater than the depth of the sofa.
"Servetto" coffee table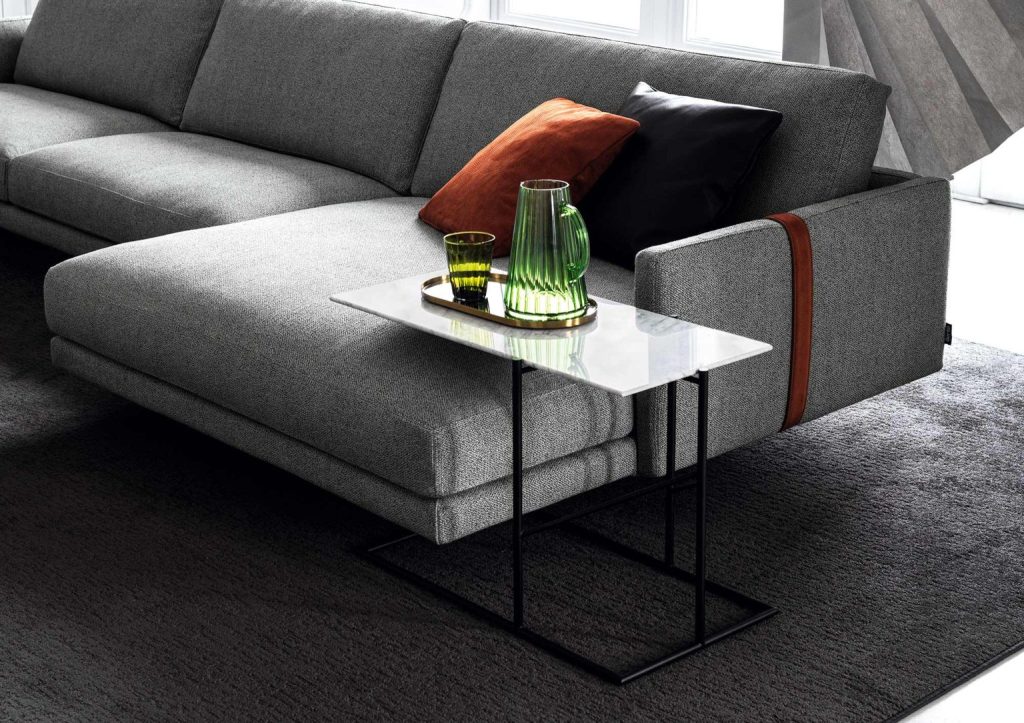 Less traditional, the so-called "servetto" table can handle any distance from the sofa.
In fact, it can go directly over the seat. The structure perfectly slots in underneath the seat to facilitate a useful surface for working from the sofa, for reading or, simply, for having whatever you need at hand.
As you guessed, the distance between the sofa and the coffee table in your living room is totally relative, as long as you understand some basic rules.
If you would like to carry out a furnishing project in your living room, request your private consultation now by clicking on the box below!
Ask now for your personal consultation and create your own furnishing project with one of BertO's Made in Meda interior designers