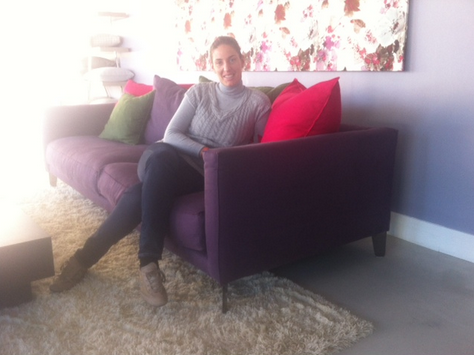 Our showroom is not characterized only by the presence of beautiful sofas, upholstered beds, sofa beds and armchairs but also by a team of professionals in which we take great pride.
Today, we are continuing the small series of posts dedicated to our employees, we began by introducing Carlo, now we would like to introduce Arianna, one of our sales representatives.
She is the person who welcomes our clients in the showroom, she has an aptitude for problem solving, which is second only to her kindheartedness and great smile.
In the photo we can see Arianna sitting on our modern sofa, Ciak, both are young and colorful and, the sofa comes in an array of fabrics such as, stonewashed linen very pleasant to the touch or clients can choose from our collection of fabrics in rich colors, designed exclusively for Berto Salotti.
Our new collection of modern sofas would not be complete without the distinguishing personality of this sofa and neither would our showroom without Arianna. Ciak is easy and informal with "hand plucked" seams in contrasting colors as you can see from the picture below.
No doubt about it: Arianna and Ciak are both………indispensably beautiful, on the inside and out!