One of the questions the BertO interior designers always ask anyone who requests their advice is this:
Does your home deserve to be simply filled or really furnished?
However trivial this question may seem, it helps you to consider a very important point.
Every time you think about adding or removing a piece of furniture, first you must understand if you are only trying to fill an empty space or if you are trying to make the most of the space you have.
How often has an ornament seemed indispensable and then you realise that is is only causing confusion?
So you see, this is the effect we have to avoid in all our projects.
Just have a look at these photos.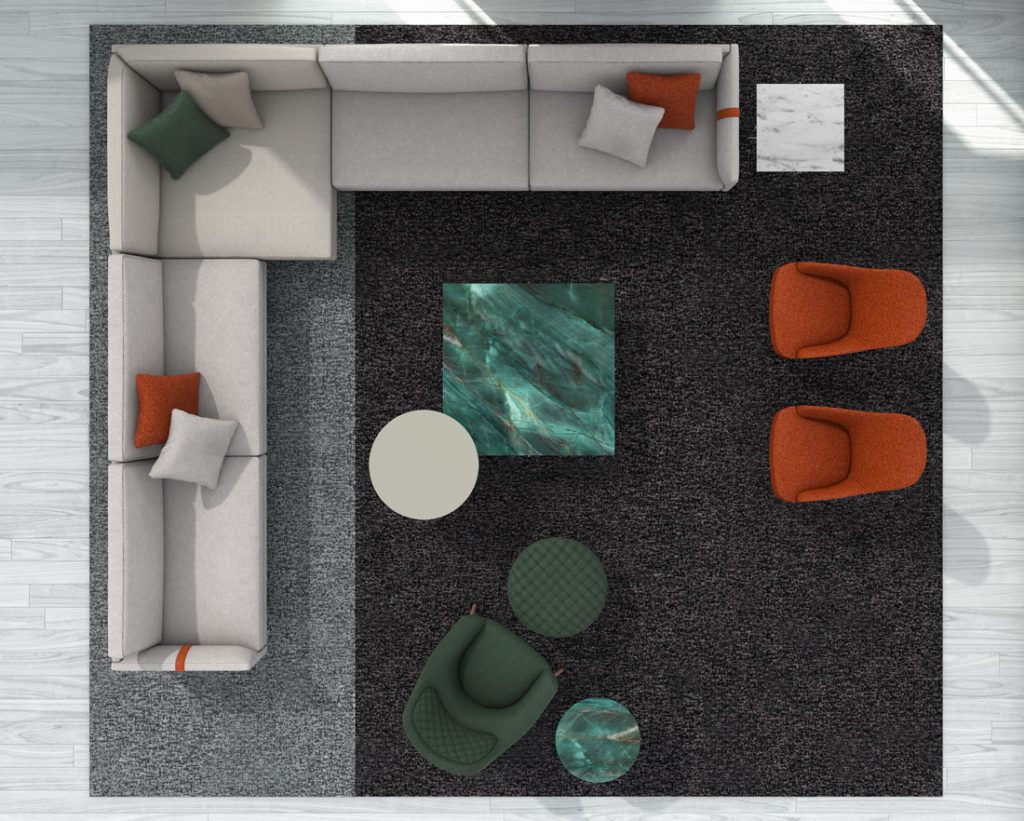 -Dee Dee corner sofa in grey Dorian fabric with decorative straps in pumpkin- coloured Nubuck leather > click here
-Hanna armchair with pouffe in Loden Green Giglio fabric and the structure in solid walnut > click here
-Vanessa armchair with high backrest in pumpkin-coloured Dorian fabric > click here
-Circus coffee tables with round top in emerald quartzite and powder-grey gloss lacquered MDF > click here
-Riff square coffee tables with top in Carrara marble and emerald quartzite > click here
-Cushions 45×45 and 50×50 BertO Collection
Every photo portrays a carefully studied environment in which each element is part of the whole, from the customer's personality to the characteristics of the room and the source of light, nothing is left to chance.
Every element is part of an important study carried out by our team of interior designers aimed at achieving a perfect result which reflects not only the requirements of the customer but also the BertO style which completely won you over when you visited our site or one of our showrooms.
As you can see, everything is in perfect harmony and the Dee Dee sofa is like the cherry on the cake fitting perfectly into a living room which has not simply been "filled" like a store cupboard but elegantly furnished, also thanks to all the matching accessories from the Collection.
If you want your home to be furnished just as you desire rather than just filled up with furniture, BertO can offer you a special service which will help you plan your furnishing scheme and which will accompany you with specific instruments to achieve your dream.
Ask now for your personalised consultation with one of our interior designers by clicking here below and scroll down to discover a selection of environments planned by our interior designers.
Ask now for your personal consultation and create your own furnishing project with one of BertO's Made in Meda interior designers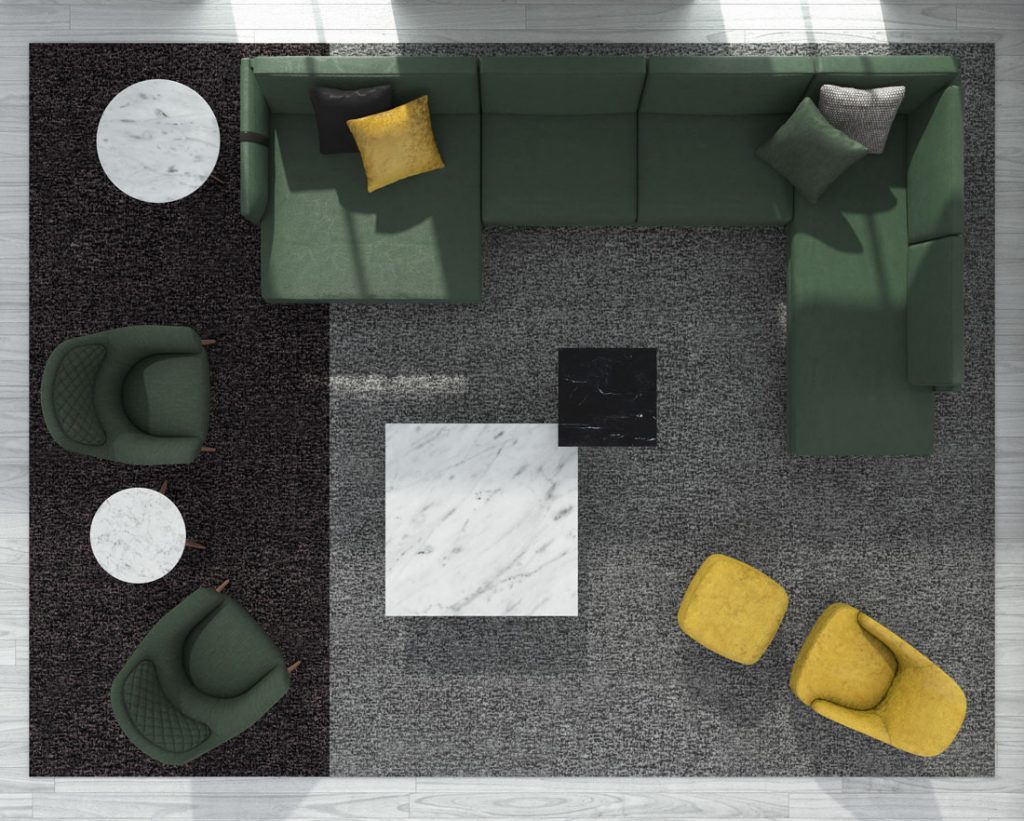 -Dee Dee modular sofa in Green leather Flower 22 Cm L.435 x P.240 x H.81
-Hanna armchair cm L.86,5 x P.83 x H.85 in Loden Green Giglio 40 fabric and structure in Canaletto walnut
-Emilia armchair cm L.67 x P.80,5 x H.80 in Mustard-coloured Vegas Velvet and feet in black chromium-plated metal
-Emilia pouffe cm L.58 x P.58 x H.40 in Mustard-coloured Vegas Velvet
-Riff coffee table cm L.120 x P.120 x H.32 with top in Carrara marble and structure in black embossed powdered metal
-Riff coffee table cm L.60 x P.60 x H.47 with top in Marquina Marble and structure in black embossed powdered metal
-Circus coffee table cm Ø 75 x H.50 with top in Carrara marble and the structure in black chromium-plated steel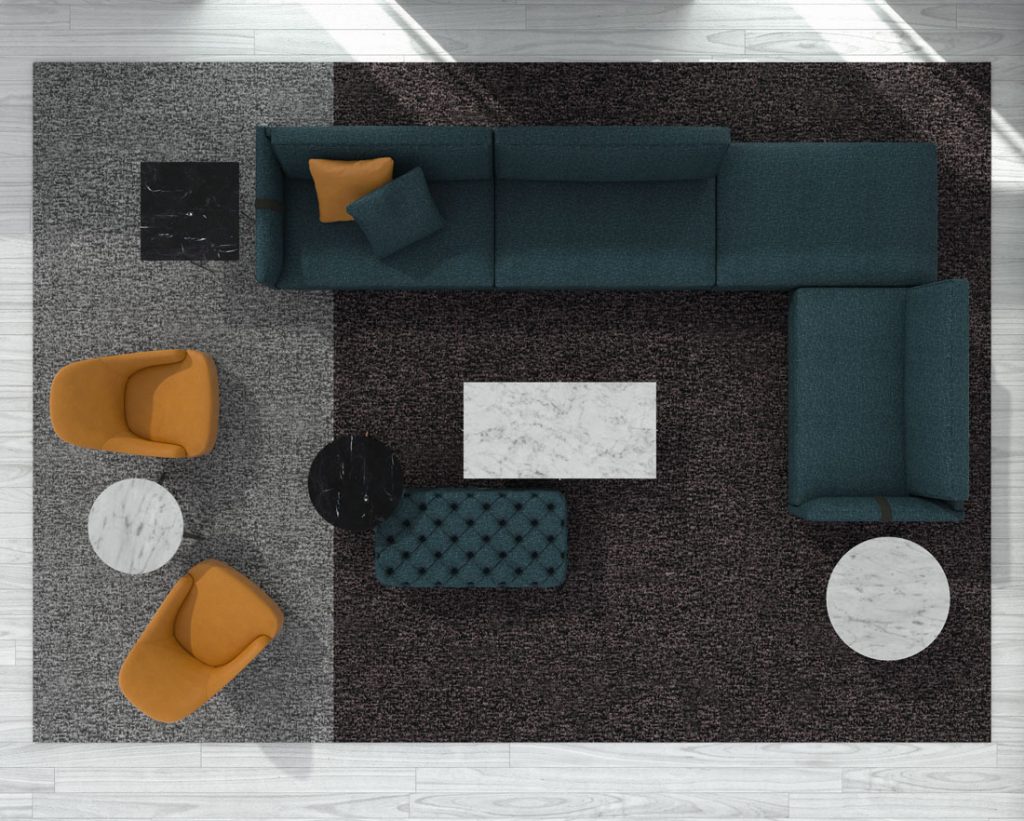 -Dee Dee modular sofa cm L.420 x P.234 x H.81 in Navona 84 fabric in Petroleum Green and with decorative straps Oceano 7 in black
-Emilia armchair cm L.67 x P.80,5 x H.80 in Caramel-coloured Douglas fabric and feet in black chromium-plated metal
-Capitonnè pouffe cm L.120 x P.60 x H.35 in Navona 84 in Petroleum Green
-Circus coffee table cm Ø 58 x H.50 and cm Ø 75 x H.5 with round top in Carrara marble and the structure in black chromium-plated steel
-Circus coffee table cm Ø 58 x H.50 with round top in Marquina marble and the structure in black chromium-plated steel
-Riff coffee table cm L.60 x P.60 x H.47 with square top in Marquina marble and the structure in black embossed steel
-Riff coffee table cm L.60 x P.120 x H.32 with rectangular top in Marquina marble and the structure in black embossed steel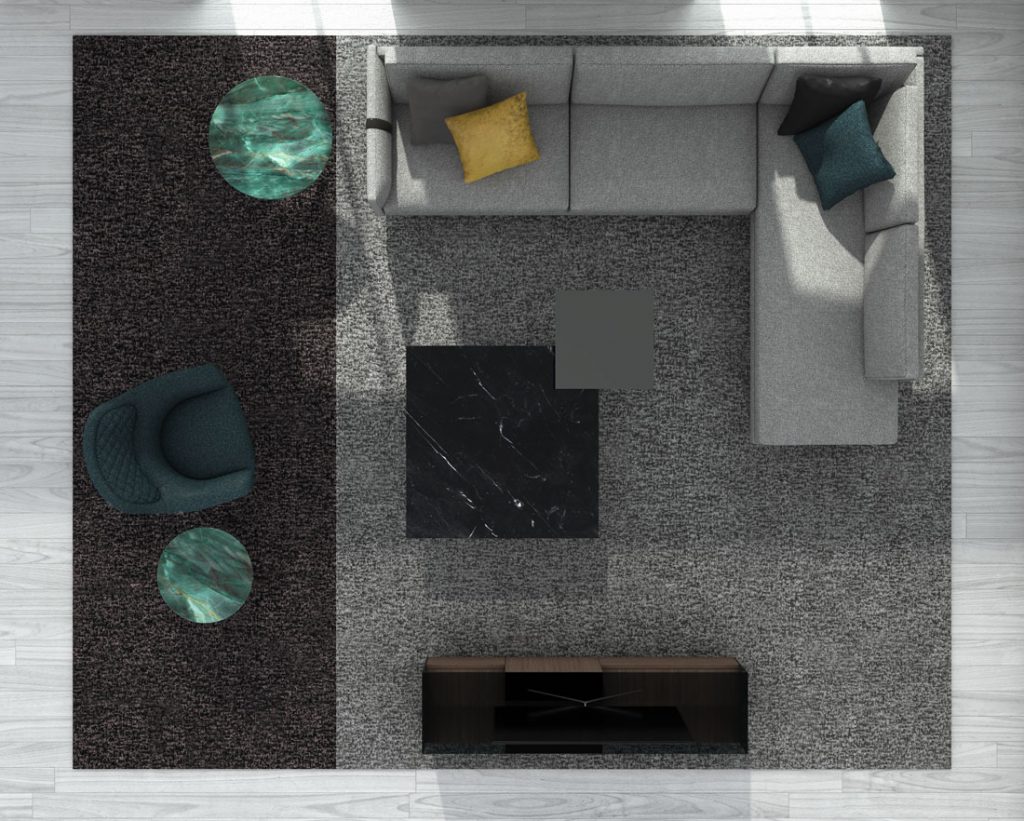 -Dee Dee modular sofa cm L.337 x P.240 x H.81 in Dorian 51 fabric in Gun Metal Grey
-Hanna armchair cm L.86,5 x P.83 x H.85 in Dorian 44 fabric in Peacock Blue and the structure in black embossed metal
-Circus coffee table cm Ø 75 x H.50 with top in Emerald quartzite and structure in black chromium-plated steel
-Circus coffee table cm Ø 58 x H.50 with top in Emerald quartzite and structure in black chromium-plated steel
-Riff coffee table cm L.120 x P.120 x H.32 with top in Marquina marble and the structure in black embossed steel
-Riff coffee table cm L.60 x P.60 x H.47 with top in gloss lacquer Ral 7039 in Steel Grey and the structure in black embossed steel
-Mike TV cabinet cm L.200 x P.50 x H.43 in heat-treated oak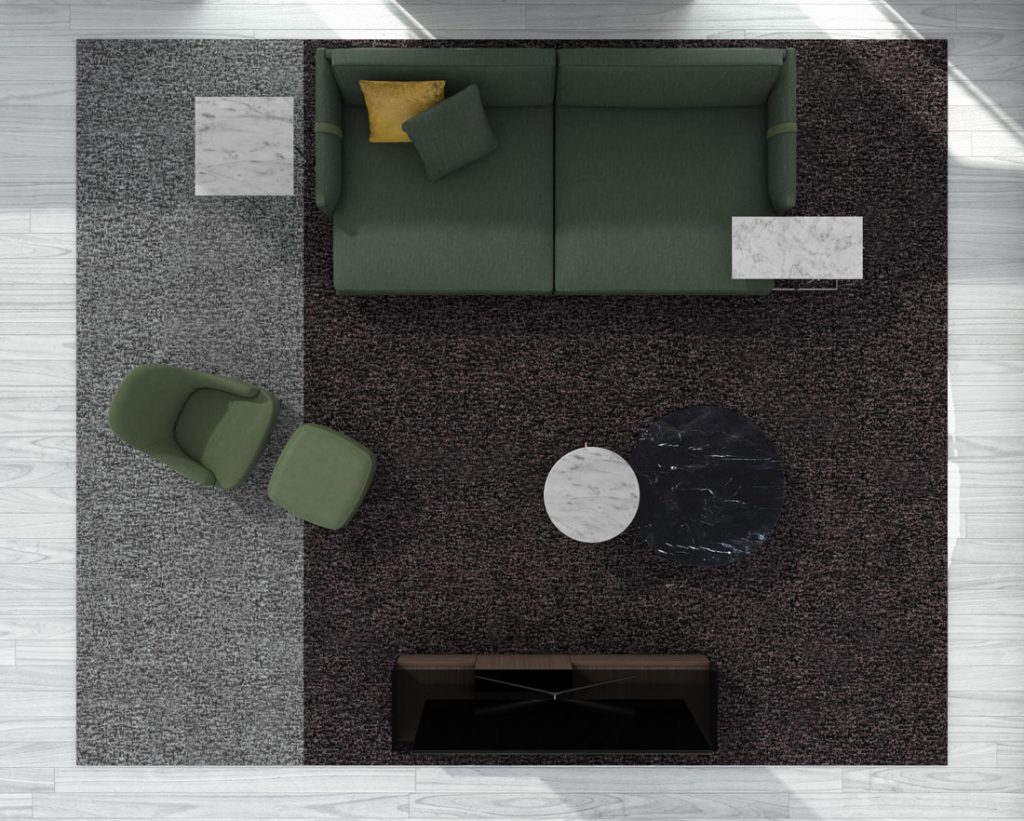 -Dee Dee Home Cinema sofa cm L.289 x P.144 x H.81 in Giglio 40 fabric in Loden Green and with decorative straps in Nubuck 36 in Forest green
-Emilia armchair cm L.67 x P.80,5 x H.80 in green Flower 23 leather and feet in black chromium-plated steel
-Emilia pouffe cm L.58 x P.58 x H.40 in green Flower 23 leather
-Riff coffee table cm L.60 x P.60 x H.47 with square top in Carrara marble and the structure in black chromium-plated steel
-Circus coffee table cm Ø 100 x H.35 with round top in Marquina marble and the structure in walnut-tinted oak
-Circus coffee table cm Ø 58 x H.50 with round top in Carrara marble and the structure in black chromium-plated steel
-King coffee table cm L.80 x P.40 x H.52 with top in Carrara marble and the structure in black embossed steel
-Mike TV Cabinet cm L.200 x P.50 x H.43 in heat-treated oak and black smoked glass