A barber shop in Pavia is furnished with the Emilia Capitonné armchairs.
One of the barber shops in Pavia is called Sir and the owners have just renewed their iconic shop.
What has a barber shop in Pavia got in common with the Sartorial Upholsterer in  Meda?
Let's start with the Barber: the shop – Sir Man Space – has recently been renewed.
Diego and Fabio have invited all their clients to make themselves at home, to relax and to dedicate a moment of their busy day to take it easy in a warm, welcoming and exclusive atmosphere.
So what is new?
Yes, Sir has been a reference point for the city of Pavia for a long time but now the latest novelty is called Emilia.
No, Diego and Fabio have not suddenly decided to offer their services also to a female public.
It is still a shop exclusively dedicated to men, to services and products specially studied to satisfy every desire for male Hair care, Body care, Beard care, Shaving.
And yes: women can come into Sir but only if they are accompanied.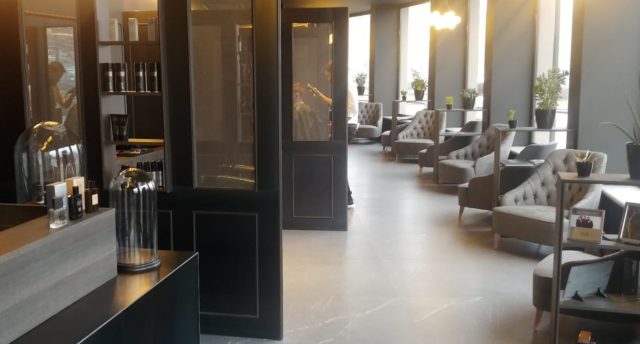 So who is Emilia?
Come and have a look in the shop window and you will see a new area, not only a waiting room but an area dedicated to conviviality and well-being while comfortably seated on our Emilia capitonnè armchairs.
When Diego and Fabio, the owners of Sir, came to see us and to tell us what they were planning for their shop, we can't deny that our first thought was for the BertoLive Collection.
Diego and Fabio were looking for something exclusive for their shop, something which would identify them and which would reflect their style.
Today many people have a particular project in mind and they are very often looking for the right solutions to satisfy their personal requirements.
And we are very happy to sometimes be able to give answers to their questions.
And this does not only mean offering articles of furniture, however attractive they may be.
More than that it is a coming together of affinity and values, of particular needs and the ability to offer solutions through services and a team of professionals (from our consultants to our upholsterers who are able to transform the material before their very eyes) and who are able to follow the entire procedure.
Once we had agreed on the model, together with Diego and Fabio we  started choosing the upholstery from our vast choice of proposals.
The criterion was simple: sitting on one of our armchairs, every client and the person who accompanies them must feel the same caress on their skin, the pleasant sensation of a warm towel on your face or of a gentle, relaxing massage.
Together we chose a soft, velvety fabric in anthracite grey. For the details we settled for the BertoLive style: buttons and feet in copper finished steel.
That which we have in common with Sir and with Diego and Fabio is this: in our shops we want people to feel at home, to feel that they have all our attention and that they can pass rich, intense, pleasant moments together.
Sir and BertoLive become places where looks, touch and taste come together.
Where we can chat about our passions and where we can appreciate those rare moments which we can dedicate to ourselves.
In Diego and Fabio we have found much more than just a client. Non only have they decided to furnish their shop with elegant armchairs where tradition meets solid values, but we can consider them to be partners, as well as friends, with whom we can share a unique vision of our work and for this we can never thank them enough.
Visit Sir or discover more here (or ladies, get a gentleman to accompany you 😉 )