Guido Bagatta, conductor of "LBA on AIR" the in-depth programme of the 1st Division Basketball League, has decided to furnish his television studio with some of BertO's Made in Meda iconic models.
Here is the interview he gave.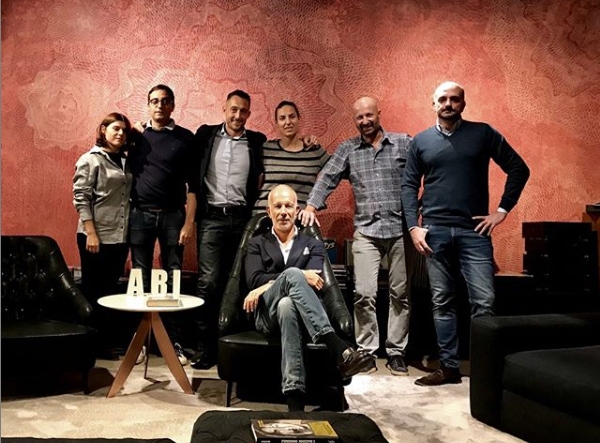 Hello Guido, tell us about the programme "LBA on AIR" and how it has been this season.
"LBA on Air" has been a fantastic "experiment". For the first time a professional Italian League has produced its own weekly talk-show.
If we have the chance, we will try to start again under the new management of the director Umberto Gandini, trying to improve the product and counting on the fundamental collaboration of various clubs.
Among other things, "LBA on Air" could become an important re-starting point for basketball after the crisis caused by Coronavirus.
We have planned the studio together and you have chosen some very special pieces. What made you decide on these pieces and what was your aim when you chose to furnish the studio in this way?
For the studio for the programme, I wanted to reproduce a sort of ideal bedroom for a "grown-up child" who has always been passionate about basketball. The pieces of furniture such as the armchair, sofa, small table and lamp seemed to me to be perfect for this type of concept.
All beautiful pieces, a great design but at the same time both practical and linear.
In your video you mentioned Made in Meda. We were very glad to hear this as it's a subject close to our hearts. What made you choose a society Made in Meda?
Made in Meda, especially now that we must all re-launch ourselves in the world, mirrors a precise concept: a small Italian town which in time has become the world capital of design.
Objects like those which we have in the studio have all been lovingly made by hand in the territory of Meda, not in New York or Shanghai.
And this is a very important concept to utilise as much as possible. Choosing a furnishing scheme Made in Meda was quite automatic.
Tell us about what you are working on at the moment and what are your plans for the future.
We have a lot of plans and not only in the world of basketball.
Obviously what is happening at the moment has stopped us from putting our plans into action but soon we hope to be able to get back to work.
We are looking for new collaborators with LBA so that basketball will have ever increasing exposure and also to help us recover as soon as possible from the losses caused by Coronavirus.

Thank you Guido!
Ask for your free personal consultation with one of our interior designer.
Call us now on 0362-333082 or write to servizio.clienti@bertosalotti.it.
PS: Until the end of the emergency, we are donating 5% of our online sales to the Fondazione IRCCS Ca' Granda Ospedale Maggiore Policlinico di Milano, a foundation on the front line in the fight against COVID-19. Further information here.
Ask now for your personal consultation and create your own furnishing project with one of BertO's Made in Meda interior designers