Among the outstanding figures which bring to mind the cultural and professional heritage of our town, Meda is, without doubt, Giuseppe Terragni.
I often find myself speaking about the culture of Design which for many years has characterised the town of Meda and of the influence of societies and people who have contributed to the culture of our town.
Giuseppe Terragni and Meda
Architect Terragni is a true myth, not only for those of us who are lucky enough to work in the territory where he was born and where he grew up but also for the multitude of architects and designers who consider him – quite rightly – one of the reference points of modern architecture.
We must not forget that he is one of the seven reference points of that which is considered the Manifesto del Razionalismo Italiano (1937), and he is also remembered for his work as publicist in the magazine "Quadrante", of which he was co-founder.
First of all, before mentioning some of his works and his contribution to architecture, I would like to emphasise how his work, developed through the 1930s, made reference to a multidisciplinary approach to his profession, a way of working which was above and beyond internal and external architecture, creating a harmonious whole.
In fact Terragni, born in Meda in 1904 and who died prematurely in 1943 at the age of 39, was active for about fifteen years before the Second World War, years before the hyper-specialisation which has characterised the last few decades.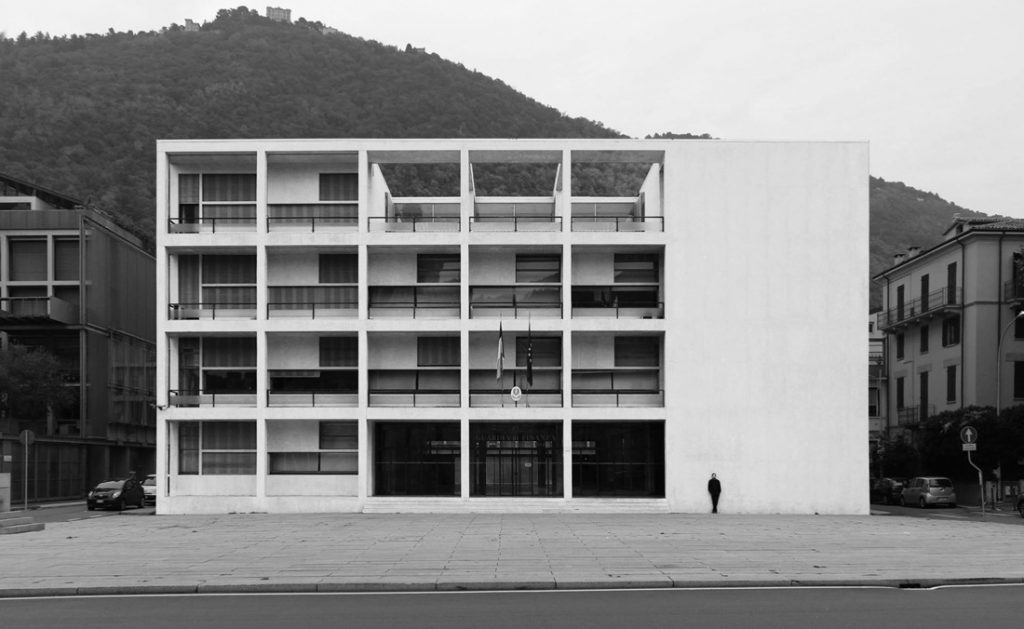 For this reason, the way in which the great Giuseppe worked is wonderfully mixed, hybrid, without distinction between architectural art and that which, decades later, we started calling Interior design.
It is difficult to select just some of the works which made Terragni known even before he graduated in Como in 1926.
Here are just some of his numerous achievements.
•Novocomum in Como (1927–29)
•Casa del Fascio in Como (1932-1936)
•Casa Rustici in Milan (1933-1935)
•Casa Toninello in Milan (1933)
•Casa Ghiringhelli in Milan (1933)
•Casa Lavezzari in Milan (1934)
•Casa Rustici-Comolli in Milan (1935)
•Palazzo Terragni di Lissone in Lissone, Casa del Fascio, in Brianza, (1938-1940)
•Asilo Sant'Elia in Como (1936-1937)
But among all that he did and said, I am particularly fond of his wonderful testimony of his commitment to his work, an attitude which demanded perfection at all costs.
These are the words of an architect and colleague who knew him well.
"When the panels for the facade arrived Terragni went to the building site early in the morning, put the panels on two stands, examined them carefully and if there was a flaw, he took a hammer and broke the panel!.
Because – as he said – if I say it can't be used […] the foreman would reply: Yes, OK, we won't use it and he would put it aside but as soon as I turned my back he would use it and once it is in place it can't be removed because it would pull down all the others……".
So he broke the panels; he was strong and very severe and he was absolutely right. All architects should be like this.
There are many lessons to be learnt from Meda and from its history. The teachings of Giuseppe Terragni are among the most important, ideas which led the way for all those who carry forward, each in their own way, the work which makes Meda the Design Capital of the world.
Until next time,
Filippo
---
BertO's dream is to diffuse the "know-how" of the most important town in the world for design: Meda.
Meda is, in fact, the town where you can find the greatest concentration and synthesis of craftsmanship and know-how in the world, a town where you can find unique skills, advanced technology and pens which have resolved and designed some of the most complex and important projects in the world.
Today an expert interior designer is able to make you live the experience of a design Made in Meda thanks to the intervention of BertO.
Realize your design project! Ask now for your personalised consultation with one of our interior designers!
Ask now for your personal consultation and create your own furnishing project with one of BertO's Made in Meda interior designers