Our society was created with passion for our work.
Our society moves forward and grows thanks to passion for our work.
Passion for our work – something which was passed down to us from the people who founded BertO in 1974 – we invest everything we have in this passion because we know that the quality of Made in Meda cannot exist without the passion for a job well-done, a passion which sometimes drives us crazy but which is the only thing that can delight the world through the products we are able to produce.
Anyone can confirm this: the most beautiful Designs, those which people all around the world fall in love with instantly, all come from one place – Meda – and from a special attitude towards our work – passion.
Anyone who has already had the chance to read the book we wrote on this theme, "The Spirit of 74 – 74 key words to live happily the passion for our chosen profession" know that there is one page, among all the others, which is frightening.
It's page 16, the page dedicated to the word Fear:
Fear
A travelling companion to be respected.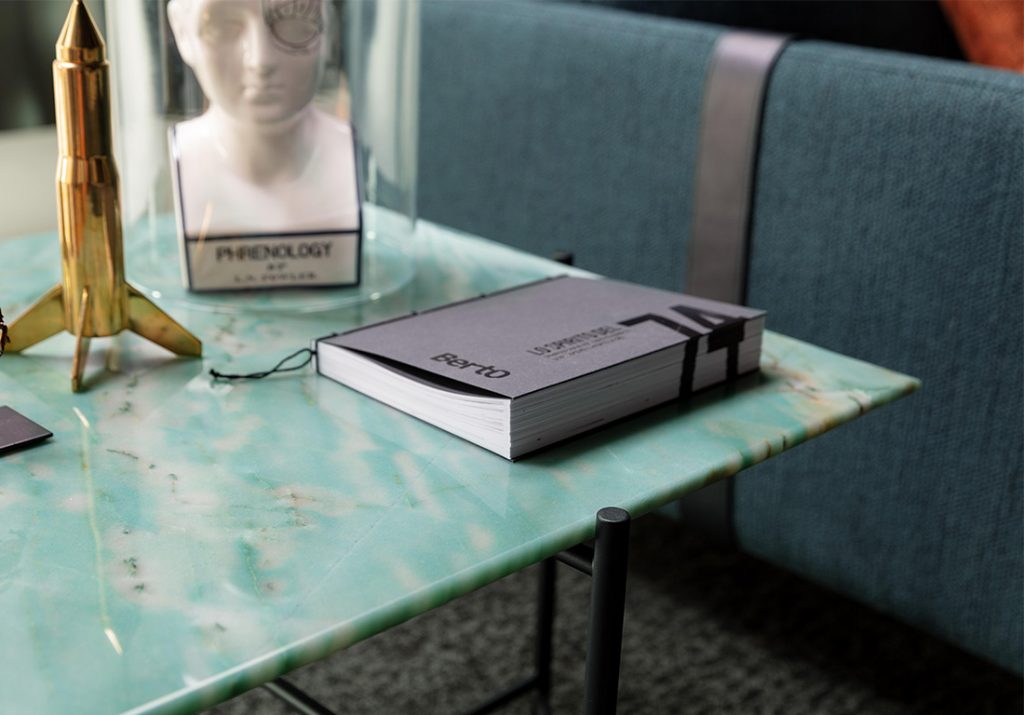 One of the most precious things that our founders taught us is, in fact, this: respect for fear.
Fear – when, for you, work is something more than just a "job", when it is something which gives a sense to your working day, something of which you are proud, in the evening – it is always there by your side.
Maybe you know that you are good at your job because you have been told so time and time again: so now you are afraid that you cannot live up to this.
Maybe that particularly difficult job has turned out really well and the customer is so satisfied that they have asked you to repeat it on another piece of furniture: so now you are afraid that you will not be able to repeat that same level of excellence.
Maybe the word has spread through Med that in your society you work particularly well: so now you are afraid that you will not be able to live up to your reputation in the eyes of your collaborators.
Maybe a customer from far away comes into your showroom, someone who has travelled for hours to get to you in Meda: so now you are afraid that the time he has taken to arrive will not be sufficiently compensated.
Maybe you had teachers who were so exceptional that you are constantly afraid that you will not live up to their expectations.
But this must not make you think that our working life must be dominated by anxiety: certainly there are worries but they are all part of the game, a game with many other components which all together add up to something which makes us enthusiastic – including our fears.
But this is exactly the point; fear, in the right proportions, is that which stops us from becoming complacent.
In fact excessive self- confidence in your work is a much greater danger.
This can cause you to make mistakes, not fear which – like a good travelling companion – is there to remind you that you have limits, and to achieve excellence you needn't overcome your fear but exceed those limits.
This is an extraordinary lesson which we here in BertO have been lucky enough to learn from two amazing founders like Fioravante and Carlo Berto, to whom our book (as well as our daily work) is dedicated.
Very often – this is quite normal and we have all experienced this sensation at least once during our lives – we are afraid when we have to make important decisions like for example, when we are planning a new home.
Maybe you are afraid that you will not make the most suitable choice for your environment, to choose the wrong design and style for your living-room.
For this reason it is very important to receive specific advice for your furnishing project.
An expert interior designer is able to help you live the experience of a design made in Meda thanks to BertO.
Realize your design project.
Ask now for your personalised consultation!
Would you like to discover the 74 key words that make up our book?
Buy your reserved copy HERE!
Ask now for your personal consultation and create your own furnishing project with one of BertO's Made in Meda interior designers