11th November 2017: the doors of our furniture shop in Turin opened for the first time.
We remember as if it were yesterday how emotional we felt at being in such a beautiful showroom, our showroom, perhaps the most beautiful of all.
The thrill we felt at seeing our sofas on display in a special city like Turin, seeing them being admired by demanding customers and with all of us longing to tell everyone about our story, our products and the furnishing projects which we would be able to create together.
11th November 2018: a rainy Sunday afternoon and the BertO showroom in Turin celebrates its first anniversary.
Donato, the store manager, opens the doors at exactly three o'clock.
The lights are on, modern modular sofas  on display.  Donato and Samantha are ready to serve the most demanding clients in the city.
On this important occasion we had a chat with the Store Manager.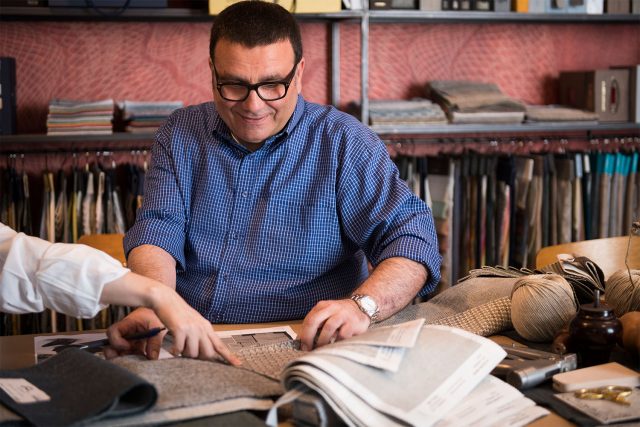 Donato, do you remember the day we opened just one year ago? And the days leading up to it?
Certainly, I remember it clearly. I remember the frenzy and the emotion I felt at seeing the showroom slowly fill up with all the different models.
I remember the expression on the faces of my colleagues who, right up to the previous evening, had worked side by side to prepare the showroom, checking even the tiniest detail.
I remember how thrilled we were knowing that in just a few hours time we would be presenting my city with a unique proposal (and I must admit that in Turin there are numerous really incredible, fascinating and extremely exclusive proposals).
I remember our expectations, our desire to assist our clients and today I feel totally satisfied with what we have achieved. We are only at the beginning, there is still a lot to do, we will continue to improve and we will continue to grow.
Do you remember your first customers?
How could I ever forget them? Our very first customer lived right next to the showroom and she had followed all the preparations from her window.
She told me that she had seen the store gradually take shape but she didn't know at the time who we were and what we were offering.
Then she saw the sofas, the beds, and the armchairs.
She saw people coming and going.
And that morning she came down, came into the shop, she told us how she had followed the story of BertO in Turin and then she ordered a bed.
It was fantastic.
Can you imagine the BertO showroom a year from now? How do you see it?
How do you imagine it a year from now?
I see it as a point of reference for the city, an obligatory place to stop and a must for anyone who wants to acquire a product which will totally fulfil all their expectations.
What is the greatest challenge you have had to face during this last year?
There have been so many. When we opened there was Marco Crepaldi and I. Today there is Samantha and I. Tomorrow there could be 3 or 4 of us, ready to serve even more clients from Turin, Piedmont and even further.
We have brought Turin to BertO and BertO to Turin, a city which we have been able to rediscover and get to know thanks to the people who live their lives here.
This is the path we want to continue along, knowing that the doors to our showroom will always be open to everyone.
One last question: our society is founded on the very special values which we have called the Spirit of 74.
Very soon there will also be a book: .74 key words to live happily the passion for our chosen profession.
What is yours?
My key word is "team".
And if we use the word to the letter, what word could better represent the society?