It was in 2011 when we decided to start, even if with many doubts, a new strategic way of communication by using videos.
The name of that campaign was – #WhyBerto – which actually means much more than a simple name.
#WhyBerto means a lot for all of us: it is a kind of a mission, a new basic approach.
But above all it means a strong commitment towards our customers and the customers-to-be.
It reminds us that we should never forget that our duty is to offer a customer one or more good reasons to choose us.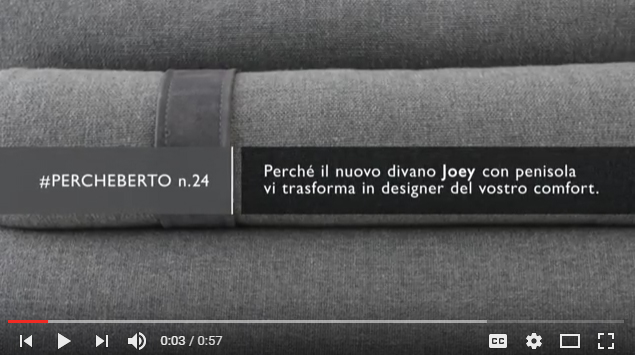 How can we explain it: we committed ourselves to giving you always a convincing answer to the basic question:
"Why should I choose the BertO products?"
Let's try to explain what we think.
It may seem a simple, basic answer, but then it becomes harder to turn it into a 360° company approach.
Everything we produce is the proper answer to this question, we should be able to give a convincing answer; we do not want just to sell a product or persuade a customer: our aim is to convince our customers. (We think that if a customer is really convinced about a choice, well, he will be convinced even after the purchase and all this won't happen if a customer is simply persuaded to buy a product).
Everything begins with the product: if it doesn't have something special – we all know it – all products look like the same.
Everyone working by BertO has a precise idea about the meaning of "special product" and it derives from the long experience of our founders: they have never settled for compromise as for quality, they have always been focused on every single step in the production.
In 2011 we described this feeling in the first communication approach with our first campaign #WhyBerto.
We have created this campaign starting from every single product: there were many "why" in these products but most of them were unknown to the public.
The campaign #WhyBerto in 2011 provided our customers some good "why choose BertO" which helped them in choosing a sofa, an armchair or a bed, and it still keeps on doing it on our different communication channels, YouTube first, where our videos are published.
It has been an important challenge for all of us, but those videos – we are talking about 23 different products and 23 different answers to the same question – really meant a lot for our company.
Five years have passed since that first launch, we have had an incredible number of visualizations during this period and now, when we welcome our customers in our showroom, we are extremely satisfied when we heard them say that they have seen those videos. Most of them show some pleasure about it; others seem to have a kind of empathy as if they were saying:
"Yes, I know your way of working. I know you".
And we cannot forget that many sales derive – directly or indirectly – from that lucky campaign.
But then, what's new? Where is the new campaign?
The new campaign #WhyBerto 2017 is already online.
It is a new campaign with new products, new finishing and with a new interesting quality as for the way it is presented.
And if we think about it, we recognize that the famous question is new as well and everyone working at BertO – showroom, production, logistics, marketing, creative department and customer care – still keeps on asking every day.