On the 26th September 2009, exactly nine years ago, our Berto Salotti showroom opened in Rome.
Standing at the door was the Store Manager Fabio Asnaghi, together with Filippo (Berto) and Maurizio Riva, manager of the BertO Customer Service.
Nine years later we can look back with pride at the wonderful thing we have constructed together in the most beautiful city in the world (after Meda).
We have achieved all this together with Fabio, but also with "his boys and girls" Cristina, Michele and Paola, and with all the customers to whom we have delivered a small piece of Brianza specially created for them.
Today, every morning, Fabio is still there opening the door – and closing it – and he can't hide the emotion he feels for having achieved such a wonderful goal together. We asked him a few questions which we hope to read again in nine years time.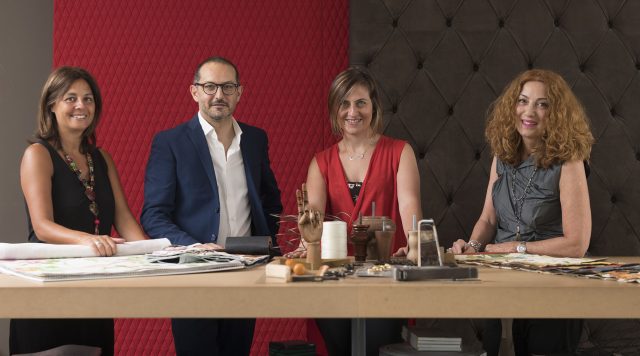 BertO: Fabio, do you remember the first time you turned the key to open the door of your shop in Rome?
Fabio Asnaghi: How could I ever forget! It's an indelible memory, as strong today as it was in the past.
At my side that morning were Filippo and Maurizio, just as excited as me.
BertO: Do you also remember your first customers?
Fabio Asnaghi: That day quite a lot of people came in, about ten couples I think.
It was an incredible, frenetic day and my first time as Store Manager. If I could, I would have personally produced every single sofa which was ordered that afternoon and I would have personally delivered each one to the customers' homes that same night in my car! Made-to-measure sofas included. (laughing).
Yes, I would like to invite those ten couples to visit our showroom again, show them what we have achieved over the last nine years and thank them for being the first. I would like to tell them that they will always have a special place in my heart because it was with them that everything began.
And of course, I would also like to invite all the other people who have visited our showroom throughout the last nine years.
BertO:  Can you imagine the BertO showroom in the next nine years?
Fabio Asnaghi: Certainly! I imagine it will be fantastic. I can see my assistants doubled in number so that we can offer an even more accurate service to every customer who comes through the door.
I strongly believe in us and in our society.
I believe in it so much that I imagine that one day this will not be the only BertO shop in Rome.
Just think, in nine years time there could be nine BertO shops here.
BertO:  What is the biggest challenge you have had to face over the last nine years?
Fabio Asnaghi:  I think it is being able to serve customers in my city, going into their homes to help them achieve their personal, often demanding requests.
To bring to their families a small piece of Brianza together with part of our history which does not go back 9 years but over 40 years. The story started in 1974 with our founders Carlo and Fioravante Berto, a story made up of values, where, for every sofa produced, 40 craftsmen work tirelessly so that everything is perfect, unique and totally satisfying.
This has definitely been the greatest challenge; still today my assistants and I open the door of the shop convinced that the challenge is renewed every day, with every request and with every customer. Because there is no better feeling than making someone happy. In our small way, working to the best of our ability, we know we are doing this.  This is the Spirit of 74.
Happy Birthday BertoRome!
Come and see us here!