During the lock-down last Spring, Filippo Berto announced the BertO 5% solidarity initiative with a video message.
Close our stores and showrooms, open up to responsibility, We have continued to work online and to donate 5% of the income from our sales. This is our response to the current health emergency.

We have donated 5% of our revenues to the Fondazione IRCCS Ca' Granda Ospedale Maggiore Policlinico di Milano and to the volunteers of the Avis Association in Meda.
We have always believed that the work of a society is not carried out in a world different from that in which we and our families live.
We have always felt that we are part of something and – as far as possible within our limits – we have always tried to interpret this aspect in ways that are advantageous to our territory.
In these times of epidemic, we feel strongly that it is our responsibility to do something concrete.
Our work is to create furnishing objects which will give comfort to our homes… what can this have in common with those who are combatting in the hospital wards and in the ambulances?
An economic help.
So this is where the BertO 5% Solidarity Project came into effect. This project donates 5% of the income from all the online sales to help those who are in the front lines in the fight against Covid 19, namely the Unità Operativa di Anestesia-Rianimazione e Emergenza Urgenza della Fondazione IRCCS Ca' Granda Ospedale Maggiore Policlinico and the volunteers of the Avis Meda Ambulance Service.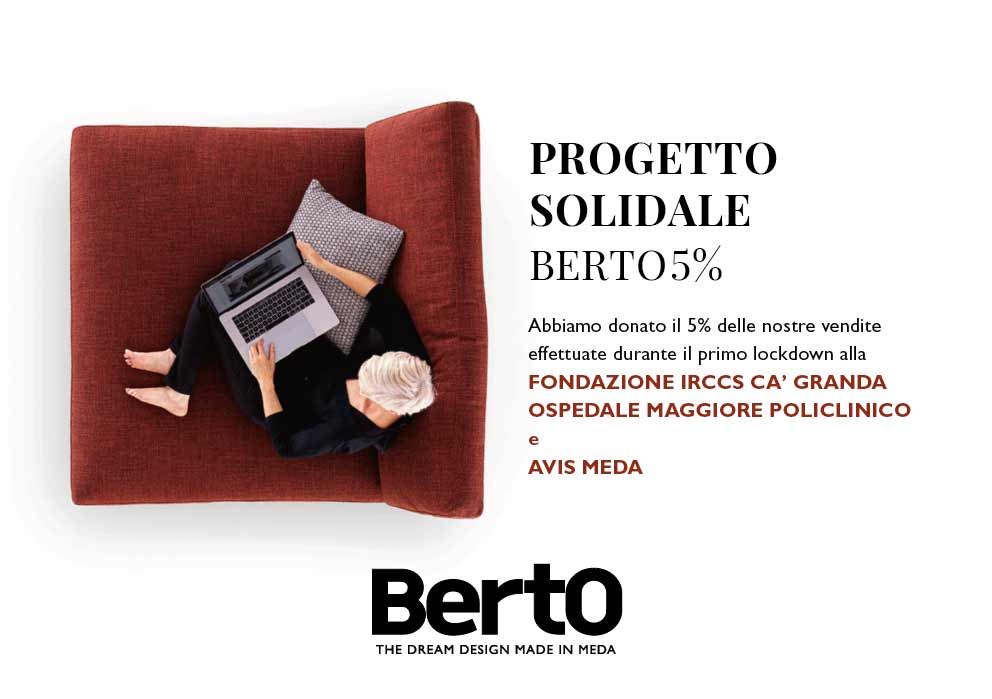 From here we began to reflect.
How could we increase the effect of our initiative?
How could we make our contribution even more substantial?
One possible solution seemed to be to spread the word, to let as many people as possible know that even a sartorial upholsterer can help to make the difference.
And if BertO can do something, maybe others could do something too … so come on, what are we waiting for!
All our contacts in the newspaper world who have written articles about us in the past, all our fellow craftsmen and entrepreneurs, all the contacts, both online and offline, in the diaries of every single person present in our Society, they have all been informed about the BertO Solidarity Project and they have all received an explicit invitation to join us in taking concrete action.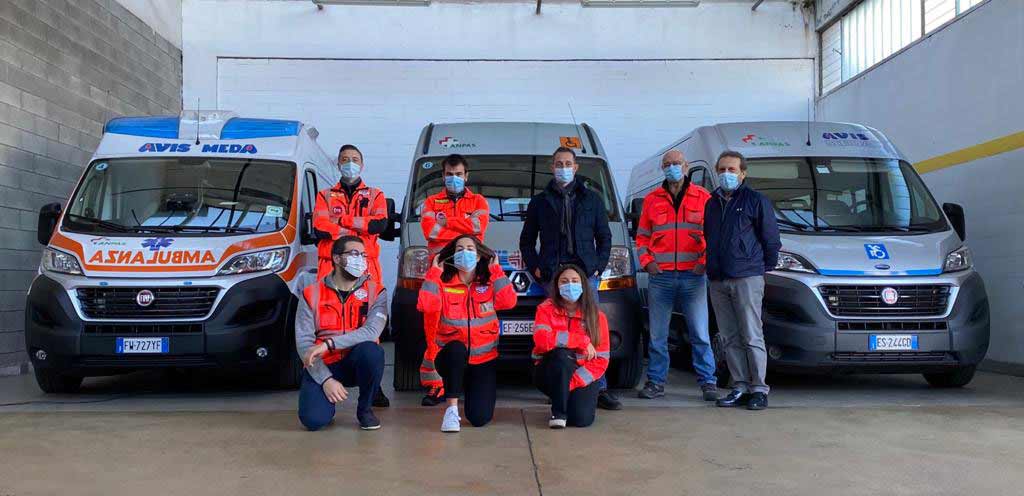 This initiative has aroused great interest and has been the subject of numerous debates and discussions on talk shows and in daily newspapers (read here).

We wanted to send a strong message and represent a project in which everyone – customers, citizens as well as entrepreneurs and Societies – can participate by supporting the many realities present in our territory.
Regarding this project our customers have demonstrated great support and approval and many of them have expressed their satisfaction at being able to participate – through their purchases – in a humanitarian initiative which is, now more than ever before, of such importance.
They too have been invited to spread the word of this initiative among their personal contacts so that this act of solidarity has an ever-increasing ripple-effect of collaboration and participation.
We have also received words of gratitude from the managers both of the Fondazione IRCCS Ca' Granda Ospedale Maggiore Policlinico and from Avis Meda.
We have shown their messages of thanks here, well aware that it is we who are immensely grateful to them for the immeasurable effort they are making for the good of everyone.
The message received from the Fondazione IRCCS Ca' Granda Ospedale Maggiore Policlinico, received on 17/11/2020:
I would like to thank you for the generous donation but above all to thank your customers who, despite this moment of great difficulty, have shown such sensibility and thoughtfulness towards our hospital and towards the many patients who we are treating during these terrible months.
Such acts of solidarity are greatly appreciated and are an example of social responsibility for us all.

We would like you to know that the major part of the donations have been utilised for the purchase of radiology, laboratory and technological equipment and apparatus and for providing more places in our Covid intensive and sub-intensive care units.
Thank you again for your solidarity and support.
Manager
Dr. Monica Cremonesi
The message from Avis Meda, received on 20/11/2020:
The volunteers of Avis Meda thank you for the donation you have made in support of our daily work during this period.

It is gestures like this which make us feel even more part of a community with generous people who value our continual commitment for the well-being of everyone in our community.
The BertO 5% Solidarity Project will not stop: please keep the donations coming!
Click here and find out how: https://www.bertosalotti.it/progetto-solidale
Ask now for your personal consultation and create your own furnishing project with one of BertO's Made in Meda interior designers