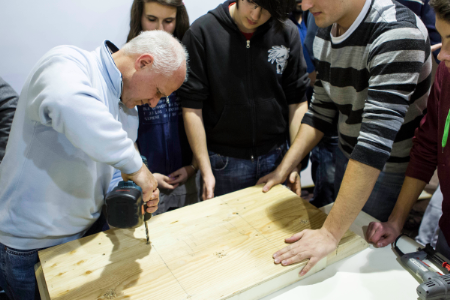 All of the artisan workshops on the unique piece the divanoXmanagua are open to everyone and now we have reached our fourth round.
Everyone is invited to attend and become a craftsman for two hours, come to help and:
1) be empowered by the knowledge and experience of Italian craftsman.

2) train alongside the master craftsmen who will be joined by young students from the Upholstery School, AFOL, in Meda. Working together with real craftsman, on a real product, for a real company.

3) help Terre des Hommes Italy, our project partners, to build a school for Carpenters in Managua, Nicaragua.
The sofa, which will be completed at the Fuori Salone Ventura in Lambrate on April 11th, and then will be sold at auction and all proceeds will be donated to the children of Managua, by Terre des Hommes Italy.
We are a small company, but this project makes us feel like we are contributing to building the future, thanks to the importance and beauty of Italian craftsmanship in the world.
Thanks goes to those who want to participate in this adventure! The entire event will be communicated online with live tweeting, follow along with the hashtag #divanoXmanagua. You can also find the event on Facebook here and the official webpage for the project here.
And, finally, below direct evidence from Nicaragua, which allows us to understand the situation of young people out there, fighting not only for work, but often also for life itself.